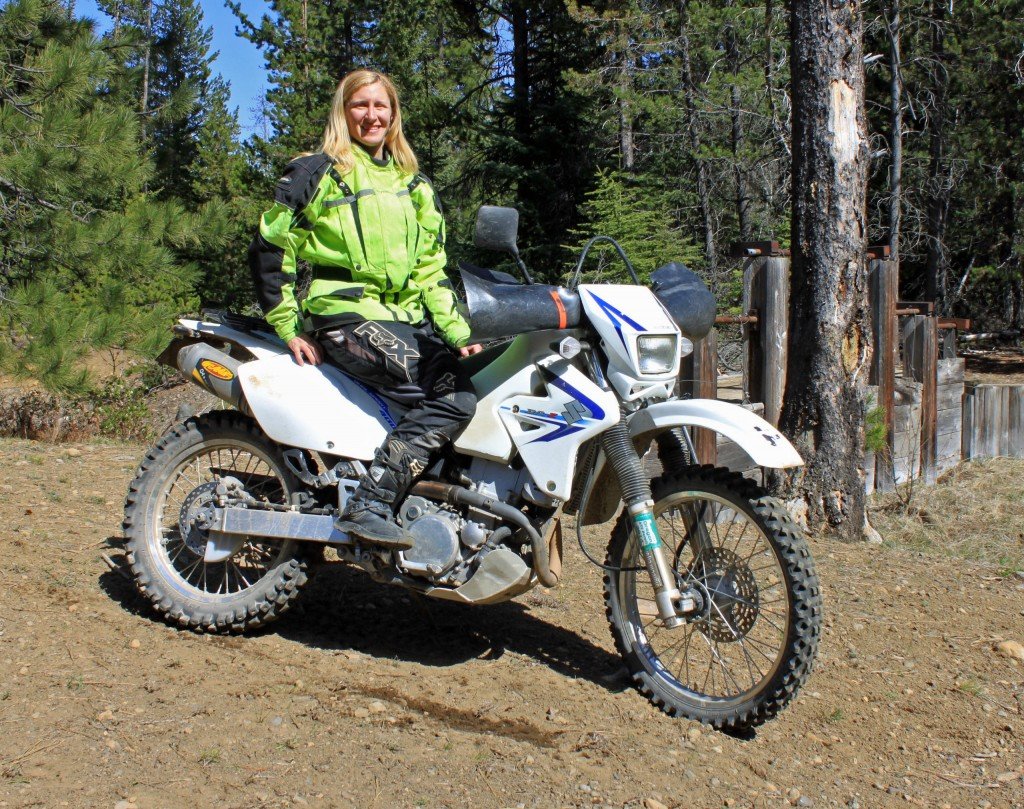 Staci Colas is an X-Ray Technician with a world wide adventure streak. From motorcycle camping in the Pacific Northwest to surfing in Canada (!) to back packing in Italy, she takes her fun seriously and is constantly searching for new challenges. A testament to this is her bike's odometer, which has racked up over 10,000 miles since she rolled it off the showroom floor a little over one year ago. Staci was kind enough to take a few moments out of her very active life and speak with me about the 2011 DRZ400S that she affectionately refers to as The Dizzer.
What made you buy a 2011 DRZ400S?
I did a lot of research and since I'm pretty much a beginner at riding and wrenching on motorcycles; I bought it for it's reliability. After everything I read, it really sounded like the bike for me. It's tough as nails – it's gotten dropped a lot and always fires right back up. Also I love the fact that you can pretty much get parts for it everywhere in the world.
What don't you like about this bike?
Head shake! At high speeds it gets terrible head shake. I think it has something to do with the custom lowering job I had done on it – I'd like to get a steering dampener.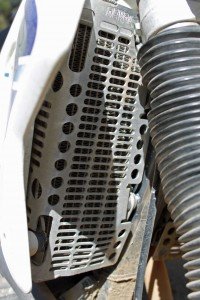 What kinds of upgrades have you done to it?
I had the bike custom lowered – I'm only 5'1″ and a fraction; I added a Clarke 4 gallon tank – which I love – but the cap was junk so I replaced it with a cap from Tusk; I put on an FMF Q4 pipe, hand guards, heated grips, Devol radiator guards – those things have saved my radiators – when I was first learning I crashed a lot! I changed the stock tail light assembly – it was a big bulky thing that looked like a mud flap so I replaced it with a set up from
Pro Cycle
. I did some side case covers too – like I said I did a lot of reading on the DRZ and found that the side cases can be a weak spot. I have a Laminar Lip Windscreen that I pull off when I'm not going on a long haul. I also have a full set of aluminum panniers – but I ended up replacing them with a Great Basin bag from Giant Loop.
What's your favorite upgrade?
I guess the Tank – I was down in Paisley last weekend and filled up there; rode back home (
editor's note: approximately 150ish miles
), and then rode the bike (around town) all the following week without having to fill it up. I love the gas mileage my bike gets and having a bigger tank means I don't worry about fuel.
What's your favorite Dual Sport ride?
I love Southeastern Oregon – the
Steens Mountains loop and the Alvord Desert
are awesome! THANKS STACI!