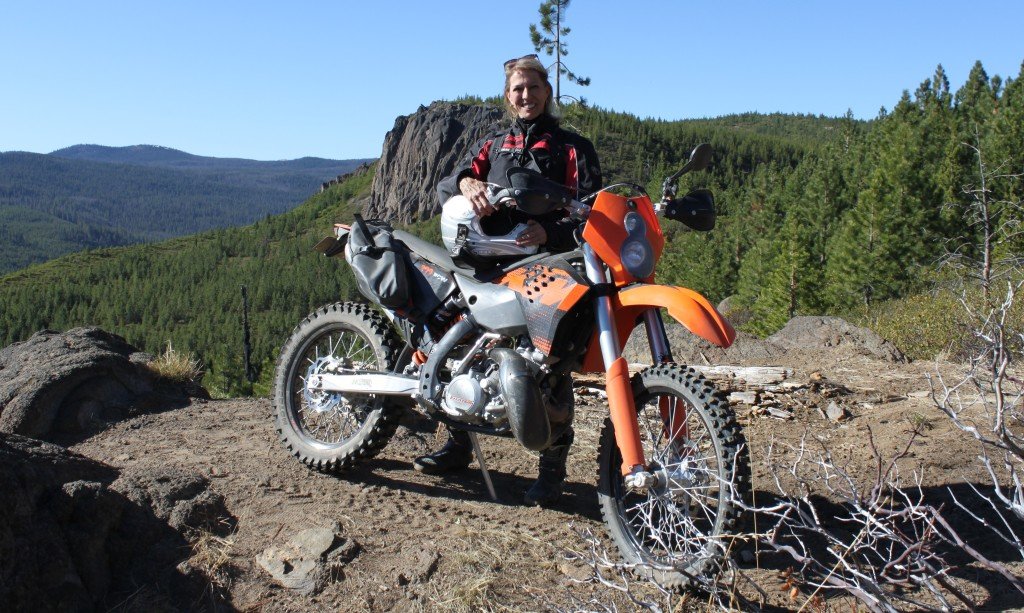 There's a fundamental nature/nurture argument that can be made about the adventure seeking personality. Is it inherent from birth or is it the result of exposure to experiences? Karen Beith believes she was born with it and thinks a person's adventurous streak is expressed in different ways throughout a lifetime; presently for her it's motorcycles. Formerly an avid runner and cyclist, she's tried everything from Roatan scuba diving to ballroom dancing. (Editor's note: for anybody that wants to scoff at ballroom dancing being considered adventurous, ask yourself this question – which would you be more nervous to do, jump out of an airplane or twirl around on a dance floor in front of a group of complete strangers?) Having only gotten into riding motorcycles a scant six years ago, she's the proud owner of two KTMs: a 990 SMT and a plated 2009 200 XC-W.
What made you buy a 2009 KTM 200 XC-W?
I only started riding about six years ago. The man I was dating at the time put me on a Honda Trail 90 to ride around and practice on, then I got my first dirt bike of my own – a Yamaha TTR 125. I went through several bikes until I got this one three years ago. A friend actually found this bike for me, he convinced me to get it because it has great suspension. Plus it was already plated which is pretty rare.
What don't you like about it?
I don't know if it's really a true Dual Sport. I wish it could go on the road easier; I'm pretty limited for highway miles. Of course I also wish it had an electric start but that adds weight so I'm fine with the kick start. I think it weighs around 210 pounds, I love how light it is.
How does this bike compare to others you've owned in the past?
I went from a TTR 125 to a Honda 150 to a Yamaha 225 to a Honda 230 – which I thought was a big slug; a terrible bike to ride. Then I got the 200 XC-W. This bike feels really light and I do love the suspension, it really soaks up the rocks. Compared to some of the other bikes I've had this one is just so easy to ride. To have something a bit more street friendly I also bought a Yamaha WR250R, which I found a bit top heavy for me, so I sold that for a BMW G650GS, but it was too big for me off road and lacked power for the street. I got rid of it and eventually went with a street only KTM SMT.
(Editor's note: If you're doing the math, you'll think that Karen has owned 8 bikes in 6 years. You'll be wrong, because I didn't mention her Honda 250 Nighthawk – which she claims is the worst bike to ride EVER – or her
FZ6….
10!
)
What have you done to it?
It has a throttle cam system to help me control the power. I also had it lowered two and a half inches, and had the seat shaved down. It's now like a board, it has a tiny bit of gel over the pan – you wouldn't want to go 200 miles on it.
What's up with those boots?!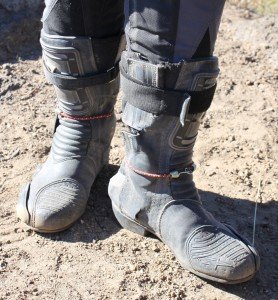 I know I need better ones! But motocross boots are so stiff I find it hard to shift or find neutral!
What's your favorite Dual Sport ride?
It was probably about two weeks ago, over 130 miles in South Central Oregon on service roads, logging roads, and a bit of single track. My favorite is just exploring forest service roads. I believe that some people are just born with an adventurous spirit. I'm that way. When I was into running it wasn't really so much the running that appealed to me as much as just exploring parks, trails, and different areas. Every time I ride my bike I feel like I'm on vacation!