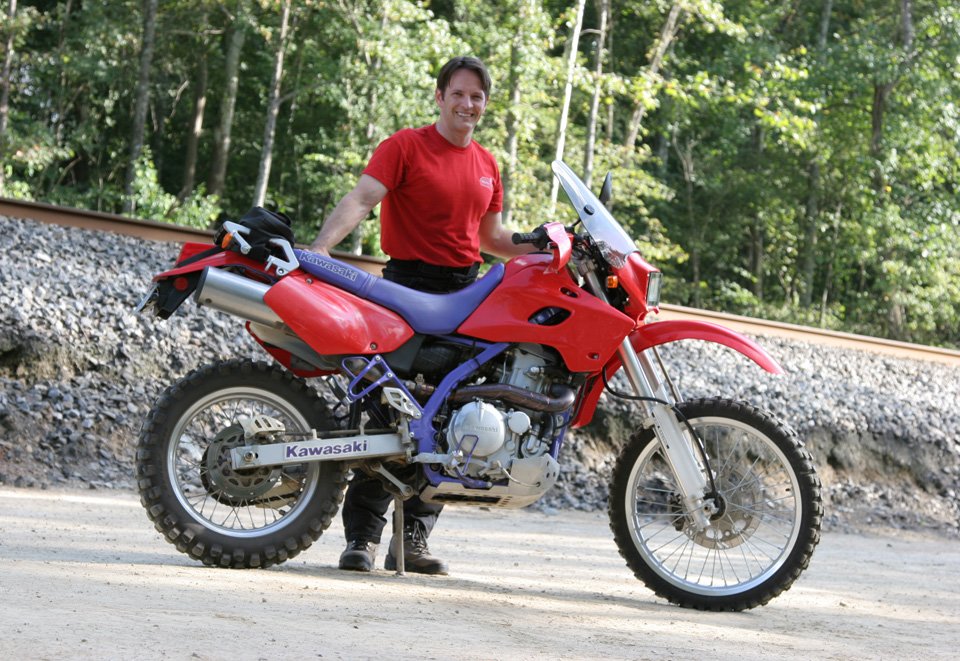 CONTRIBUTING WRITER: SCOTT WHITAKER
My off-road-biased, dualsport mentality harkens back to the days of making trails as a kid with my '79 Yamaha GT80 – a puzzling but true 80cc dual sport! The allure of a do-anything bike with signals, horn, and knobbies is as fundamentally appealing to me today as it was as a ten-year-old. While there's little time to venture as far as I'd like from my Piedmont, North Carolina home, I still enjoy putting my local government career in the sturdy rear-view mirror and exploring the dwindling dirt roads and paths unknown. I've owned a single dual sport for the past fifteen years; the Kawasaki has been a reliable, low-maintenance, and uncommon steed that suits my wanderlust needs. New and better bikes are tempting, but I'll probably never part with my KLX. 
In the US, Kawasaki sold the KLX650 endure 'R' model and a dual sport 'C' model from 1993 to 1996. Last October,
Rider magazine
published this retrospective article that discussed the differences between a KLX650 and the beloved KLR650 – a completely different bike with few shared components.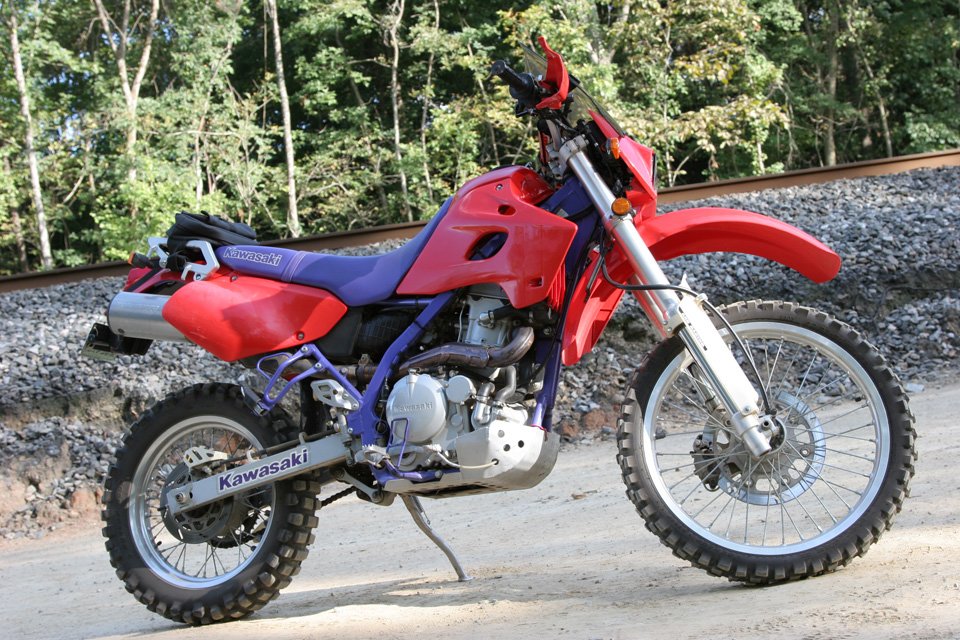 What made me buy a 1995 Kawasaki KLX650C:
The dual-personality bike genre was engrained since childhood, and in 1999, a local dealer had a leftover '95 KLR650 and another DR350 for the same price. My wife surprised me on my 30th birthday with the KLX which was hugely discounted since it was still on the floor (dual sports weren't so popular in the '90s). I think she went after the biggest discount/deal and the small-town dealer and matriarch owner/saleswoman.
What I don't like about the bike:
The bluish purple frame isn't my favorite, but a complete tear down to powder coat it is simply too much work.
(Editor's note: the lavender frame might not be a gender neutral color, but at least the entire bike isn't SAFETY CONE ORANGE)
There are very few aftermarket parts specific to the KLX.  I also wish it had a no-tool method of removing the seat and side panels to access the battery quicker. Some reviews complained about the rear shock, which isn't as adjustable as it is on the 'R' (dirt version), but I've never bottomed it.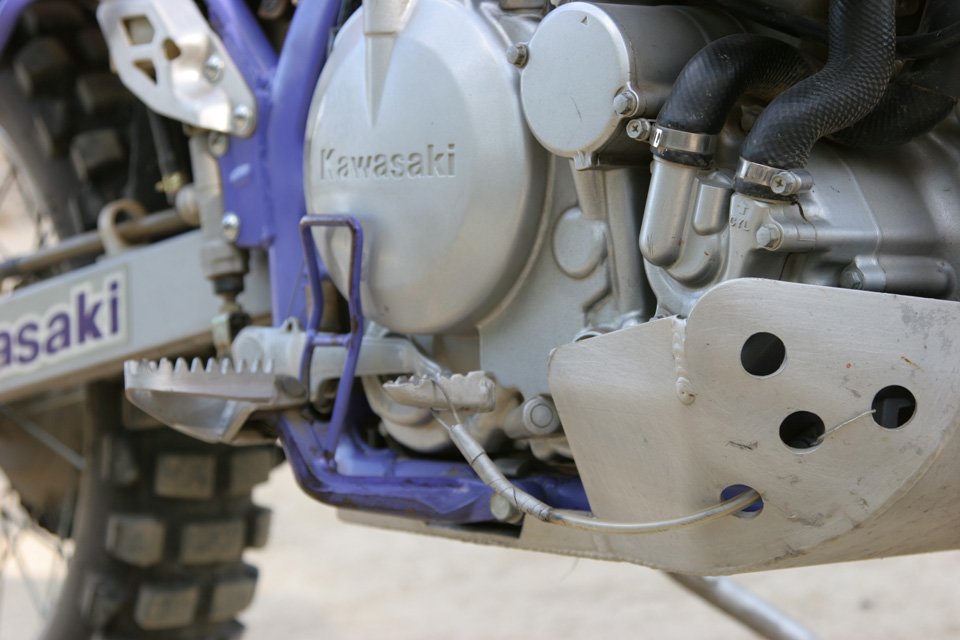 What kind of upgrades and modifications I've done to it:
I added smaller aftermarket turn signals that are lighter and more compact with bendable mounts to provide flex and protection. I replaced the stock tires with more serious (80/20) Dunlop 606s after my first organized ride – I couldn't hang with the group tearing up Boone, North Carolina's gravel roads with their more aggressive rubber. The stock rear fender extension was too long, so I shortened it and replaced the license plate light with something thinner and lighter. I also removed some non-essentials such as the kickstand switch, helmet lock, and chain guards. I installed a heavy-duty aluminum skid plate but lightened that as well by strategically drilling some holes in it. The original decals screamed '1995' so we parted ways too. Most of the minor mods were borne of a desire to lighten the KLX's claimed 337 lb dry weight. I've also acquired some 'R' parts, such as a plastic tank, rear shock, and swingarm – but these require mods to install and haven't yet been a priority. The removable windshield helps on the highway and the motor is lubed with synthetic these days.
My favorite upgrade is:
As the upgrades have been minor, I'll point to the change that I'd like to make the most at the moment – installation of a set of
Faast Company
Flexx Bars. Aside from liking that bar's design, it should minimize handlebar vibration from the big single. A
Seat Concepts Seat
(which I learned about through this website) and hydro-dipping the plastics would freshen the exterior, too.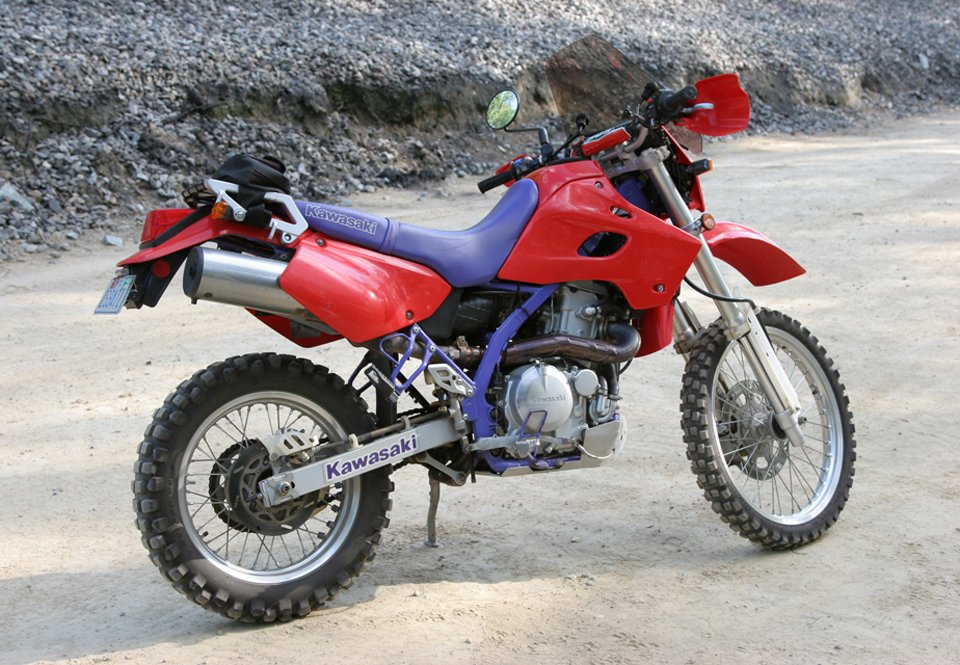 How this bike compares to others that I've ridden:
I've barely ridden anything else. Short jaunts on a Honda XR400 and a KTM 640 revealed how much lighter both felt; my KLX felt like a pig comparatively, especially in the front end. Lofting the front wheel over obstacles is challenging, so it changes the approach. But managing a heavy 650 in tight or more technical areas while trying to keep up with more experienced riders on smaller bikes has made me a better rider. At least a perceived difference is that the KLX's tractor-like torque is probably a notable advantage over smaller displacement bikes.
My favorite dual sport ride is:
I was a member of the Blue Ridge Pathfinders and did some great organized rides in North Carolina, South Carolina, Georgia, and Tennessee. A favorite was Maggie Valley, NC. I forgot the ride's name, but I especially liked racing better riders in tricky rock sections. What a challenge on an older 650! The mountains where these states converge offer a great mix of fire roads, single-track, creek crossings and varying terrain. Ultimately, riding makes me feel in control of my adventure, just like the GT80 of my youth did!