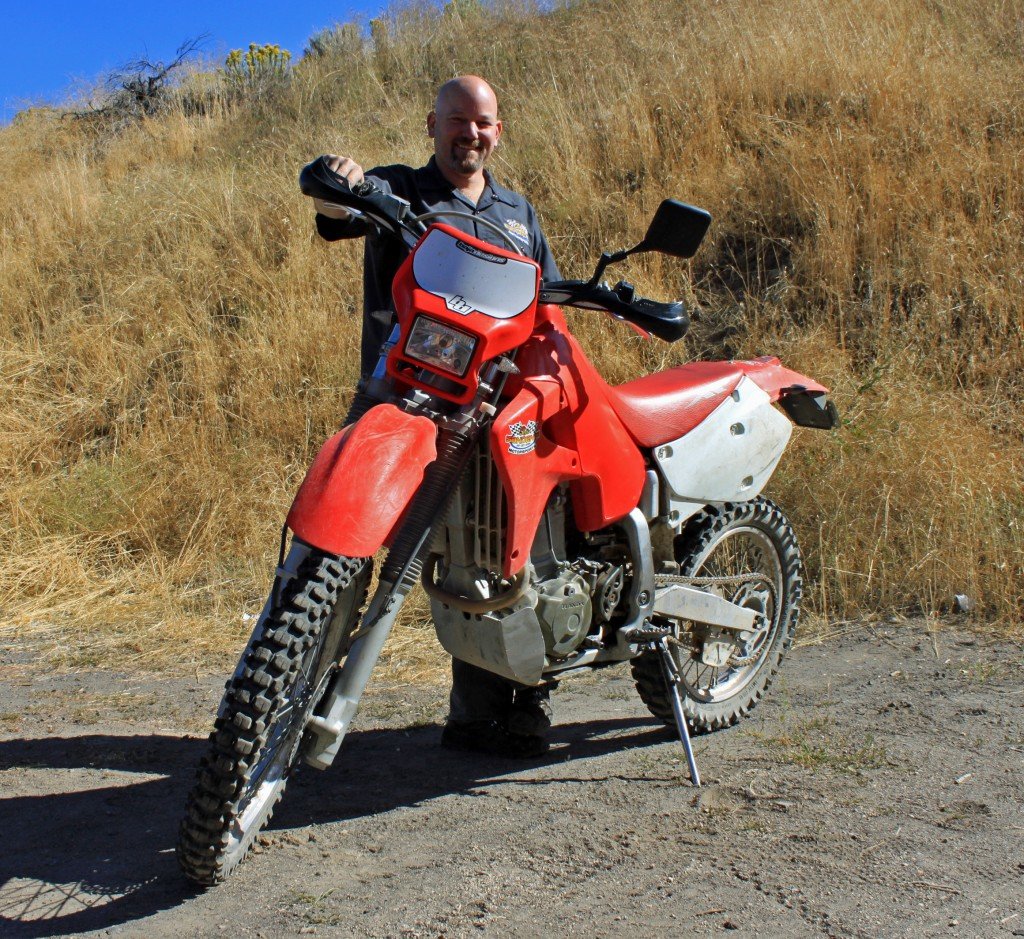 As a long time motorcycle mechanic who now runs his own shop, Chris Sanden has owned a lot of bikes over the years. I stopped by Chris Sanden's Motorsports in Bend, Oregon to check out the Dual Sport in his collection – a 2001 Honda XR650R.
What made you buy a 2001 XR650R?
In 2008 I had just gotten rid of my DRZ400 and needed a bike for the
24 Race at Starvation Ridge
. My buddy had bought this bike new and when I asked him to borrow it  he said 'why don't you just buy it?'. I've always liked the XRs. People gave me grief about the weight, saying I should get a lighter bike to race and – not to sound egotistical – I'm like, 'well I'm able to hang with you'… I've raced it and rode the hell out of it on the trails until last April when I got my KTM 250. That became my trail bike and I was looking for another DRZ as a dual sport but couldn't find a decent deal. People want alot of money for them, even the ones that are 10 years old. So I thought the XR's paid for, why not just keep it and make that my dual sport? I've always loved dual sports and had a couple over the years.
What don't you like about this bike?
The weight – everybody's complaint – but the power does make up for that. When I ride a lighter bike I start to think lighter's the way to go, then I get back on the XR and I just love the power it has.
What kind of upgrades have you done to it?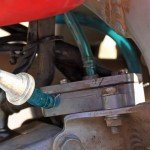 Mirror kit, skid plate, 4.3 gallon Clarke Tank – which gives me a range of over 200 miles. I added a ATV/Snowmobile style vacuum operated fuel pump (pictured left) from Western Power Sports. This is a big help for when you get down to the last bit of gas, you don't have to keep stopping to dip the bike to the pet cock side to get more gas – you're riding off road, it's going to slosh back over again and you end up stopping every 2 miles. I'd say it added another 25 miles or so to my range. I also added the Baja Designs Dual Sport Kit. It comes with a battery pack, regulator/rectifier, and horn all pre assembled and mounted behind the headlight; plus the turn signals, brake/tail light, and mounting plate for the license plate.
What's your favorite upgrade?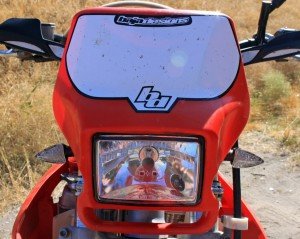 Probably the Tank or the Baja Designs kit
.
The whole idea of Dual Sport is to not be limited to the pavement – to go explore. Having to worry about where gas stations are takes away from that. I do like the Baja Designs kit too. What I had before was good enough to get around town – I had a mirror, the stock headlight and tail light, and my plate was mounted to the back fender. A lot of people want the flush mount turn signals, which I don't like because you can't see them. I
want
  to be seen. The BD kit has a nice bright headlight and the turn signals stick out a few inches. I mounted mine high up on the rear fender not just to keep the right one out of the exhaust, but for visibility.
What's your favorite Dual Sport ride?
That's a tough one…there's been a lot.
I did see a black bear on my way back from Sisters last week. I'd have to say a day ride I took with my friend up to some of the Cascade Lakes. Waldo, Cultus, and Davis Lakes….we hit a bunch of lakes, messed around in the mud at Wickiup Reservoir and had a blast.