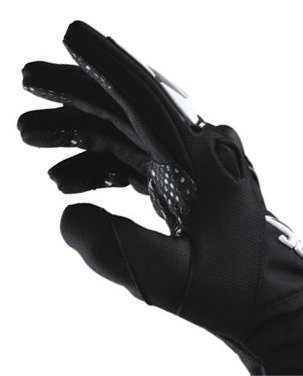 My first field test was on a cold day in late October with high temperatures in the mid 30s. After a few miles on the road at speeds over 60 mph, my hands were cold but it wasn't intolerable. Switching from asphalt to the dirt, my hands instantly began to warm up and by the time I hit some technical terrain they were fine. I returned home impressed with the Insulator Glove. While my hands were cold during high speeds, they did remain useable – always a bonus when operating a motorcycle. I didn't have to keep pulling over, rubbing my hands together in the bike's warm exhaust to bring them back to life. At lower speeds in the dirt they worked as advertised. The single layer

Clarino

Palm offering exceptional feel, a rubber thumb overlay preventing blisters, and most importantly…they kept me warm! Of course, any cold weather issues with my hands could be easily addressed by installing heated grips on my bike. But then again, heated grips don't offer any protection if you're in a fist fight with a Superhero. UPDATE: THESE GLOVES ARE STILL IN SERVICE AFTER TWO WINTERS OF RIDING, NOT TO MENTION SOME SNOW SHOVELING AND SEVERAL SNOWBALL FIGHTS. WHEN USED IN CONJUNCTION WITH

ELEPHANT EARS

, I WOULDN'T HESITATE TO WEAR THEM TO THE ARCTIC CIRCLE. OR MINNEAPOLIS.

I love my hands. They're very…handy. On my hands are these things called fingers. I love them too. They can do amazing things like count to ten or extract unwanted items from my nose. Two of these fingers are called thumbs. They are opposable and quite possibly the only thing that gives me an advantage in life over my dog. In fact, I love my hands so much (fingers and thumbs too) that I feel the need to protect them. As winter approaches and temperatures drop, those of us who are too stubborn to park the bike and take up bowling need some protection from having our fingers become Otter Pops. A good quality pair of gloves can prevent this from happening. You can always wear ski or snowboarding gloves. Most have a long gauntlet style that goes over your jacket sleeves, preventing cold air from penetrating the wrist area. While these will keep your digits cozy they tend to be bulky, sacrificing feel and dexterity when it comes to handling the controls. There's also off-road motorcycle specific Neoprene gloves. These never worked for me. Somehow my hands were always simultaneously really cold and sweaty. After a few rides these gloves ended up with the rank odor of some putrid French cheese. My latest attempt to obtain the perfect winter riding glove is the Insulator by Thor. Trying them on in the store, the first thing I noticed was the bulbous knuckle protection. Although I think this feature looks ridiculous, it could prove to be practical should I ever find myself engaged in fisticuffs with a comic book superhero. The second thing I noticed is how comfortable they are. They felt so much like my regular riding gloves I had a hard time believing they could actually keep my hands warm. According to the tag these gloves have a thin layer of fleece in the back of the hand, as well as a wind proof water-resistant internal membrane throughout the entire glove. One thing I liked immediately was the length, with the glove extending up just past the wrist.