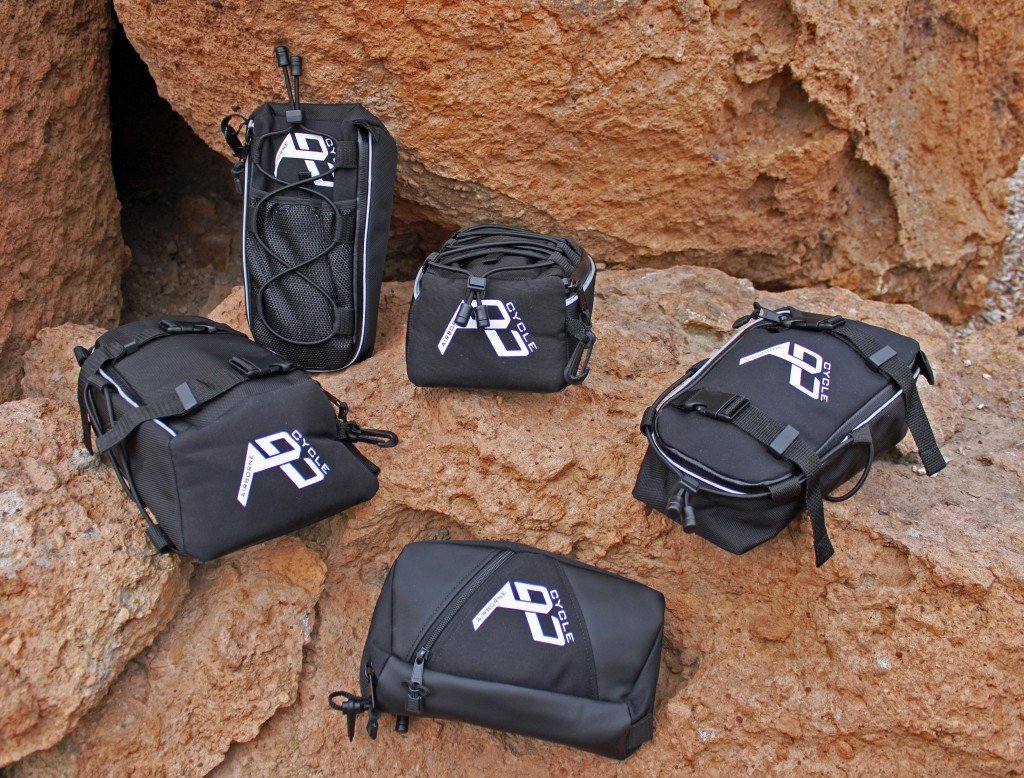 During my brief tenure as a Boy Scout my troop leader tried to teach me the art of self reliance and above all, to
Be Prepared
.  What I learned instead was that bug spray is extremely flammable and throwing a bunch of poison ivy on a bonfire can send a large number of kids to the emergency room. Years later as a Dual Sport rider I've come to really appreciate the Boy Scout's motto. There's nothing worse than  being stranded or doing the hike of shame because of a mechanical failure – particularly one that's easily fixed with a simple tool or tiny part. So every time I make tracks into the boonies I carry some essentials with me. A tool kit, tire patches, collapsible pump, spark plugs, epoxy, zip ties, safety wire, tow strap, and a few extra nuts and bolts. In addition to these items I also pack a drink, snack, first aid kit, a map, and (depending on the season) extra gloves or an additional base layer. Add to
that
 a cell phone, wallet, and house keys. Since only half the crap I'm toting around is for me, I feel it's fair that my bike shares some of the burden. As much as I appreciate the magical properties of duct tape, the best way to store items on my bike is with a fender pack.
Airborne Cycle
 is a relative newcomer to fender pack manufacturing, but that's not to say that they're new to manufacturing aftermarket parts. This Minnesota based company has roots in the snowmobile and bicycle parts industry so venturing into off road motorcycle gear isn't much of a stretch. Judging by their fender packs, this undertaking wasn't impulsive – a good amount of thought and consideration went into their products. Like most smaller sized fender packs, these packs are constructed with sturdy ballistic nylon and water proof YKK zippers. Unlike alot of smaller fender packs (particularly
front
  fender packs) the Airborne Cycle pack zips on three sides, providing easy access to the entire compartment. One thing I never liked about most of the low profile front fender packs is their limited access, meaning you have to remove everything to get something stored in the rear of the pack. Something else that I really admire about Airborne Cycle's fender packs is that they include a separate storage compartment – exterior mesh for the smaller packs and a zippered interior pocket for the larger packs. This way wallets, keys, and cell phones don't have to mingle with fouled spark plugs, oily rags, or a rank old pair of gloves.  Sometimes segregation has its merits. Other notable features on their packs include a stout vinyl base with thin layer of foam padding inside and reflective piping around the top edge. Each pack also comes with straps and/or shock cords for lashing down extra clothes, recovered parts, or a tasty piece of roadkill you want to bring home. There's also a plastic safety hook on each bag to secure the zipper in the closed position. This seems a bit excessive to me. I suppose it could come in handy if I packed my Waterford Crystal champagne glasses and my bike cart wheels down a cliff. Then I know all the broken pieces will remain securely fastened inside. But if my bike was bouncing down a cliff or (a more recent example) sliding down a gravel road without me – most likely the nylon or seams would fail before the zipper opens itself. Other than keeping the zipper closed, this hook could have more practical applications like a curbside helmet holder or a great spot to attach a rain fly when motorcycle camping. Speaking of attaching things, it brings me to what some might consider the most negative aspect of these fender packs – they're bolt on. No quick attach hooks with adjustable straps for ease of installation, you have to drill through your fender(s). Airborne Cycle provides all the necessary hardware including rubber washers to help seal out moisture. Honestly this is a non-issue for me. I don't mind drilling holes in my fenders and bolting a pack on because I know the pack is
secure
. If the pack comes off it's because the fender has ripped off. If the fender has ripped off it's probably because I've been involved in a spectacular crash and a quick attach pack would be long gone anyway. At least if it's still attached to my fender I'll have a better chance of finding it – assuming I'm conscious and can still walk. While these packs might not be as spacious or elegant as bags produced by companies such as Giant Loop, you won't have to take out a second mortgage to purchase one. Airborne Cycle's packs are perfectly adequate for the weekend warrior who doesn't need to strap a Louis Vuitton suitcase on their bike for a Saturday ride. They're also a good choice for any ADV rider looking to squeeze a little extra storage out of the front fender. For me the only real negative aspect of these packs comes down to a single thread. Although the stitching that holds the panels together is small (tightly spaced) it is a
single 
stitch, which could potentially decrease their service life. Curiously, the stitches on the top panels of the pack are taped (meaning an additional thin strip of fabric was sewn over the seam) but the single stitch on the bottom of the pack was left exposed. It's possible that taping the top seam was done solely to prevent the zipper from snagging on the edges of the panel. Whatever the reason I believe two stitches are better than one and taping
all
 inner seams would've given the packs double stitching and a more polished look. The only place where I found double stitching that wasn't taped was where the top panel was hinged to the main body of the packs. Whether or not having single stitch joining the panels together will ever become an issue is something only time and a good dose of abuse will tell. All things considered, I like Airborne Cycle's packs – the utilitarian, practical design and reasonable price tag makes them a good deal. The only thing preventing them from being a
great
  deal is a single stitch. For more info on Airborne Cycles product line please visit their
website
.
UPDATE: SOMEONE RECENTLY BROUGHT TO MY ATTENTION THAT THESE BAGS ARE RIDICULOUSLY EXPENSIVE TO SHIP – SO MUCH SO THAT THEY DECIDED TO SEARCH FOR ANOTHER BRAND. HOPEFULLY THE POWERS THAT BE AT AIRBORNE CYCLE WILL DISCOVER THE JOY OF FLAT RATE PRIORITY MAIL FROM THE USPS!