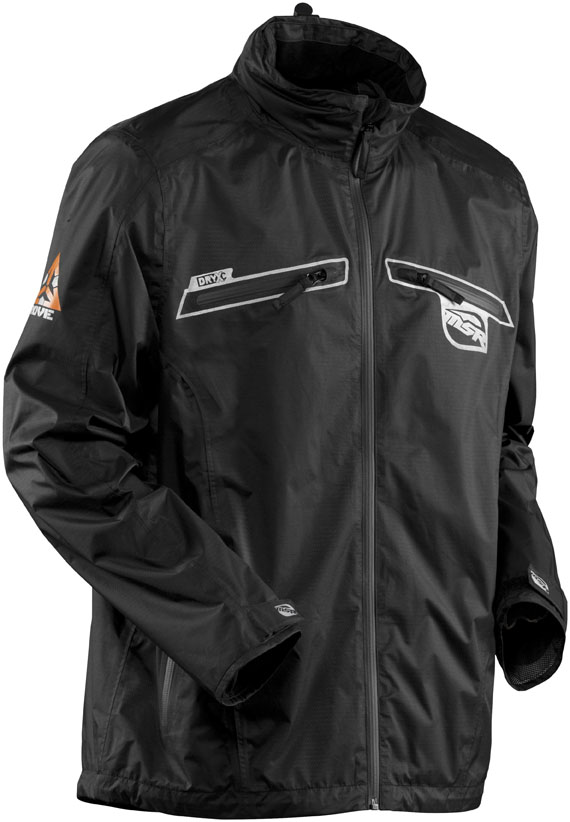 In the 1982 movie
First Blood
, misunderstood antihero John J. Rambo decides to flee Pacific Northwest police on a Yamaha XT 250 dual sport wearing only jeans, boots, and, in this case, the aptly named guinea tee. While he does hit a few jumps and some sweet looking trails, Rambo's ride is cut short during a hill climb when poor body position and an overzealous throttle hand conspire against him, causing his bike to loop out. After that, in an obvious homage to fashion trends of the homeless, he designs an active wear jacket out of an old tarp and some cordage, which he sports while frolicking through the woods ambushing law enforcement officers. The movie ends with an orgy of small town property damage courtesy of a large caliber machine gun. I have no doubt this movie is nothing short of sacred porn to hardcore militia types and the survivalist set, but as an off-road junkie I wonder if John J couldn't have eluded his pursuers entirely on the peppy little Yamaha had he been outfitted with a trials tire and some more suitable riding gear, like a helmet, proper boots, and a purpose built riding jacket. That would've brought the running time of First Blood down to under 30 minutes and I would've gained an hour of my life back. My first purpose built jacket was
A.R.C.'s Backcountry Jacket
– hands down the best bang for your buck when it comes to economical entry level apparel. But after five years of seasonal use it was beginning to show signs of serious wear and tear. The Velcro quit working and the zippers were becoming temperamental, with some of their pulls missing. By then my priority had shifted from low cost to ingenuity and longevity anyway; I wanted something with better design features that would last forever. This led to Klim's basic but exceptionally well designed
Traverse Jacket
. Touted as a mid-weight jacket, the Traverse incorporates some great design features in a well built chassis. Its thick waterproof material and stout construction led me to believe I'd found a jacket that would last me a really long time. And it would have, had whatever undiagnosed sensory processing disorder I must have not got the best of me, causing me to come to the conclusion that sometimes heavy duty feels too heavy and mid-weight can feel like too much weight. I'm a dirty dual sport minimalist, which means I don't dabble in week long ADV excursions that have my bike loaded down like a prospector's mule. Likewise, I try not to load myself down with too much weight. This doesn't mean I'll hit the trails wearing only a guinea tee, but I do want to be able to move around the bike unencumbered by bulk and excessive weight and not feel like I'm dressed in an army surplus duffel bag. Or a tarp fastened with cordage. This was the problem I had with the Traverse –
bulk
; particularly when the weather was merely marginal, or the early morning drizzle abruptly turned to merciless sunshine. Even though it has fantastic ventilation, after a few miles of riding in the dirt I just wanted to take the jacket
off
. But the Traverse packs down about as compact as a circus tent, which didn't leave any convenient options for storage. To solve this issue I acquired a lightweight pullover. Now I had two jackets and was beginning to feel like a clothes horse.
Klim's Revolt Pullover
is a great lightweight windbreaker that packs down to nothing and is easily stored in a pack. But it's not waterproof and, being a pullover, when wearing a chest protector putting it on and taking it off can made me feel like Houdini wrestling with a straightjacket.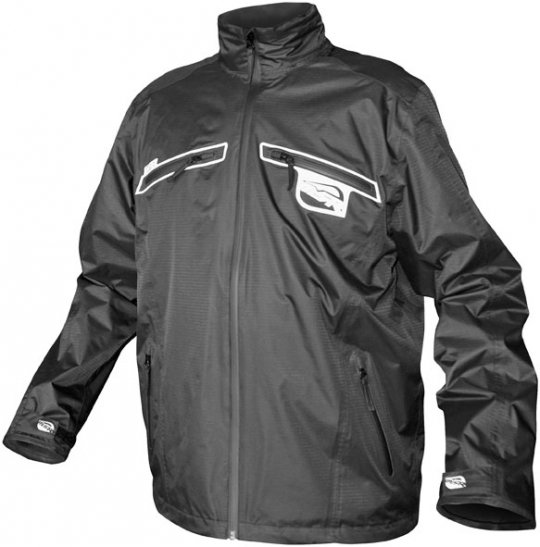 MSR's Rove Jacket is the ultimate solution to my wardrobe dilemma. This lightweight seam-sealed zip up shell offers great protection against the elements by using a three tier fabric system: a cloth shell, binder, and MSR's Dry-XC micro porous membrane – which seals the weather out but is breathable enough for body heat to escape. There's a contradiction in the jacket's accompanying brochures that should be noted right off the bat. Although MSR boasts about the Rove's waterproofing in certain sections of information, it uses the term 'water-resistant' in others. MSR used internal seam tape where the fabric panels join, so the obvious weak point of waterproofing is the premium
water-resistant
YKK zippers. While these zippers do have 'zipper key garages' (a small bubble of fabric to cover the pull tab), MSR could have lifted a page from Klim's book and included a generous internal storm flap for the main front zipper to make absolutely sure moisture stayed out.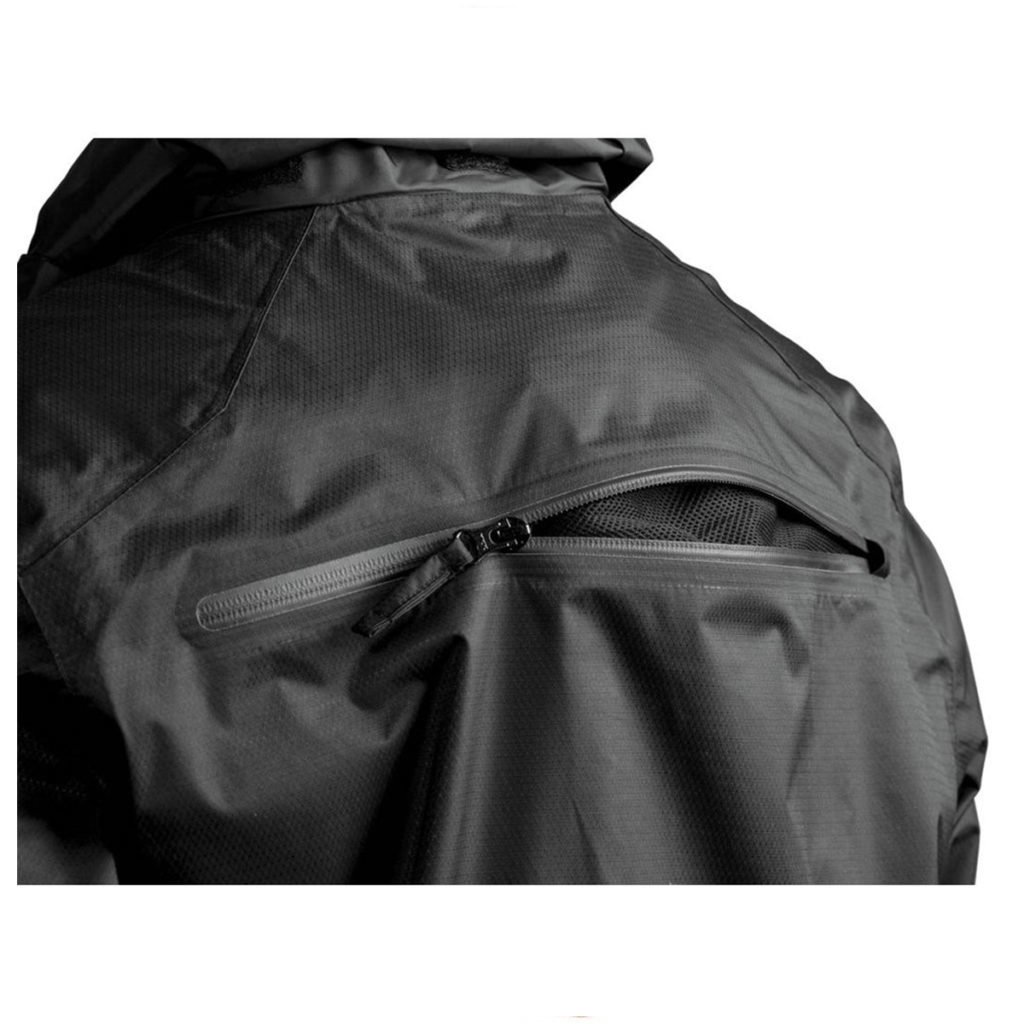 Come to think of it, they could have stolen a whole chapter from Klim's book when it comes to ventilation. The Rove does have ventilation zippers – two 5 inch front vents on the upper chest and a long 13 inch horizontal exhaust vent on the upper back, but they certainly seem less effective when compared to the well placed, lengthy and highly adjustable dual-zipper vents used on the Traverse. On the other hand, this is a lightweight jacket made from breathable material that's easily removed, so maybe I'll just stop being so persnickety about vent placement. One other (possible) shortcoming with the Rove is the size of the internal cell phone pocket. My iPhone 6, which seemed huge until my wife brought home her LG V10 monstrosity, just barely fits in it. Obviously the current trend of people carrying flat screen TVs around to use as their mobile device hasn't caught on at MSR yet, so if you're a phan of the phablet, you'll have to stash it somewhere other than the interior pocket. Now that I've dressed down the Rove, I suppose I should build it back up again, which is easy because everything else about this jacket is great. The fit and feel of the Rove is fantastic. The cut, including length, is spot on for body position while riding and true to size with no over-exaggerated articulation, which would be redundant anyway because the 100D nylon and full mesh liner are soft and extremely flexible. MSR didn't over build this jacket to make room for body armor, which can sometimes make a jacket seem too baggy in weird places – at 6' tall and 170 lbs a size large accommodates my low profile Leatt Chest Protector and underlying base layers just fine. Again, these run true to size, so if there's any doubt in regards to squeezing yourself into this with (or without) linebacker pads on, consider one size up.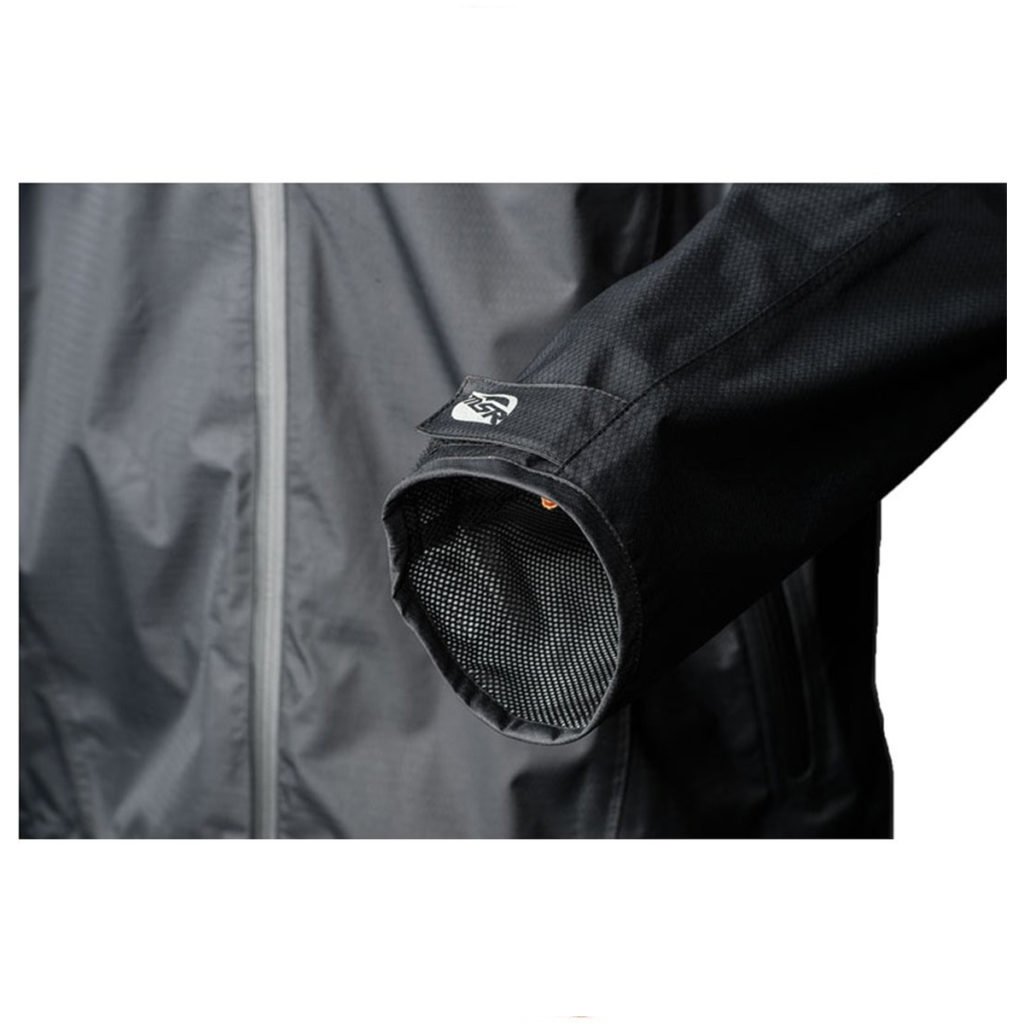 The greatest thing about this jacket is the weight, or rather, lack thereof – the Rove weighs 1.3 lbs soaking wet, so to speak. Which is less than a sweaty guinea tee anyway. This, combined with the fact that it wads up easily like toilet paper, means there's no reason not to wear it or stow it in your pack for the possibility of precipitation. When rain does arrive you can also batten down the hatches, as both the waist and collar offer an adjustable locking shock cord to keep the elements out. MSR also included a foul weather bonus – the collar has a hidden dual stage hood with a breathable crown that unfolds easily and fits under your helmet to prevent moisture from running down the back of your neck.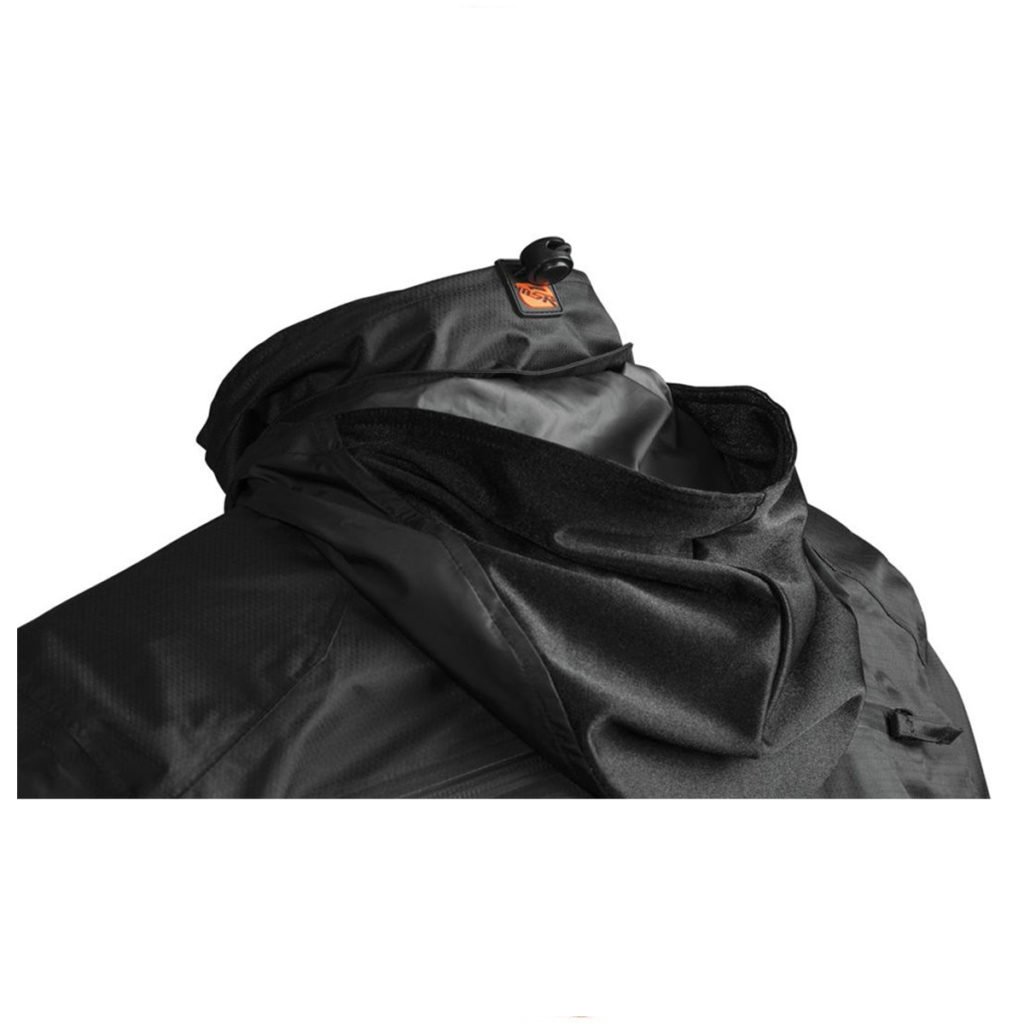 Notable whoopee-shit factors include minimal reflective graphics and large lower back pocket that also acts as a self-storage pouch. As the fall riding season looms large here in Central Oregon's High Desert, I'm anxious for the inevitable rains to return and transform our dry and dusty summertime silt to the saturated soil so splendidly suited for riding. With the rains will come the true test for the Rove; as of now I'm sad to say there's nothing but sunshine in the forecast and I can't confirm the level of waterproofing this extremely comfortable featherweight riding jacket has.
Editor's note: For the record I did briefly consider letting my kids hose me down with the jacket on, or wearing it while riding through a car wash. I also considered the ALS Ice Bucket Challenge – but I couldn't find anyone with ALS who would let me dump a bucket of cold water on them.