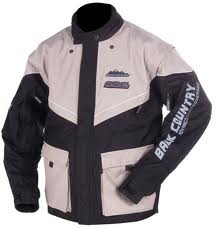 Unless you ride exclusively in a climate controlled Bio-Dome, you're going to need some protection from the elements. Sticking your head and arms through a lawn and leaf garbage bag will work, but for the reasonable sum of $80 you can have an actual purpose-built riding jacket. The A.R.C. Back Country Foul Weather Jacket is a durable medium weight jacket loaded with features at an economical price. Velcro wrist closures. sealed seams, a neoprene lined collar, elastic waist cord, and extra long anatomically curved sleeves make for a functional and proper fitting jacket. Plenty of pockets let you carry essentials, snacks, and a clean pair of underwear for the occasional near death experience. The jacket is also well vented and can easily turn into a vest by removing the sleeves. I've found it so well vented that in the three years I've owned it I've never actually removed the sleeves. All this in a breathable and waterproof (for now)medium weight 300-Denier Cordura shell that can be folded up into a built-in fanny pack. This is a phenomenal jacket for the price, but not without its flaws.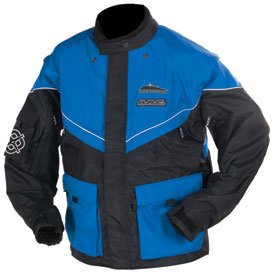 'Fanny Pack' sounds petite and manageable, right? Well, unless your fanny is Oprah-sized, the pack this folds into is large and cumbersome. How large is it? It felt like an airline floatation device. This could be useful in the unlikely event of a water landing, but in all my years riding I've yet to crash into a large body of water. I've also heard complaints that the waterproofing can go away quickly. I ride mainly in a dry climate and have worn this during wet conditions only a handful of times. But each time this jacket has kept me warm and dry. Should the waterproofing begin to fail, I'll probably try
Camp Dry
or another easy and affordable solution before it goes to the Goodwill. Bottom line? Other high end jackets may offer better features and more refined finishes, but at half the cost, the Backcountry Jacket packs a lot of potential for such a low price. Available at
Rocky Mountain ATV/MC
.