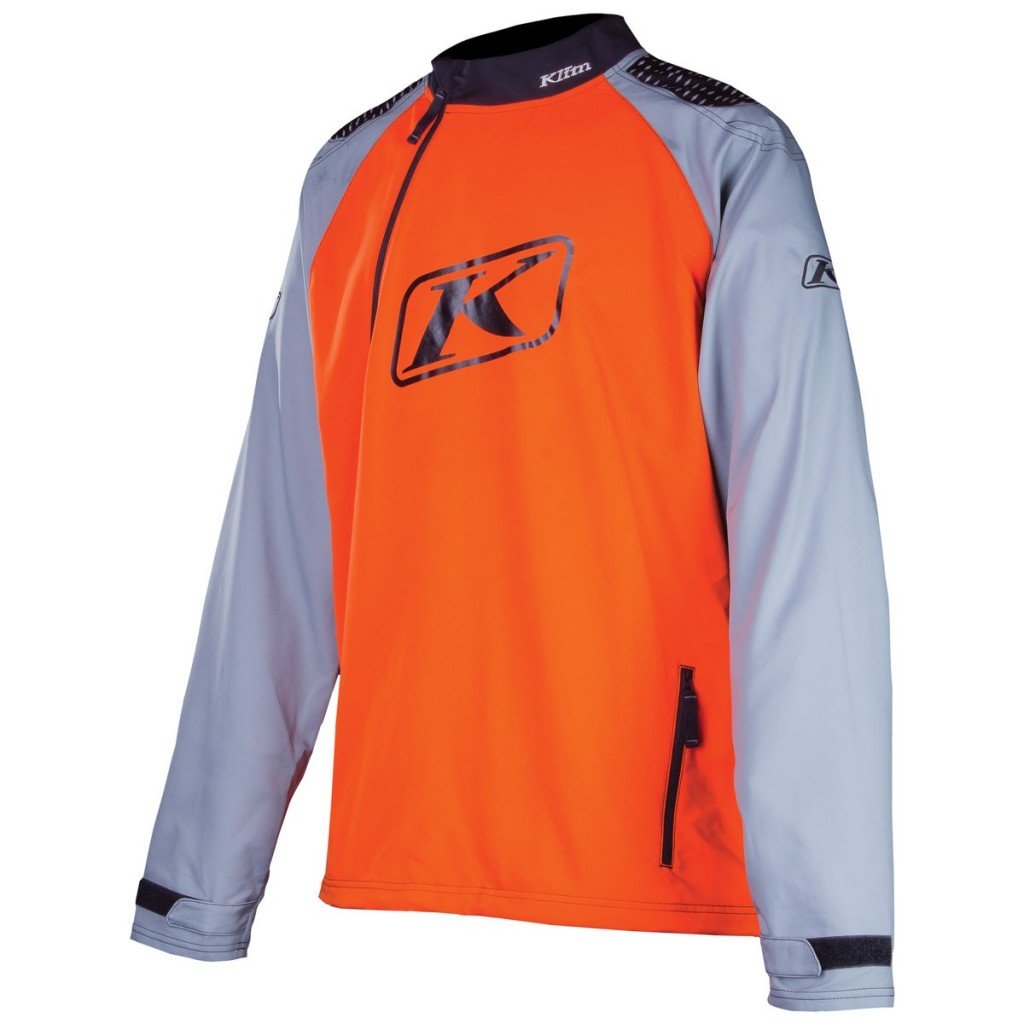 Spring in Central Oregon can be a fickle season. Sunny and warm, windy and raining, sleet, snow – all in the same day. Add to that huge temperature swings between morning lows and daytime highs and it's not uncommon to see people scraping frost off their windshield while wearing shorts and flip-flops. As a dual sport rider this can present a quandary when it comes to selecting which gear to wear for a day ride; particularly whether the weather justifies a jacket. Opting to wear one usually means being burdened with a bulky item later in the day, not wearing one usually means you're at the mercy of early morning wind chill. But there is another option:
the windbreaker
. A longtime staple of the geriatric beach crowd, windbreakers are a great choice for transitional seasons because of their versatility. Light weight and easily crammed into a saddle bag, back pack, or macrame tote, the windbreaker offers just enough protection against wind chill and/or light rain to prevent the user from the irritating effects of hypothermia. Yes, you could make your own using duct tape and a lawn and leaf garbage bag, but these one-time-use-only disposable models are best suited for free day at your local ski area. Besides, why waste time with transient technology when you can obtain a windbreaker made by
Klim.
Constructed using highly wind resistant fabric, Klim's Revolt Pullover is a purpose-built, functional upgrade from your grandma's beach combing windbreaker. This year Klim tweaked the design to incorporate a taller collar that helps protect the neck and lined it with a soft brushed fabric to prevent chaffing.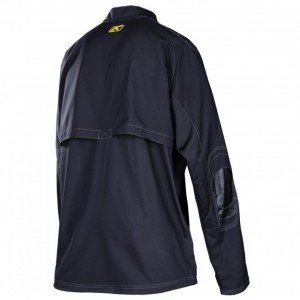 Because blocking the wind will eventually result in profuse perspiration, Klim has included horizontal ventilation along the back and mesh underneath the arm pits. Inside you'll also find a mesh liner to help wick away moisture and prevent your substantial body odor from getting any worse. The Revolt Pullover has a 1/4 length zipper, allowing it to be removed quicker than a prom dress when wearing a helmet. That aspect of the 1/4 length zipper is nice but being that it is a
pullover
, I did struggle to get it on over my chest protector – the bottom of the back hem kept snagging on the top of my protector's back plate. Eventually I required help from the studio audience. While a full length zipper would solve any interference issues with protective gear it would create a seam front and center that wind could penetrate. It could also detract from the overall esthetics. And, of course, they'd have to change the name to contain the term
 windbreaker
which immediately sends my adolescent mentality in the direction of flatulence based humor. Speaking of esthetics, Klim offers the Revolt Pullover in two color choices: gothic black or don't-shoot-me-I'm-not-a-deer orange (with gray sleeves). I've never been partial to the color orange, although I will admit that I do enjoy seeing sections of trail adorned with little bits of broken orange plastic – it looks like really expensive confetti. Orange is definitely the practical choice for anyone concerned with visibility. Fit can be slightly adjusted at the wrists and waistline hem. The wrist cuffs have Velcro straps that cause some excessive fabric bunching when pulled tight, although this could be because I have wrists the same caliper as a malnourished child. The waistline hem is adjusted with a shock cord that's accessible via the pockets. This is a nice touch because it doesn't leave anything dangling below the hem that could potentially catch on levers, tree limbs, or skeletal remains. The Revolt Pullover also boasts two zippered hand pockets with ample room to store a
balaclava
, extra pair of riding gloves, or a giant wad of one dollar bills if you're riding to a strip club. Although $90 might seem expensive for a windbreaker, remember that this isn't just a windbreaker – it's a pullover made by Klim. And anything from Klim for under $100 could be considered economical. The Revolt Pullover is a 3 season piece of gear that packs down small and weighs nothing but offers big benefits for short term adverse conditions.