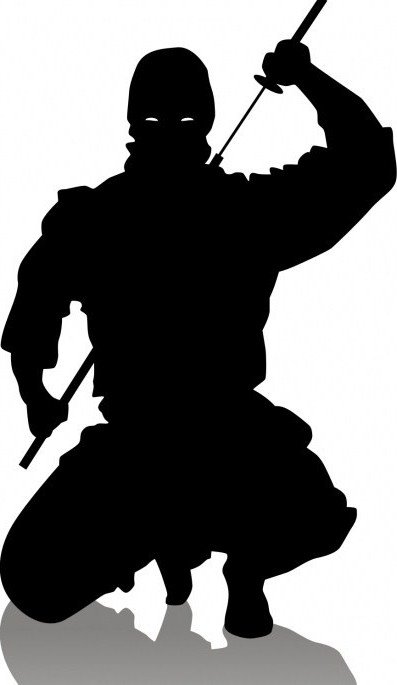 Hundreds of years ago in feudal Japan, long before the advent of automobiles or mass transit, ninjas were forced to commute to work using only motorcycles. During the winter months repeated exposure to high speed wind chill caused many ninjas to suffer from facial Eczema, an unsightly dry skin disease. Most ninjas sought treatment for this embarrassing condition at day spas, where they received eucalyptus oil face masks. Eventually, the number of ninjas requiring time at the day spa became so great that it attracted the attention of the samurai, who teased the ninjas relentlessly about this metrosexual remedy. The samurai weren't afflicted by Eczema because they tended to work from home. If they did venture out, their bulky armor made straddling a motorcycle difficult – they were forced to ride scooters that had a maximum sustained speed of 35 mph. In response to being harassed about frequenting day spas, the ninjas began to tease the samurai about their more effeminate mode of transportation. Thus began a long standing grudge between the two warrior tribes.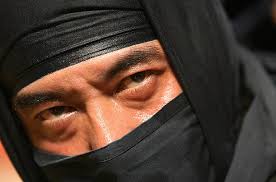 Finally a ninja named Kuniyoshi Balaclava, who once traveled to Paris on a couture sabbatical, decided to find a solution. He assembled a team of ninjas with a penchant for fashion design and created a garment that could be worn over the head that would protect the face while riding during the winter months. It was originally called a Atama Kondomu, but eventually became referred to as simply a
Balaclava
. Much to the consternation of Kuniyoshi his surname became confused with that of a famous samurai, Tokugawa
Baklava
, who was renowned for his middle eastern pastry dishes. Perpetuated by the samurai, rumors spread throughout Japan that ninjas wore pastries on their heads. This humiliation was more than the ninjas could tolerate. So the ninjas decided to withdraw from society and become silent assassins of the night, which forced them to change the color of their uniforms from Chartreuse to Matte Black. Centuries later the ninja are little more than fodder for kids TV shows or kitschy names for blenders and the term
silent but deadly
 refers to something else entirely. However, these days the Balaclava remains one of the best weapons to protect yourself against frostbite and other unsightly skin conditions during cold weather rides. In fact, this winter riding essential is so popular that the number of different models available today totals over 800 buh-jillion. When I began this post the impracticality of trying to review every single balaclava currently on the market was blatant. Only through painstakingly meticulous research was I able to narrow this colossal number down to four. In other words, I just scrutinized the ones I could get my hands on for free. Here's what I found:
Under Armour ColdGear Hood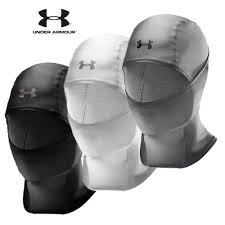 Made from polyester and elastane, this thin and lightweight balaclava offers unique options – it can convert into a neck gaiter or the 'hinged' drop chin can provide full face ventilation. The ColdGear Hood fits and feels great under the helmet and provides ample warmth at warp speed. Unfortunately, for a motorcycle application the drop chin feature becomes a liability as it tends to push or roll down the face when putting a helmet on. It must then be tucked back up underneath the helmet and easily drops down below the nose. The upside to this is that goggle fogging was never an issue. Neck length is also just a tad short and had the tendency to pop out of the collar. It is available in a variety of colors though – including mossy oak camo to appease your inner (or outer) redneck.
Ninjas rate it two out of five throwing stars.
Schampa Warm Skin
S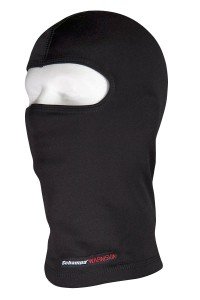 champa 
produces a variety of cold weather head gear for riding, available with or without mid-life crisis skull graphics. The best thing about their Warm Skin balaclava is how incredibly warm it is. Which, coincidentally, is also the worst thing about it. It's almost
too
 warm. Constructed with breathable moisture wicking High Thermal insulation that feels slightly reminiscent of neoprene, it's lined with a  soft, plush material inside. Excessive material on top caused it to bunch up slightly under the helmet. Goggle fogging was a slight issue that could easily be solved by choosing the Mesh Breather model, but would also compromise some of the warmth at high speeds. The lower portion of the eye opening sat really high on my cheeks, barely under my eyes. This was only noticeable when I blinked and probably contributed to the fogging. Neck length was generous without being ridiculous. While this balaclava wasn't necessarily uncomfortable, the excess material on top and thicker fabric was evident.
Ninjas rate it three out of five throwing stars.
LS2 Balaclava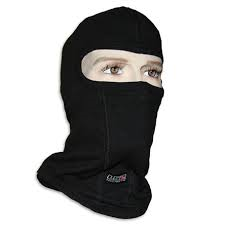 Being the minimalist that I am, this bare-bones balaclava was my favorite. Made from ancient cloth recovered from the Pokémon Dynasty, the
LS2
 didn't offer the best wind chill protection but it was adequate to get me by until I hit the dirt. This is an easy compromise for me to make; I'd rather be a little cold at highway speeds than feel like my head is in a sauna while riding off road. The LS2's thin comfortable material (which must be a secret because it wasn't listed any where – I'm assuming a poly-cotton blend) breathed easily so goggle fogging and overheating weren't an issue while navigating more technical terrain. In similar conditions I couldn't get the Schampa off fast enough. Neck length and cut on the LS2 are perfect. 
Ninjas rate it four out of five throwing stars.
Klim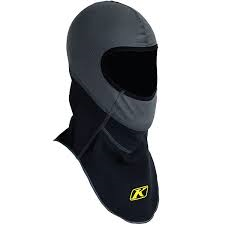 Leave it to Klim to over think something as simple as a balaclava. Luckily for us, Klim is ridiculously good at over thinking simple things. Unlike the other balaclavas listed here, this one uses two different materials: Windstopper Gore-Tex for the lower exposed portion, and Coolmax moisture wicking breathable fabric for the upper part that rides under your helmet. The result is a perfect balance – serious protection where you need it most and more subtle protection where you don't. Neck length was exceptional to the point of moderately excessive and the eye opening was slightly too large but otherwise this balaclava is perfect. For those looking to explore extremely frigid environments like Antarctica, Siberia, or Minneapolis, Klim also makes an
Arctic Balaclava
.
Ninjas rate it five out of five throwing stars.
Other Considerations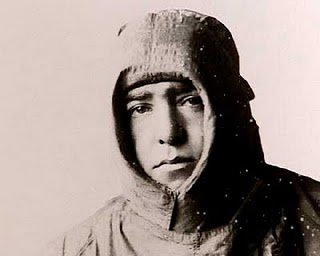 As with everything 'one size fits most', fit is subjective. What didn't work for me might be perfectly suited for someone with a head shaped like a geological anomaly. But there are some generalizations to adhere to, particularly when considering a non motorcycle specific product.
First and foremost is fit.
The balaclava should fit snugly against your head. Excessively thick material or loose areas will compromise helmet fit and comfort.
Check the stitching
. Double and triple stitching is good, but cover stitching (three or four thread overlock from a serger) provides a natural elasticity which can prevent broken threads when stretching the balaclava over your beach ball sized melon.
Check the seams
. Major seams should have little to no seam allowance, meaning they should be flat so it won't feel like the Alaskan Pipeline has been rerouted under your helmet.
Check the material
. Steer clear of fleece – this napped synthetic material may provide excellent insulation while wrapped in a Snuggie when watching Hallmark Channel Christmas movies, but it has very little affect at guarding against wind chill.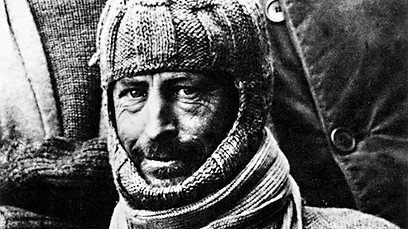 Consider neck length and cut
. Unless you grew up in some indigenous tribe in Burma that practices neck stretching, you probably don't need the balaclava to be four feet long. It should be long enough and narrow enough to stay easily tucked into your jacket collar but not so long that it goes down to your abdomen. There's another piece of gear to keep that area warm – it's called a shirt. Winter can offer some great riding despite cold temperatures, so don't let the prospect of a frozen face prevent you from getting out – channel your inner ninja and grab a balaclava for under your helmet to keep your head in the game.