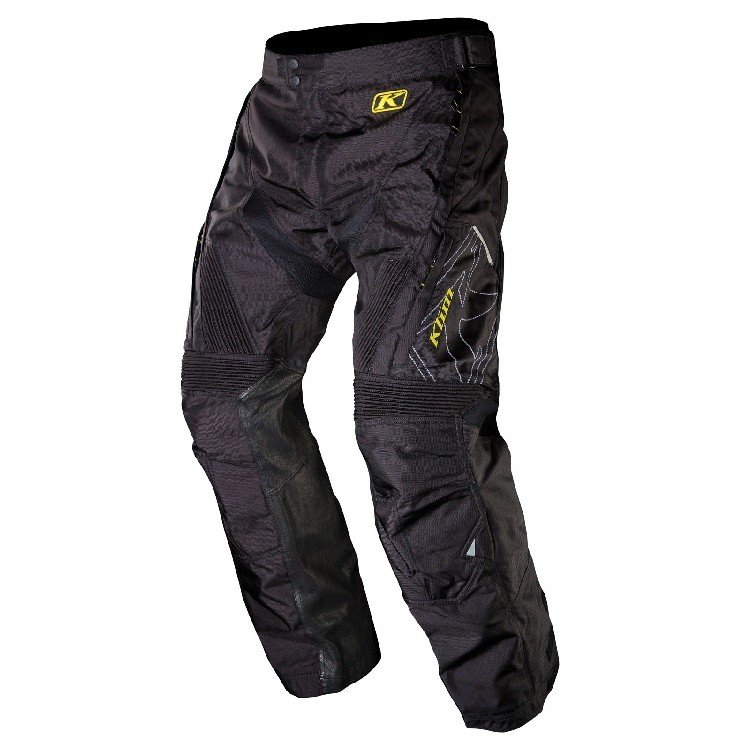 Chronic overachievers
 Klim
are renowned for producing what's arguably the best off-road riding gear on the market. Yes, it's spendy, but when considered from an investment standpoint it can pay huge dividends in the long run – just like the lottery. These guys make gear that 
lasts
. The success of the Dakar Pant is no accident. Well thought out with the emphasis on functionality rather than fashion and constructed from heavy duty quality materials, the Dakar is a pant that performs before you even get on the bike. That might sound ludicrous but one annoying aspect of over-the-boot pants can be getting your boots on after putting the pants on, then grappling with the inner gaiters and petite junior miss zippers along the side of the pant. Klim uses a unique Velcro curtain on the
back
 of the cuff, which provides a generous opening to easily strap on boots or knee guards. This also eliminates zippers that can jam and allows a wide range of adjustment, from Wal-Mart cankles all the way down to starving Ethiopian ankles. Other over-the-boot pants use a Velcro tab on the side of the cuff to adjust width, which can potentially snag or tear on vegetation while attempting to ride a straight line through densely forested areas. Even though the Dakar Pant has been extremely popular for years Klim decided it was due for makeover in 2014. The result is similar to a failed field sobriety test – two steps forward, one step to the side, and one step back. It's hard to imagine you could improve upon the last version of the Dakar Pant at all. While a few of the changes made aren't necessarily for the better, there is a surprising overall improvement. For the 2014 version Klim used the same heavy Cordura material on the main body and wear areas. They refined the fit in the legs, enhanced the articulation, and used thicker moisture resistant leather for the inner knee panels. Although I failed to notice any improvement in comfort, this can't be considered a negative – the 2013 model I had were extremely comfortable. Ventilation is another area that was improved upon, perhaps accidentally. The newer version retains the same exceptional 20 inch thigh vents adjusted using double YKK zippers and keeps the same slit exhaust in the back of the leg. But Klim reduced the breathable polyester stretch material in the crotch, reducing the unwelcome and rather unpleasant draft felt when riding standing up during cooler weather. While the stretch material was reduced in the crotch, it was expanded just below the back waist line. This is a nice feature, providing some extra ventilation that can easily be covered up with a jacket and helping to accommodate anyone with an ass like a water bed. Inside the Dakar Pant you'll find a testament to Klim's meticulous design nature. Moisture wicking liner in sweat zones, abrasion resistant fabric in high wear areas, and interior stretch panels that align with the exterior ones. You'll also find hip and knee pad pockets. What you won't find is the actual
pads. 
Maybe these empty pockets could prove handy for my side job as a cocaine mule for the Juarez Drug Cartel but I liked having the pads come with the pants. Granted, the padding that used to be included with older versions was only a quarter-inch of basic perforated foam, but I'll take all the extra protection I can. I prefer the option of taking the pads out, rather than the option of shelling out more money to put the pads in.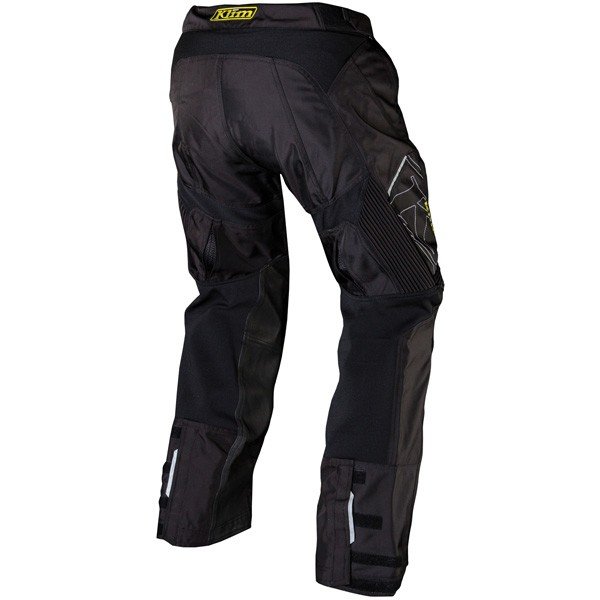 Another change I didn't care for is the repositioning of the cargo pocket opening. While the old version used a Velcro flap at the top to open the pocket, the new one uses a zipper along the front side. This may provide more convenient access when sitting on the bike with your feet on the pegs but when standing it's a little more awkward. At least Klim retained the size of the pocket(s) – more than enough to hold half a dozen chicken wings and 4 airline sized bottles of whiskey. Or two large jelly donuts. I suppose you could even store a cell phone, wallet, keys, trail map and a snack in them if that's your thing. Since I'm being picky, particular, and peculiar, I must say I also found it curious that Klim listed
glove friendly zipper pullers
 as one of the features of the Dakar Pant. To me this is a missed opportunity to exploit Klim's attention to detail. Just about everything produced for the outdoors that's made with a zipper has glove friendly pullers, so whoopee shit. Unlike just about every other glove friendly zipper puller, these won't fray or fall apart in two weeks. Or two decades. The stitching on this one little detail looks like a surgical scar from a coronary bypass operation. I have no doubt that I could hang a pitbull off each zipper puller without breaking a single thread. This small detail really drives home a big point – with so much obvious focus dedicated to the smallest features it conveys to consumers that a lot of effort was put into every aspect of these pants and not just the bigger basics, like comfort and fit. As previously stated, the last generation of the Dakar pant was extremely comfortable which wouldn't be possible if they didn't fit well. Fit tends to run true to size in the waistline with two Velcro cinch straps that allows for fine tuning after holiday meals or bouts of the stomach flu. I really didn't notice any 'enhanced articulation' and I didn't miss the geriatric elastic yoke in the rear of the waistband from the previous version. The only slight, inconsequential issue I had with the fit of these pants was the same problem I had with other select Klim products like the
Traverse Jacket
– sizing. At 6′ tall I seem to straddle the line of demarcation between a regular or tall size. Regular seemed slightly short, tall seemed slightly long. It should be noted that my teenage years are long gone so I wear pants that sit at the hip, not drooping down below my butt to showcase my stained Hello Kitty boxer shorts. My last pair of Dakars were regular length, this pair is a tall, with both being extremely comfortable and performing equally well. Again, these pants are on the pricey side, particularly for this (alleged) budget conscious site. But sometimes the prudent choice is to spend the money for a product that lasts and will hold up to the rigors of Dual Sport riding. And while you're waiting for the investment to pay off you can ride comfortably and enjoy the luxury of high performance zipper pullers. In between guzzling brandy and sucking down cigars, Winston Churchill once said
To improve is to change; to be perfect is to change often.
Klim seems to be striving for perfection again – just what you'd expect from a bunch of chronic overachievers.