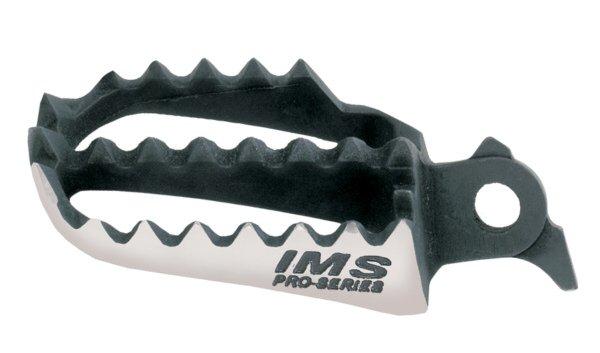 When I was learning to ride off road, the few pointers I got came from the old guard – guys who were in their prime during the 1960s and 70s and did everything they could to emulate European racing legends like Joel Roberts and Heikki Mikkola. The two tips I heard repeatedly were
stand up
  and
keep your feet on the pegs. 
Having ridden a few vintage bikes I'm amazed that anyone from that era could even find the pegs, let alone keep their feet on them. To me standing on vintage pegs felt like trying to balance my feet on Number 2 Pencils. Regardless of what my wife says, I know sometimes bigger is better
.
These days it can be argued that the best off road racers in the world are European riders with a trials background, a style of riding where balance is everything and putting a foot on the ground during a competition results in being penalized. It can also be argued that keeping your feet on the pegs is considerably easier on a modern bike due to the fact that they have evolved to the size of cafeteria trays. Since 1976,
IMS
  has helped play a role in the evolution of aftermarket motorcycle parts. Created by dirt track racer CH Wheat with the goal of utilizing a racer's insight to develop high performance parts and accessories,
IMS
  grew by leaps and bounds in the mid to late '90s with the addition of fellow racer Scott Wright. Although primarily known for producing large capacity gas tanks and fueling systems, IMS also manufactures metal hard parts such as guards, levers, mounts, and (obviously) foot pegs. When I received a set of  their
Pro-Series
 pegs I was immediately impressed with how they looked. Made from cast stainless steel, powder coated and polished, these are pretty parts to adorn my motorcycle. This instantaneous attraction could be due to the fact that, like fish, I am attracted to shiny metal objects – particularly shiny objects that bolt on my motorcycle. There's an old adage that states: lures are designed to catch fisherman, not fish. In my case this saying is easily applied to aftermarket motorcycle parts. Esthetics aside, the Pro-Series pegs are more than just ornamental decorations – they're performance upgrades. These pegs measure out 1/8 of an inch longer and wider than the stock pegs on my DRZ, giving me a larger platform to stand on and making them easier to find when I really get out of shape and my feet fly off. They also have teeth that resemble a werewolf's – or possibly a vampire's, depending on which rendition of Nosferatu you prefer. Personally, I'm partial to 
Blacula
.  Either way, these pegs provide tremendous grip to help keep your feet firmly planted. Keep in mind that if you're prone to spontaneous unintentional freestyle tricks on the trails, gouging your shins on these could prove extremely painful. Not as painful as being impaled with a wooden stake or suffering through an entire
Twilight
 Movie, but painful nonetheless. Forget about garlic and crucifixes, to prevent any bloodletting protect yourself with tall boots and shin guards. One thing I really liked about these pegs is how open they are. My stock pegs are gusseted, meaning they have metal supports welded perpendicular from the center strut of the peg out to the edge. While these little gussets provide more strength to the outside of the peg and help prevent denting or bending – they also allow mud, dirt, and chunks of my neighbor's lawn to become easily trapped. Having two large open spaces as opposed to several smaller squares allows debris to be easily cleared out of the pegs. If there's a downside to the IMS Pro-Series foot pegs it's the weight. These pegs weigh about 5 ounces more than my stock pegs – that's almost 1/3 of a pound. If you're concerned with adding this much extra weight to your bike I suggest you avoid these pegs. I also suggest you seek help for your OCD. We all know foot pegs are a necessary component on motorcycles; standing on the swing arm while riding makes shifting gears awkward. But anyone who thinks foot pegs are merely a convenient perch to park your feet should read this
novice tip
  – there's a reason foot pegs are listed in the Controls section of most parts catalogs. As the saying goes
it doesn't matter how much power you have – without control you have nothing.