I
have to hand it to the Italians, when they're not busy inhaling carbs, philandering, bathing in Drakar, fitting some guy with concrete shoes, or some other stereotype – they sure know how to accessorize. I'm not talking about gold horns dangling from rope chains or bedazzled jeans either. When it comes to motorcycle accessories, their companies can produce some of the best products in the world. Take for example
Pro Grip
, a subsidiary of the Plastiche Cassano Company. Founded in 1925 and located in Cassano Magnago, Italy; this company began as a small business that manufactured handlebar grips from buffalo horns. When the Fascists gained control of the country in the 1930's, Italy gave world domination a try. They came up a little short – only conquering global super powers Ethiopia and Albania. If anything good came out of World War 2 it was advancements in technology and modern materials such as plastics; Plastiche Cassano took advantage of this and started experimenting with grips made from bakelite, acetate, and other materials. Decades later, after perfecting handlebar grips and changing the company's name to the current moniker, they began to expand their product line to what it is today. Grips, gloves, goggles, helmets, protective gear, and accessories – Pro Grip offers a wide variety of products for motor sports and outdoor enthusiasts. While I do use their grips, its their goggles I've become enamored with. I bought my first pair over 8 years ago and just recently had to replace them. They came with a handy soft pouch to help protect the lens. I never used it. Not only did I not use it, I'll confess that I'm guilty of goggle abuse. Dropping them repeatedly, chucking them in a gear bag constantly, and occasionally letting them slam against my helmet while riding as they dangle from one Quick Strap. And what is undoubtedly the worst offense – letting my kids play with them. After years of neglect the lens still only had nominal scratches. But the foam finally began to deteriorate, sending debris into my eyes while riding and giving me the perfect excuse to get a new pair.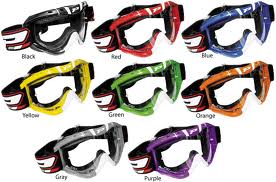 After browsing their current selection, I decided on the 3450 LS with a polarized lens. These goggles had the same great features as the rest of the Pro Grip line up: large field of vision, No Fog Lexan lenses with 100% UV protection, triple layer felted foam, (slightly) elongated nose piece for better protection, and a wide ventilation area. As with my last pair of Pro Grip goggles, I admired the high quality of the strap as I immediately cut it off and deposited it in the trash. If this seems like a waste, that's because it is. But I'm unwilling to give up the convenience of a
Roko Quick Strap
. All of these features, along with exceptional materials and quality construction, create a very comfortable goggle that performs really well. But for me, it's the polarized light-sensitive lenses that make it high performance. In case anyone just emerged from spending their entire life in a cave in Liberia, a
polarized lens  
is a lens that greatly reduces reflection and glare. And a
light-sensitive
lens
  means they are photochromic, which is a fancy way of saying that when you walk out of a Liberian cave and into the sun, the lens becomes darker. And congratulations to my hypotheical cave dweller for learning to read English and use a computer so quickly. I ride almost exclusively in Central Oregon which is some what of a geographic anomaly. Ride east and the landscape resembles wide open southwestern desert; ride west into the mountains and the terrain becomes high alpine forest with old growth trees. The polarized lenses are a huge benefit in either direction. Riding at high speeds in the desert they help to bring ruts, rocks, and the occasional cow patty into focus. In the shade and shadows of the forest, roots and rocks become clearly defined. Then there's the transitional zone between mountains and desert. That's where the light sensitivity really pays off. Trails in these areas run in and out of shade requiring your eyes to constantly adjust to the changes. While the photochromic change over isn't instantaneous, it only takes a few seconds and is really beneficial. Remember – riding off-road without any eye protection greatly increases the odds of having your vision impaired. Having your vision impaired while riding off-road greatly increases the odds of you hitting the ground. Or a tree. Or a free range cow. Eventually dirt, rocks, or a Kamikaze June Bug will impact your eye(s) like a tiny meteor and if you're running in 5th gear wide open this can have dire consequences. So if you're currently riding without protection I highly recommend upgrading to anything. If you're riding with swim, scuba, welding, beer, or run-of-the-mill MX goggles – I recommend upgrading to Pro Grip 3450 light-sensitive goggles. They are a high quality, high performance goggle that eliminate any internal debate about which kind of lenses are best for current conditions – tinted or clear. In the immortal words of another stereotypical Italian, these goggles '
make you an offer you can't refuse'
.
UPDATE: WHILE I'M STILL DEVOTED TO MY PRO GRIP GOGGLES, THERE IS ONE THING I'VE REALLY TAKEN ISSUE WITH – LENS REPLACEMENT. IT REQUIRES A LOT OF PATIENCE AND A GOOD DOSE OF PROFANITY. DON'T EXPECT TO POP IN A NEW LENS 5 MINUTES BEFORE YOU RIDE; IT'S A WRESTLING MATCH.