CONTRIBUTING WRITER – FRANK MORTON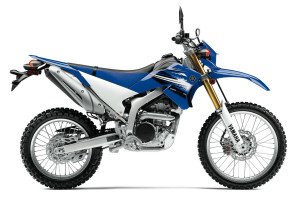 I've owned a wide variety of motorcycles over the course of my life, but this is just my 2nd Dual Sport. My first was a Suzuki DR650 which I bought because I thought I would enjoy cruising through the woods on gravel roads. Turns out I prefer trying to injure myself by going fast over technical terrain. The DR650, like me, carries too much mass to handle well in rough or tight conditions. I got tired of crashing all the time and having to lift such a heavy load off the ground. I got tired of picking the DR up too. So last year at the recommendation of a friend I bought a brand new 2012 Yamaha WR250R. So far I've managed to put almost 7,000 miles on it. This bike handles very well; it feels nimble and light, like my old girlfriend. It's easy to maneuver and just a blast to ride. Yamaha did a good job of matching the fuel injected 250cc motor to a 6 speed transmission; a nice wide range of gears. Since it's a 250 you end up riding with the transmission a lot when navigating varied terrain off road; it requires a bit more finesse. I do think shifting isn't quite as smooth as some of the Suzuki's I've owned. I've found power to be adequate everywhere except on the top end in soft dirt. I'll put it this way –  it has more than enough juice to tear small branches from the occasional Manzanita bush, but it won't be pulling stumps from the forest floor. It's also well mannered on the highway and cruises easily at 65 to 70 mph. From there, peg the throttle and, well, not much really happens right away. However, in about a mile and a half, on flat ground with no head wind, you're likely to have to dial it back ever so slightly. Fuel consumption is good; 70 plus mpg is easy to swallow. The Yamaha came stock with Bridgestone Trail Wing tires which weren't much to look at and had a bad reputation for poor traction in the dirt. I replaced them with Dunlop D606s front and rear. However, the friend that recommended the WR to me kept his Trail Wings and seems to be able to go anywhere I can with just about the same amount of effort. To me this just goes to show how varied results can be with different riders on the same equipment.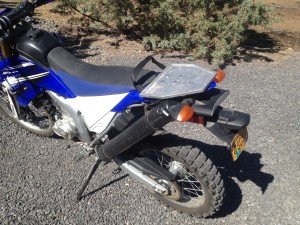 Even though I'm retired I like to stay busy. This could be because I also like to stay caffeinated. It was inevitable that I made some upgrades and changes to the WR, starting with the usual – hand guards, short levers, better shift lever, folding mirrors. I added my world famous and soon to be patented
sewer pipe storage tube
for carrying a tent or fishing poles. I also strapped on a Giant Loop Coyote bag so theoretically I have a place for all the fish I catch if I ever actually decide to take a fishing pole with me. I enjoy working with metal so I fabricated my own skid plate, radiator braces, and tail rack. I also found the specifications for an after market high flow exhaust tip and made my own. Adding this and removing some of the muffler baffles made it sound good but didn't produce a notable power gain. I was glad I didn't waste a hundred dollars on it. Plus shipping. I added a
Power Commander III
which I've had good success with in the past for my FZ1 and my Harley. On the WR250 it provided a slight power increase but really improved how crisp and responsive the throttle was. Instead of having to shift down a gear on moderate inclines it now pulls straight to the top. I also performed
this airbox modification
. The instructions seemed a bit hard to follow but made sense when I began to dig into it. I switched the primary sprocket, dropping one tooth. This change has been great in the dirt but sucks on the highway; I lost a lot of cruising speed when I lost that tooth. I upgraded the stock 2 gallon tank to a 3 gallon tank from
IMS
, increasing the range to over 200 miles. I do a lot of exploring when I ride, half the time I don't know where the hell I am, so this was the single best upgrade I made and relatively cheap insurance against running out of fuel far from a gas station. Overall I'm really happy with the WR250R, especially when taking into consideration the cost to fun ratio. I'm not sure a more powerful bike that cost thousands of dollars more would provide additional satisfaction. So far it's done everything I've asked it to do and I've yet to have a bad ride on it. My greatest reward for riding the WR250R comes at the end of a hard fought technical trail, after I've finally caught up with the other riders, and someone says, "Hey, not bad for an old man on a girls bike!"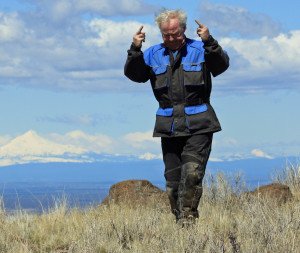 About the Author:
Frank Morton might have had a short lived career as a Sensitivity Trainer had he not decided to enlist in the Marine Corps the day after graduating High School and go to Vietnam. After his Tour of Duty he joined the Oregon State Police and spent several decades fighting crime and scraping dead people off highways. Now retired, he enjoys cutting metal with his bare teeth and welding it back together with his icy hot glare. When he's not busy telling me what a whiny little bitch I am, he thoroughly enjoys trying to show this editor a wheel and run me off the trails. He may not be 'the most interesting man alive' but he is one tough bastard.