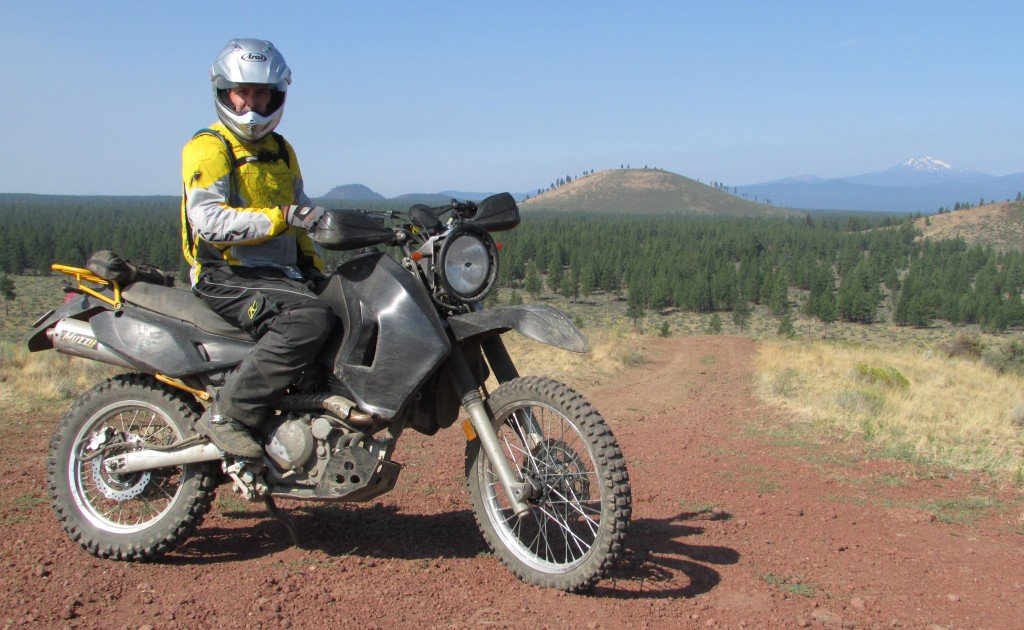 One of the constants in Mike Gray's life has been his love of two wheels. While he's dabbled in many other sports and outdoor activities throughout his life (including taking up rugby at the tender age of 38), the one thing he's done in earnest all along is ride a bike. First in the bicycling world where he competed in road racing for many years, then mountain biking and eventually into the motorcycle world, canyon racing street bikes in Southern California. Inevitably, he finally wound up on a dual sport. After due diligence on a BMW GS, he bought a 2009 Kawasaki KLR650 – a bike he refers to as his 'woods weapon'. Seeing how that term is usually reserved for bikes that are light, nimble, and purpose-built for off-road use, it's easy to assume that Mike is joking. But after watching him throw the big KLR around like it was a 125cc 2 stroke (with the agility and grace of a circus performer) I'm not so sure. One thing is for sure – his 2009 KLR is absolutely perfect for him.
What made you buy a 2009 Kawasaki KLR650?
The reputation the KLR has for being simplistic and a workhorse was pretty convincing. There are lots of accessories and aftermarket parts available for them; parts are cheap and they generally don't need parts replaced very often. They're just an all around great adventure bike.
What don't you like about the bike?
There's really nothing I don't like about it, it's everything I expected to buy so I wasn't caught off guard by anything. I didn't want a nimble little dirt bike or a super heavy high maintenance, high performance bike. I really have no complaints about it. I guess a minor complaint would be the type of plastic they used on some of the body parts. For this second generation KLR, Kawasaki chose to use ABS plastic for the fairing and a few body panels. Its more brittle than the plastic a dirt bike would have, so the first good tip over you have on one of these second generation bikes, you're going to break or crack body work. That would be the only complaint I have, and it's only the headlight assembly, the beak…that whole nose assembly, as well as the tank shrouds by the radiators. But the fenders and side panels are made with more flexible plastic, so they hold up well, but that ABS plastic belongs on street bikes – it's not a wise material to use on a bike that goes off-road. That's why I removed all of it.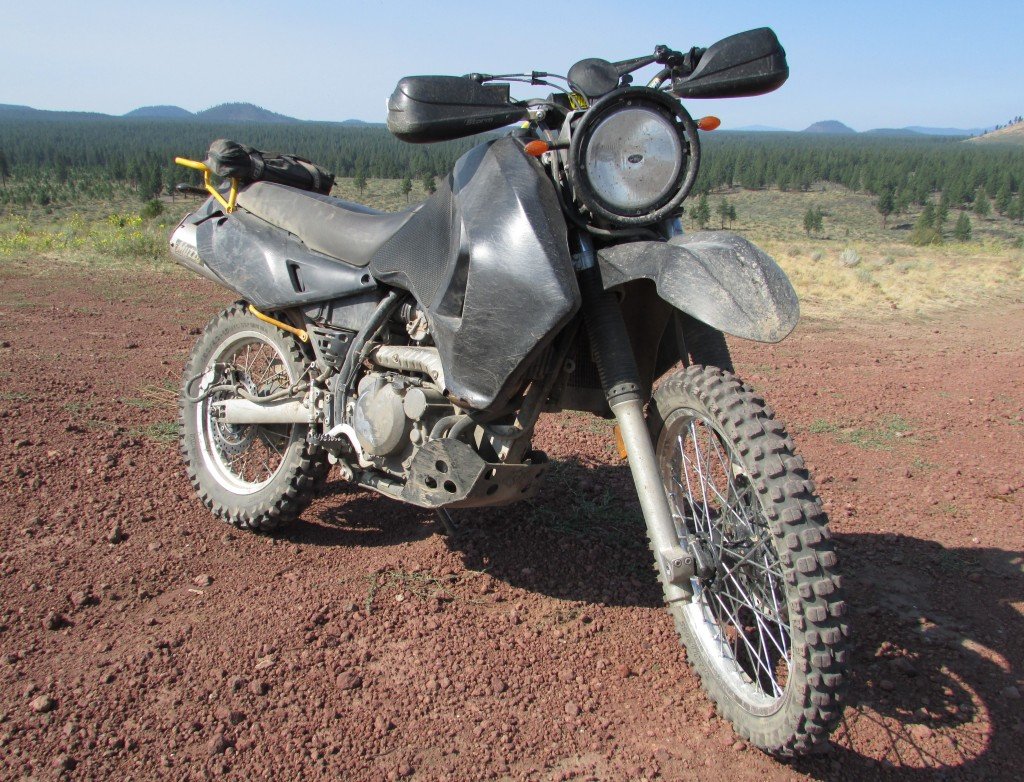 What kind of upgrades or modifications have you done to it?
Like almost every KLR owner, I can't leave well enough alone – the modifications go on and on…everything from bar risers to better foot pegs. Although I'm an atypical KLR owner, as most of them tend to over-accessorize, perhaps worse than BMW adventure bike owners. Those guys enhance their dashboards to accommodate more lights and switches and receptacles and have all these mounts on their handlebars for the GPS and iPhone and GoPro…I look at all that as a bunch of stuff that's just going to get broken off and weigh the bike down. I've taken more things off this bike than I've put on it. So far as upgrades and modifications, as with any motorcycle the most bang for your buck as far as performance and weight loss is concerned is an aftermarket pipe. I went with a
Muzzys
. Nobody seems to know more about Kawasakis than Muzzy, with all the years they spent as a part of their road racing program.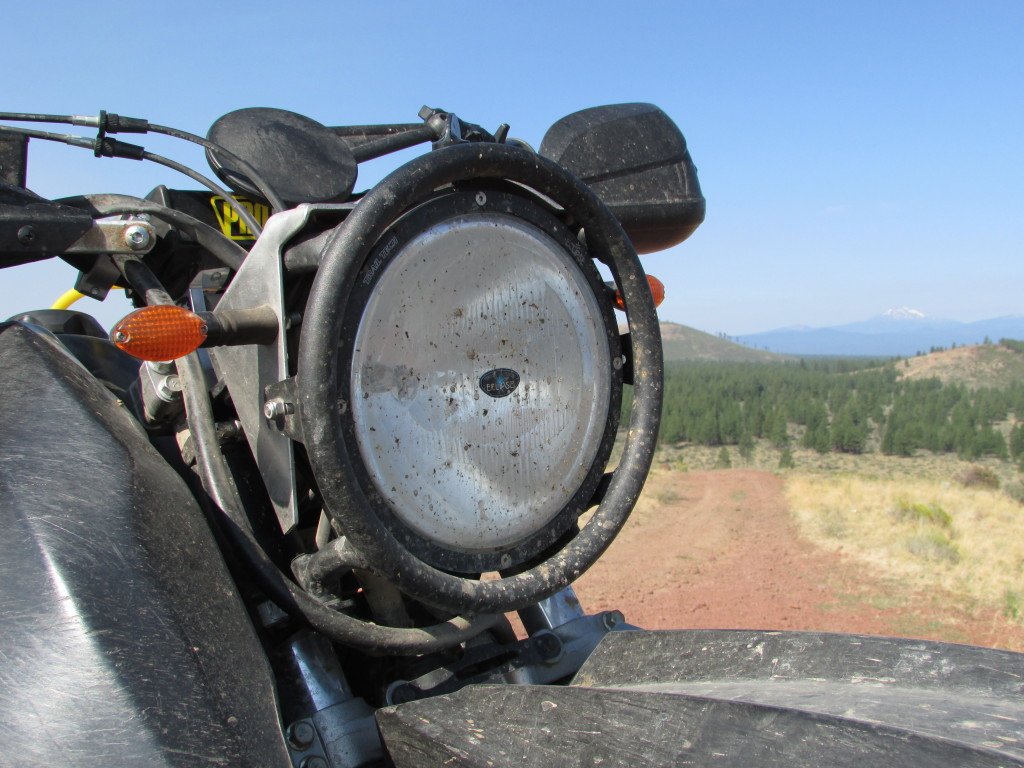 I put knobbies on it – Pirelli MT 21s front and rear. I put an 8″ Trail Tech headlight on it, which gives great visibility during the day and when I ride off-road at night I won't outrun my headlight. I went with Trail Tech computer to replace all my instrumentation, and fabricated a metal mounting plate for it. I fabricated a custom rack and some cleats to replace the passenger pegs as a lashing point for soft bags. I also put an
IMS
 10 gallon tank on it. It's no larger in size than the original tank with the tank shrouds – they simply extended the tank to take the place of the shrouds. And because the tank has a mounting bar underneath the shroud, it also acts as a radiator guard, so it replaces all that hardware too. By going with the IMS tank I was able to eliminate the OEM metal tank and radiator guards and the shrouds. If I only put 6 gallons in it, which was the original tank's capacity, it's about 13 lbs lighter than it used to be. Half of that sits lower too so it gives the bike a lower center of gravity – which does have its pros and cons. By filling the 10 gallon tank, it's somewhere around 7 lbs heavier than it was originally. But just because you have a 10 gallon tank doesn't mean you have to fill it.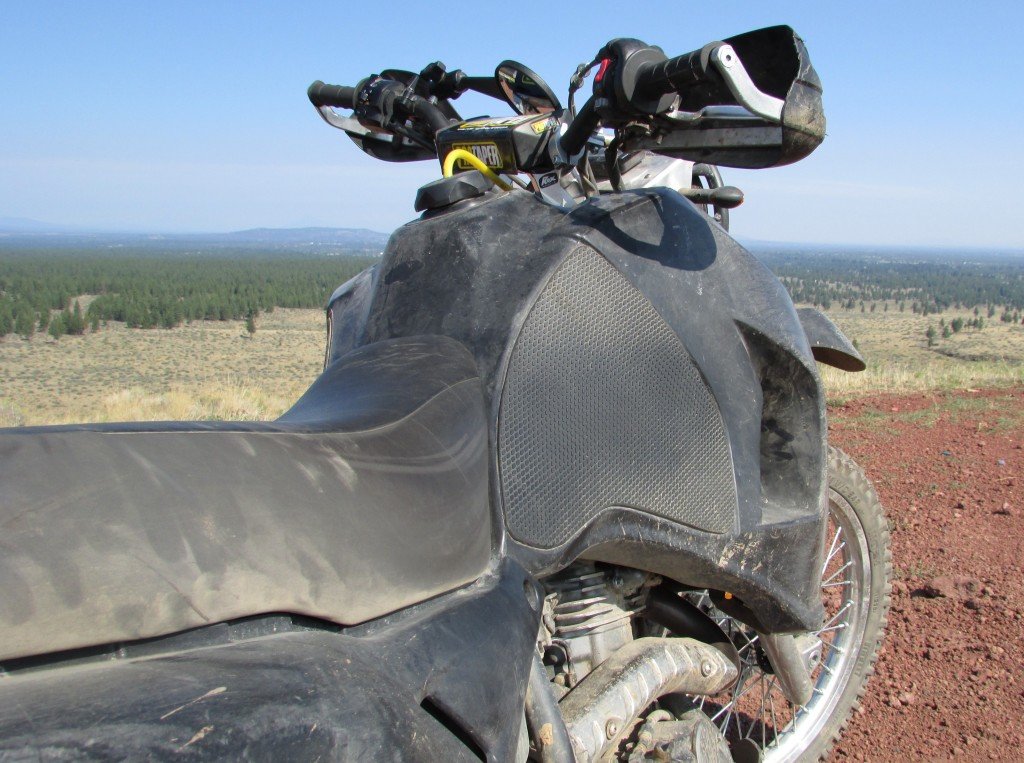 What's your favorite upgrade?
Aftermarket springs for the suspension. A big complaint about the second generation KLRs is that they're really squishy. I think for the average person who only rides on the occasional dirt road it's fine, but if you're going to ride a little more aggressively off-road you'll bottom out the suspension left and right.
How does this bike compare to others that you've ridden?
The heavier bikes can sometimes have advantages over lighter bikes. You don't get as much input from the terrain which won't cause as much fatigue and it also gives you the confidence to use your inertia to ride over things. Lighter bikes have to be a bit more careful when choosing lines so they don't get bounced off of things; bigger bikes can just barrel over stuff. But lighter bikes definitely have their advantages, particularly when you tip over – the KLR is no fun to pick up!
What's your favorite dual sport ride?
My backyard! Here in Central Oregon we've got 10,000 forest roads and old ranch roads to explore in our backyard. Trekking down to Summer Lake Hot Springs would be a favorite, you get everything thrown at you – there's rocky sections and sandy sections and high-speed 75mph sections, plus you have to find your way on all these old intersecting ranch roads. There's a route down there nicknamed 
Bad Fandango
 that's great. You're so far out there. There's no phone reception and you drop down in this beautiful valley where there's wild horses. It's beautiful but it's also engaging, you have to keep your wits about you and concentrate on your line because there's some really technical sections. You could never get an ambulance down there!