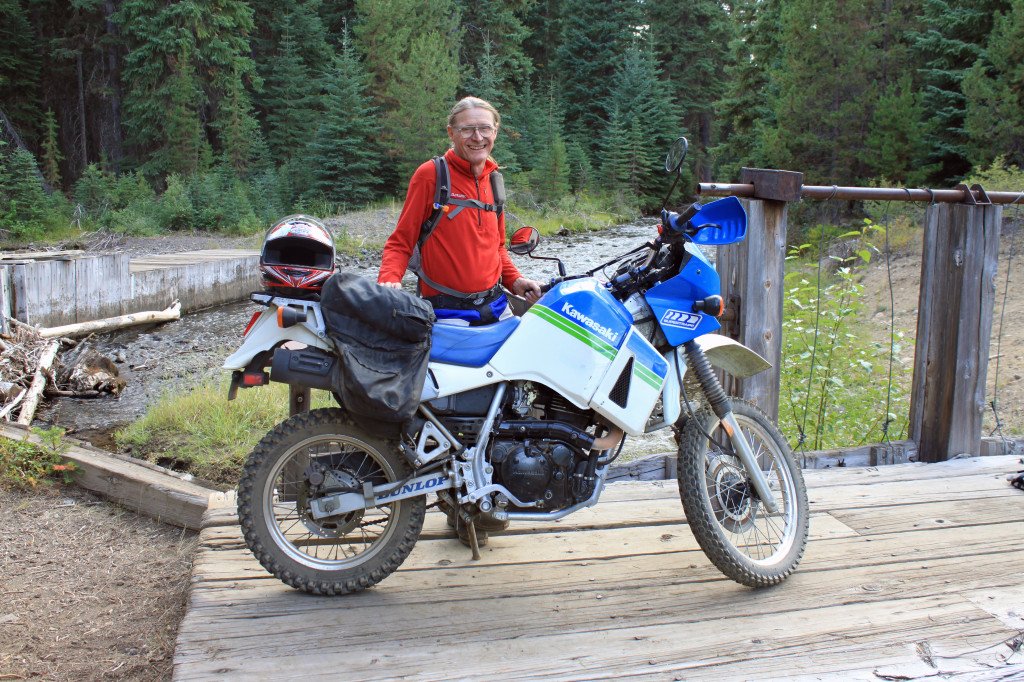 Jerry Young can't sit still. It's taken me MONTHS to pin him down long enough to talk with him about his 1990 Kawasaki KLR 650. If he's not out riding a motorcycle, he's out riding a mountain bike. If he's not doing either of those he's off camping somewhere. A true adventurer at heart, Jerry finally found some free time to talk to me about his KLR and a few of the amazing places it's taken him.
What made you buy a 1990 Kawasaki KLR650?
In 1992 I was planning a Dual Sport trip through the
Frank Church Wilderness Area
in Idaho. We rode through Elk City, Idaho through Emmett; then on up to Darby, Montana and from there back to Challis, Idaho and Boise – mainly on dirt roads with little sections of pavement. The KLR comes with a 6.2 gallon tank stock, that's the main reason I got it. I hit reserve around 260 miles. I've got as high as 67 miles to the gallon but that's just putting, if I'm hard on the gas it can get as low as in the 30s. Average MPG is in the mid 50s. I didn't know it when I bought it, but it also has a reputation for running a long time; a really dependable bike.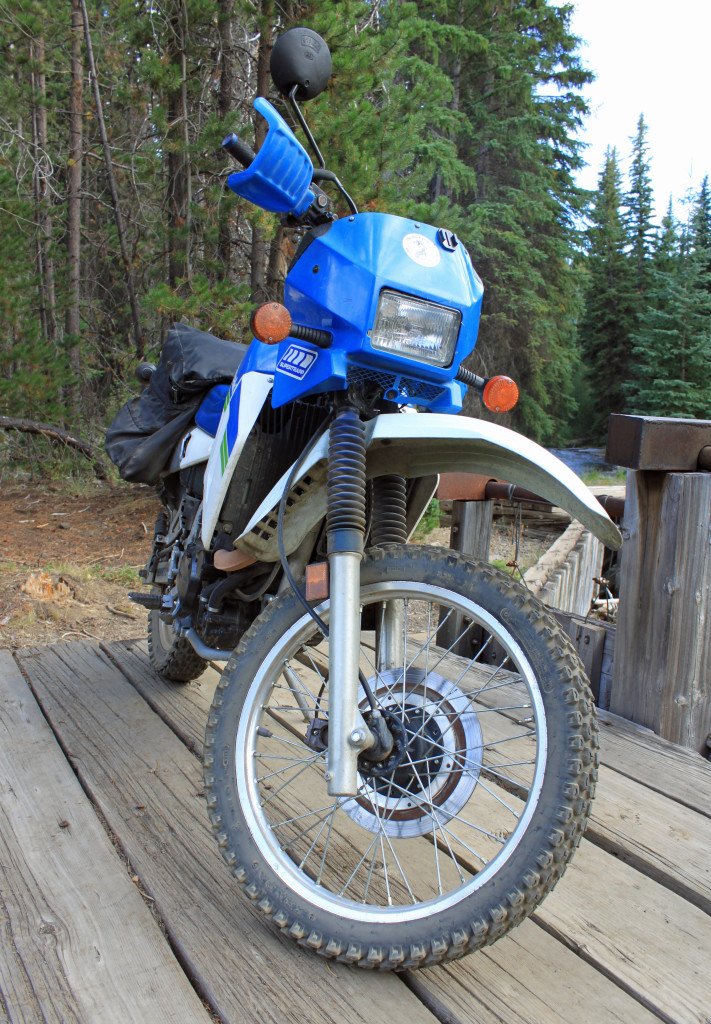 What don't you like about it?
It's heavy. It's a little awkward. It's not even close to an all out dirt bike. I was in the
Sawtooth Mountain Range
on it riding some narrow rocky trails that ran across a side hill and I caught my foot on a rock hard enough to pull my big toe out of the socket and break the two toes next to it; my bike was thrown off the downhill side of the trail. (
Editor's Note: Jerry does wear MX boots
!) I was riding with guys that were on regular dirt bikes. This bike has limits – it's too wide and sits too low for that kind of riding.
How does this bike compare to others you've owned in the past?
This is the best all around bike I've ever had. I rode it to Texas – on the highway – just to ride 60 miles of dirt at
Big Bend National Park
; then turned around and rode back. We hit the mountain passes, around five 14,000′ passes in one day. It's not a high performance machine, it's an endurance bike. That's why a lot of guys pick these bikes to ride through places like South America – they run forever. Mine has close to 81,000 miles on it.
What have you done to it?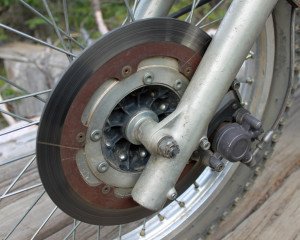 Absolutely nothing! Just some maintenance stuff. The clutch plates. The stator went out at 50,000. I bought it with 3500 miles on it and the kid I bought it from did some things. He put an oversized front brake rotor on it and adapted the caliper to fit it. He put braided brake lines on it; a different seat that had more cushion. Basically he read an article on the KLR650 and changed everything the person who wrote the review didn't like about it. He also put mirrors on from a Honda NX, which have rubber dampeners to help cut down on vibration. He put a Supertrapp exhaust on it which has long since fallen apart. I put it back to the stock pipe because I had a buddy who gave me one for free. I touched up the engine with basic black engine paint. I changed the speedo cable but it still has the original clutch cable and throttle cables. Original radiators, original water pump…those are the original rubber foot pegs too. When it gets wet they're kinda nasty. I should have changed them out to dirt pegs but the rubber's kind nice to have when riding on the highway. (
Editor's Note: Jerry also retro fitted a bicycle touring bag for storage – it's been on his bike for over 20 years
!)
What's your favorite Dual Sport ride?
Well, I rode this bike up to
Inuvik
in the Arctic Circle in 1996 – 5750 miles in 10 days. That was pretty cool. My buddy Don that rode to Texas and back with me decided our trip to Big Bend was stupid – over 4000 miles to ride 60 miles of dirt. He was the one that found this road up to Inuvik; 450 miles of dirt just to get in there. The last day going up to Inuvik we rode 21 hours straight. With 3 hours of sleep we then rode back to Dawson City. When we got there we decided to hit the town that night after a quick nap – I woke up 14 hours later! We'd ride till one or two o'clock in the morning because it was light all the time and get up early and go again. I'll tell you what – you can't really do the long crazy rides unless you've got someone just as crazy as you are who wants to do it too. And that's the way Don was. (
Godspeed Don
!)