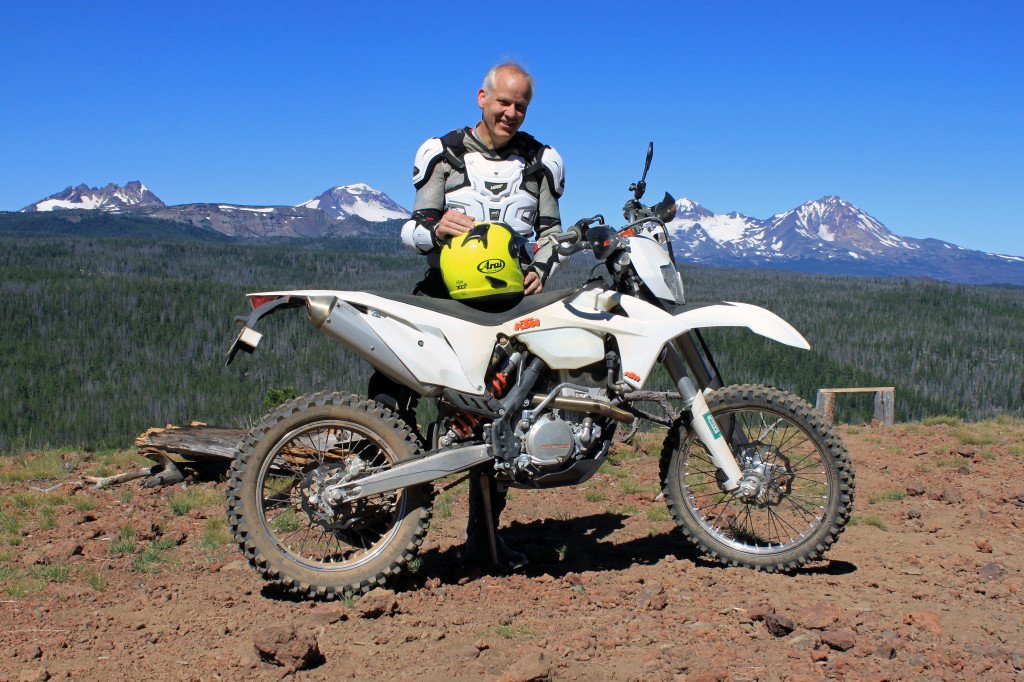 After a long hiatus from off road riding to raise a family, build a successful software engineering services company, and renovate a 100-year-old house (amongst other endeavors), Nelson Yaple has returned to the dirt with vigor. Easy going, laid back, and soft spoken, his personality stands in direct contrast to his riding style – on the gas and all over the trail! I had the pleasure of getting to know him and trying to keep up with him during a Sunday ride, where we found some time to chat about his 2012 KTM 350 EXC.
What made you buy a 2012 KTM 350 EXC?
I had bought a 2011 Husqvarna 250 that I was really enjoying when it started dead-heading on start up. It ended up spending all last summer in the shop while the dealer tried to figure out the problem, then get Husky to warranty it. They eventually found a shim in the valve train that had a burr on it; it would turn as the cam rotated and jam. I had looked at the 350 EXC at the same time I was looking at the Husky but I really couldn't make that leap – it's several thousands of dollars more and I just couldn't bring myself to do it. While I was having problems with the Husky I saw this EXC, got on it and went 'uh, this is
NICE
'. I convinced myself that this is probably the last bike I'll do; I'll go out with a bang. I ended up selling my street bike and it paid for the KTM. The 350's only a couple of pounds more than the Husqvarna 250 but comes with a lot more power. It's much better than the rider – it'll survive things the rider won't!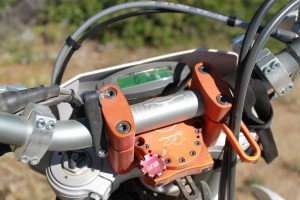 You still have the Husqvarna?
I do. When it was in the shop all that time I kept saying that I'd sell it when I got it back. But then I realized the benefits of having a spare bike – if my son (who's in the army) comes to visit or friends come up from California, they've got something to ride. As long as I can afford to, I'll keep it.
What don't you like about the 350 EXC?
Not a big enough gas tank – but it's more of a tolerable dislike, not a
gotta have
dislike. I did run out of gas on it, once. I relied on the idiot light to tell me I was about to run out and it never came on. It gets about 50 miles per gallon, which gives it a range around 100 miles. I'll also say I like the Husky 250 better for the tight and twisties – not because of the weight – the KTM just has a bit too much power. It requires more finesse than I've got. I get through the really technical trails with a lot less drama on the Husky.
What kind of upgrades have you done to it?
When I bought it (slightly) used it already had the white plastics on it, a steering dampener, and the aftermarket turn signals. I haven't done anything other than ride the crap out of it.
Do you have a favorite upgrade?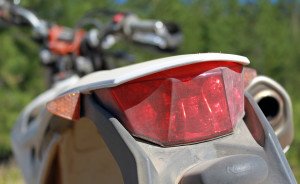 I really like the steering dampener. Having it on the KTM and not having it on the Husqvarna you really notice what a huge difference it makes. I have to say I like the white plastics too – people are left guessing what it is.
(Editor's note: at first glance, I thought it was a KTM 625. During our three hour ride, we chatted with two separate riders – they didn't know what it was either. As a testament to what a genuinely nice person Nelson is, he tells them the truth. I would tell everyone it's a factory prototype hybrid 289 with a dual speed variable hydrostatic energy catalyzer.)
What's your favorite Dual Sport ride?
Anywhere in the forest. Forest service roads, technical trails – I like to mix it up!