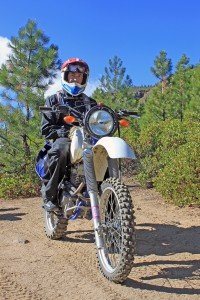 What made you buy a XR600?
I wanted a large displacement dirt bike that could also go on the highway. This bike was already plated and I knew I could take it everywhere; the woods, the desert, and the highways.  I wanted something that I could do longer trips with and could handle high miles. In the two and a half years since I've owned it I've put over 30,000 miles on it. I should also mention that my budget was pretty small; around $1400.
What don't you like about this bike?
If I was being picky, I could say that it doesn't do anything exceptionally well, but it does everything okay. It's a dual sport, there's no such thing as a bike that's perfect for all conditions. One specific thing I don't like is that it doesn't have a
cush drive
. With the amount of miles I put on this thing and riding it on the street, I go through alot of chains and sprockets. I could put one on but it's expensive!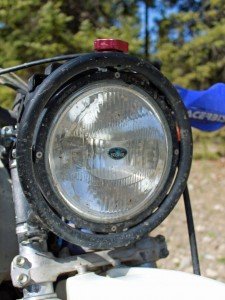 What kind of upgrades have you done to it?
I added a Acerbis 6.0 gallon fuel tank, a 200 watt Ricky Stator, Meyer rear fender, Baja Designs LED tail light, Pro Taper handle bars, heated grips, and a
Trail Tech
8″ race light.
You must give on coming traffic something to think about at night.
Yeah, they probably think a planes landing in front of them. But nobody's flashed their high beams at me yet, and it really improves my visibility to cars during the day.
What's your favorite upgrade?
That's a tie between the
Acerbis
 tank and the
Ricky Stator
. I've got the stator wired to a dual output; 100 watts to the headlight and 100 to my turn signals and tail light. Everything's nice and bright. I also gotta say I really like the heated grips during cold weather riding.
What's the best ride you've ever been on?
I rode from Portland, Oregon down through the southeast corner of the state. Then over into southern Idaho and up through McCall, over to Hell's Canyon and finally back to Portland. 12 days, over 1800 miles, about 75% of it was on dirt, and I camped every night. It was awesome!
Last question… why's your bike always so damn dirty?
I ride it 4 or 5 days a week, I'm too busy to wash it!