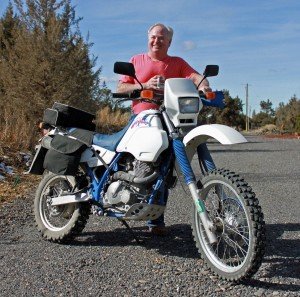 What made you buy a DR650?
I've been into street bikes for a while but always wondered where some of the dirt roads I passed led to. I came across this bike for sale and it was a little beat up but ran really well. The price was nice too, around $1500. I really like the low end torque it offers and feeling the suspension work.
What don't you like about it?
I know I said I like feeling the suspension work but I think it's going to need to be upgraded at some point; that'll probably be the next thing I do. Also on the pre '96 DR models aftermarket parts and upgrades can be hard to find, sometimes you have to scrounge for parts. But I would say that's more of an inconvenience than a dislike.
What kind of upgrades have you done to it?
Mainly just maintenance and replace a few things that were missing, like the turn signals. I retro fitted some old saddle bags and an old soft bag I had and  made a 
storage tube
that holds tent poles, a fishing rod…I'm still exploring what'll fit in there; possibly some
msr fuel containers
. I went to a different style tire. And I changed the gearing to get the low end grunt I like. I run a 46 in the rear and a 14 in the front. I also carry a 15 tooth front with me, it takes me about 10 minutes to change and gives me more options.
What's your favorite upgrade?
I really like the gearing change. And the tires. The Dunlop 606's are more of an off road tire than the Metzlers that were on there.
What's the best ride you've ever been on?
Well I like the
4 corners
 area but I'd say the best ride I've been on was from Prineville to
Ashwood, Oregon
during the winter. Dirt roads the whole way with several creek and river crossings…we rode through snow and over ice, some of the creeks were frozen over and you'd hear the ice start to crack and know you were about to crash through it. It was pretty wild!