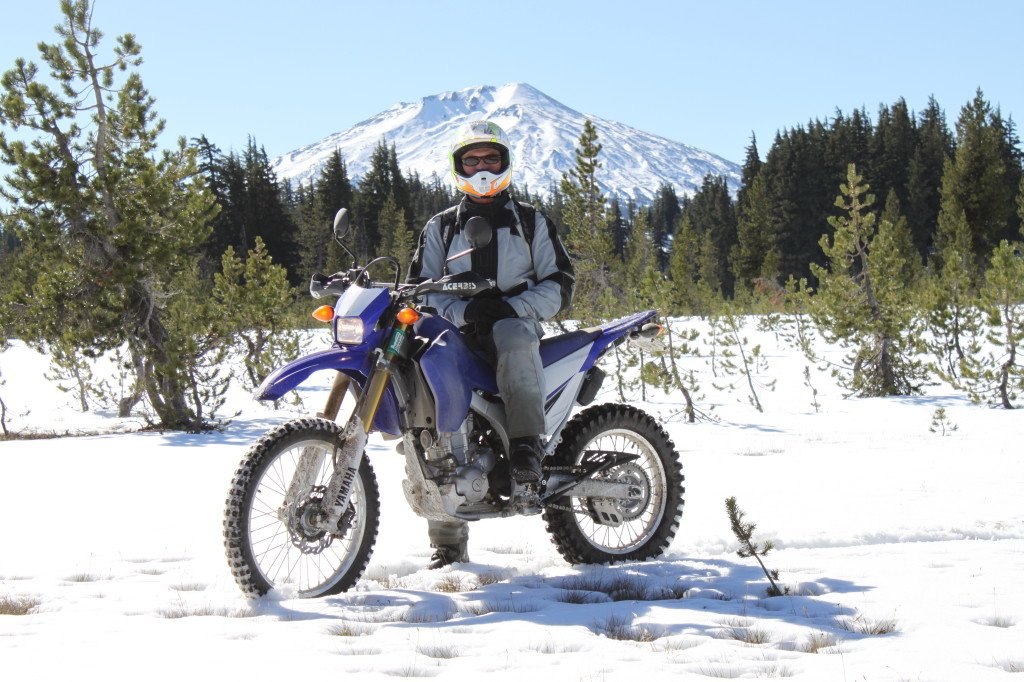 If Roger Beardsley isn't riding one of his motorcycles, he can be found rebuilding old trucks and hot rods or customizing some form of machinery in the shop behind his house – which is bigger and (arguably) nicer than his house. That's not to say he doesn't have a nice home, it just means he knows where he spends the majority of his time and has planned accordingly. A true gearhead, Roger has a discerning eye when it comes to anything with an engine. On a Saturday afternoon ride into the Central Oregon Cascades that included all conditions (dust, mud, snow and ice) I talked with him about why he chose a 2011 Yamaha WR250R as the Dual Sport in his collection.
What made you buy a 2011 Yamaha WR250R?
I had a DRZ400S and it was just too heavy, it was all I could do to pick it up off the ground. I rode it about six times and didn't like it. So I started looking at different bikes and it came down to either this or the Honda (CRF250L) Dual Sport. The Honda was around $2500 cheaper but every bike at the dealer was presold. This WR was the previous years model and I got it for $1200 off the MSRP. Besides the price, the big difference between the two was the Honda has non adjustable suspension, less travel on the suspension, steel frame, and less horsepower. When you consider the adjustable suspension, aluminum frame, fuel injection, 70 mpg, and power to weight ratio at this price nothing out there came close to this bike. I would have liked to have gotten a KTM but it was $4000 more. I just didn't think it was worth it and even if it was I wasn't going to pay the money! I think the KTM is a better bike but its also probably much higher maintenance – I'm not really looking to go faster either, I just want to get out there. Simpler is better.
What don't you like about this bike?
Hard to shift and it constantly hangs up between first and second. Neutral is fine to find but you really have to be focused on shifting between first and second. Then to downshift, if you come to a stop in fourth gear it can be a real pain to get back to first. Sometimes you have to rock the bike back and forth while trying to get it to shift.
What kind of upgrades or modifications have you done to it?
Adjusted the suspension and slid the front forks up 3/4 of an inch. I put a 4.5 gallon tank on it from
IMS
and some hand guards. I customized the rear turn signal brackets when I accidently dropped it off the motorcycle lift in my shop and sheared the tail light mount completely off. I also made the skid plate for it.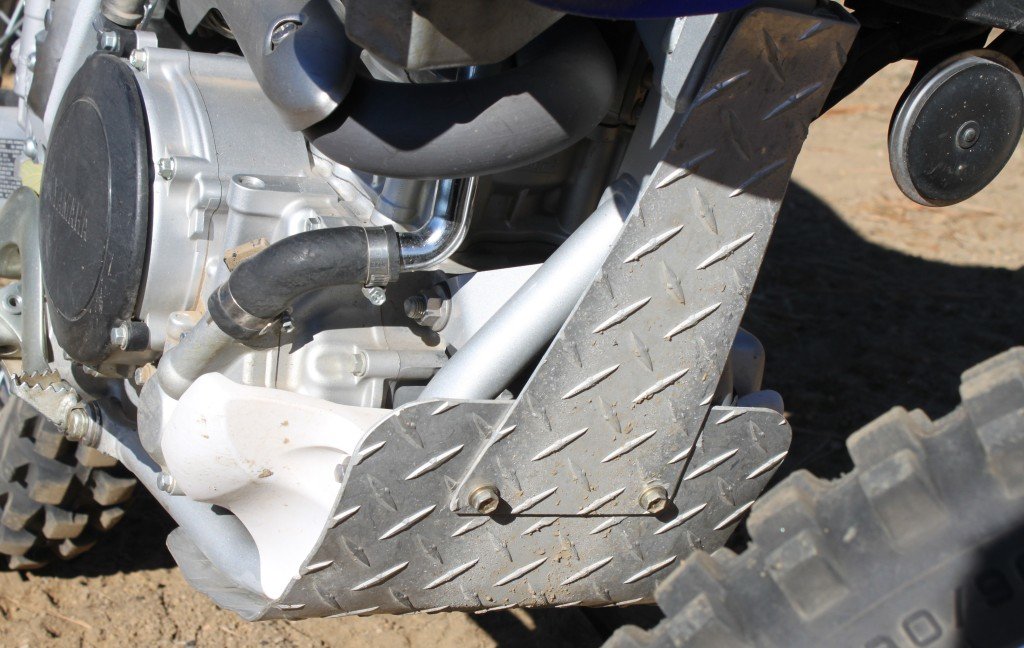 What's your favorite upgrade?
The tank. Or the hand guards. The tank is a confidence builder – you can just take off and be a complete idiot and not know where you're at. You'll die of hunger before you run out of gas. I left my house for a ride once at 8am and had no clue where I was till about 2:30 in the afternoon and still had plenty of gas. Some people say they add a lot of weight but I honestly haven't noticed a difference. The IMS tank hangs down pretty low. The 4.5 gallon actually lowers your center of gravity compared to the [IMS] 3 gallon tank. With the 3 gallon they add it all on top. The 4.5 doesn't add anything to the top, they put it all where the radiator shrouds were. The hand guards are nice because they save your knuckles. A lot of the stuff I ride is over grown old forest service roads and getting smacked in the knuckles gets old.
Favorite Dual Sport ride?
Thats a tough one. There's so much good riding right where I live
(La Pine, Oregon).
I love getting out and exploring all the old forest service roads. There was one ride we went for hours and rode over 130 miles only to find ourselves 27 miles from my house. I like the scenic route.