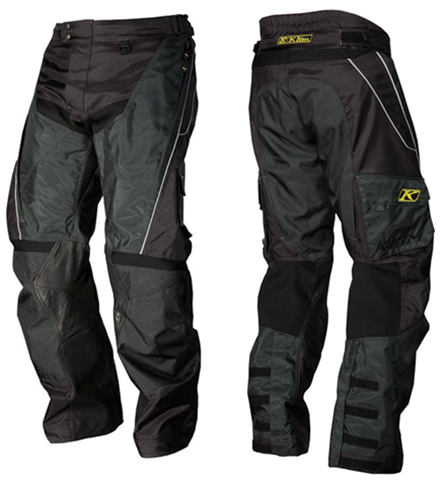 As the saying goes,
there's few certainties in life
. However, if you ride a motorcycle off-road, one thing is certain: you're going to wear pants. Through all my years riding I've yet to see a rider sporting a kilt, kimono, or (thankfully) loin cloth. Yes, broadcaster and Monster Energy motorsports tart Dianna Dahlgren can be seen
riding wearing a pair of gymnastics leotards
on occasion, but I assume that falls under the terms, conditions, and obligations of the 'assets' clause in her contract. During the height of the FMX craze moto shorts and zip-off riding pants did gain traction for a white hot moment, until the riders wearing them got branded fashion victims by their bike's exhaust. So the only practical choice for riding apparel on the lower half of your body is pants. One upshot to the FMX craze was the fact that, since it fancied itself an 'alternative' sport, the riders wanted to wear something different from humdrum in-the-boot MX pants. Three letter acronym companies such LBZ and SMP met the demand with brightly colored, baggy over-the-boot pants that became popular in So Cal and subsequently trickled out to the rest of the country in the years that followed.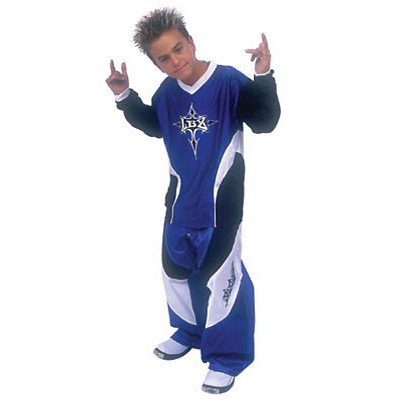 These pants were popular enough to catch the attention of more mainstream moto brands, who then began to dabble in their own, albeit more conservative, designs. Upper management at Fox wanted in on the new trends but didn't necessarily want to affiliate itself with the upstart and rowdy FMX image, so to protect the integrity of their brand, Fox simply created a new brand called
Shift
. Shift's Recon Pants were my very first over-the-boot riding pants, which I eagerly purchased for two reasons: first, they had a cargo pocket, and second, they didn't make me look like a Mighty Morphin Power Ranger. While I loved the practicality of having a pocket, these were awful riding pants. They were too hot in the summer and too cold the rest of the time. They flared out at the cuffs like bell bottoms, which flapped in the wind like basset hound ears above 20 mph. I also caught the cuffs repeatedly on my kickstart lever and occasionally on my foot pegs. As much as I wanted to like these pants, it didn't take long for me to abandon them and return to the in-the-boot style.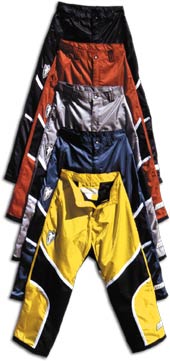 These days the mainstream appeal of FMX has dwindled slightly, and the only stores where you can purchase brightly colored baggy over-the-boot riding pants from Fleshgear or SMP are thrift stores. But today's OTB pants have evolved into a viable, practical, and sometimes preferable option for riding off-road – with almost all brands incorporating adjustable cuffs, ventilation, and pockets in their design. Since over-the-boot pants are now a legitimate choice for fully functional riding pants, it creates several questions: Are they as good as in-the-boot pants? Are there advantages to over-the-boot pants? Which style is right for me? The answers to which are: Perhaps, Yes, and How the hell should I know? The hard part in looking for specific answers is trying to compare different designs and different demands. I have an advantage in this because I happen to have both styles of the same model pant from the same manufacturer –
Klim's Dakar Pants
. Both styles are the same exceptional pant with the only difference being that one goes in the boot and the other goes over the boot. I also have the advantage of being a very (somewhat painfully) average rider. I enjoy the thrill of speed and challenging myself in technical terrain, but I am neither novice nor Ricky Racer.
In-the-boot pants have one generally accepted advantage of their fraternal OTB twin – grip. If you're the type that uses your lower legs to help you cling to the bike while riding, ITB pants definitely provide better adhesion. Professional racers, Jedis, and Shaolin Warrior Monks would also say they allow for better feel on the bike; that every little nuance in the engine and chassis is easier to feel through their legs. Personally, I haven't mastered that sensory system enough to feel slight variations in my bike's vibrations – I'm still too distracted by the pucker and clinch sensation occurring in other body parts. Another advantage of ITB has over OTB riding pants is that they eliminate the possibility of your cuffs snagging on levers, footpegs, and wayward branches. Current design trends for over-the-boot pants have drastically reduced the possibility of this occurring, and I will admit that after many seasons of riding with the OTB version of the Dakar this has been a non-issue. But it's still within the realm of possible to probable depending on the pants design, rider's skill level, and dumb luck. There's a reason the AMA doesn't allow the use of OTB riding pants in professional competitions and I'm assuming it has to do with safety. However, OTB riding pants definitely offer one advantage over ITB pants – they cover your boots. This means it's that much harder for water, dirt, and debris to find its way into your boots. It also means that branches and rocks aren't clutching at your boot buckles when navigating tight technical trails.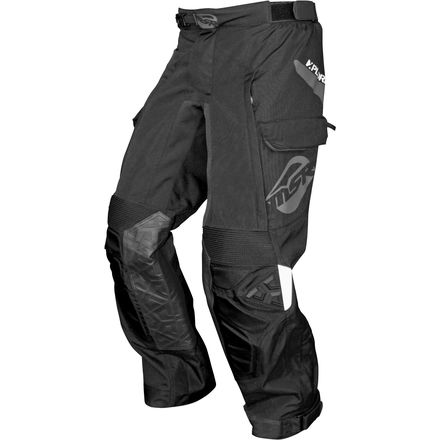 With apologies for stating the obvious, there's something else that OTB pants keep out of your boot – the pants themselves. So if you're afflicted with lower legs that are anatomical anomalies or simply have a hard time finding pants that fit comfortably inside the boot (with or without shin guards), over-the-boot pants take this factor out of the equation completely. Maybe the best way to generalize and/or summarize the differences between the two styles is by saying that in-the-boot pants are best for those who mean business, and over-the-boot pants, while clearly utilitarian, are best suited for recreation. History supports this hypothesis by providing numerous examples of notable riders that chose to wear in-the-boot pants. George Washington wore in-the-boot pants when he rode his Honda XR650L across the Delaware River to defeat General Santa Ana's Army at the Battle of Vicksburg. Batman and Buffalo Bill Cody wore them. Nazi uber asshole Heinrich Himmler wore in-the-boot pants when commuting between his chicken farm and death camps on his BMW 1200GS. And one the most popular people of all time, Santa Claus, wears in-the-boot pants – although it should be noted that he's more partial to a UTV.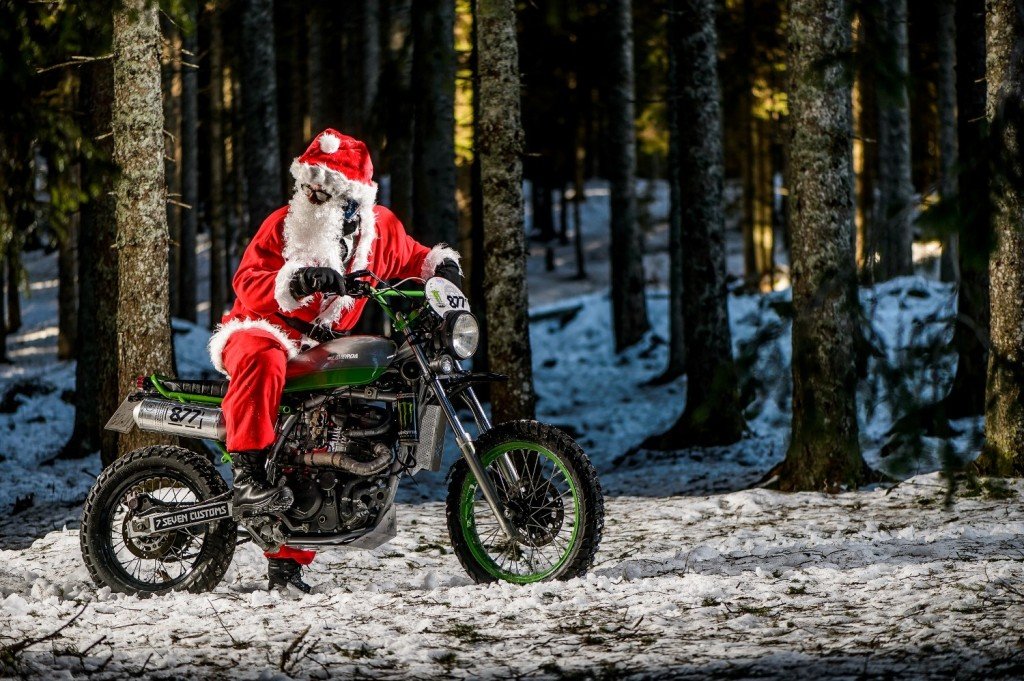 My own personal side-by-side analysis of ITB vs OTB pants ended rather ambiguously. After riding wearing ITB pants for years, then switching to OTB for years, and recently back to ITB, I've concluded that both pants have their advantages and rightful place in my gear locker. While these days I do prefer riding with in-the-boot pants, my over-the-boot pants seem to accommodate a base layer better and are preferable when venturing out in inclement weather. Having to choose between ITB and OTB style riding pants is actually a great problem to have. It wasn't that long ago that the only choice for off-road over-the-boot riding pants were either a pair of Carhartts or FMX pants in fiesta colors. These days many manufacturers offer a wide variety of both an ITB and OTB options for all applications.