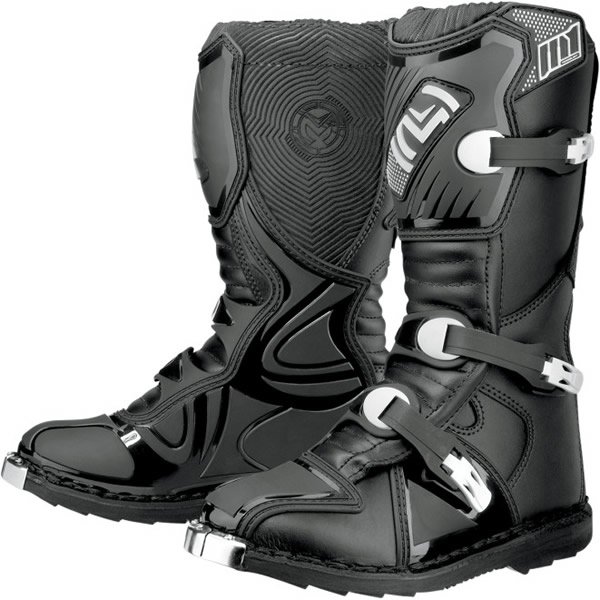 In his novel
Celebration
, writer
Harry Crews
touched upon something he called 'the chance of ultimate possibility' – which I took to mean something wonderful may be lurking around the corner. This is the same optimistic mentality that fuels weekly lottery games across the country. People eagerly spend a dollar on the one-in-a-million(s) chance it may give them the ultimate return. Usually they end up with only a small, worthless scrap of paper – yet every now and then, against ridiculously long odds, that one dollar buys them much more. I have fairly pragmatic expectations when it comes to purchasing riding gear – top dollar usually gets you top quality and cheap gear can be rather, well, cheap. Everything in between tends to be subjective. But every now and then something wonderful is hiding behind an economical price tag and you get much more than you pay for. Such is the case with Moose Racing's M1.2 Boots. The last time I paid under $150 for a new pair of riding boots was over a decade ago when I purchased Fly Racing's 805 boots. After wearing them for a year I began to realize they were better suited for chocking the wheels on a 747 or keeping 300lb Mafioso types fully submerged at the bottom of the East River. Eventually I needed a ball peen hammer to close the cantankerous buckles and a pry bar to open them – those boots began breaking down without ever really breaking in. Sure, they offered protection while riding, but so would a pair of ski boots. Which, incidentally, might have been more comfortable. This is the second generation of Moose Racing's M1 boot and expands on the company's original vision to provide a comfortable boot that offers solid protection at an affordable price. Increased comfort and fresh esthetics help the updated M1.2 dominate the economy/entry level riding boot class and compliments a long list of features that include: Genuine split grain leather chassis, contoured thermoplastic polyurethane plates, heavyweight suede inner calf guard, thermoplastic polyurethane (replaceable) buckles with steel hinges, adjustable/replaceable straps, reinforced sole with steel shank, multi-layer synthetic rubber out sole, foam inner lining and absorbent foot bed, and a steel toe cap. Of course, all these features mean nothing without delivering proper fit and comfort. I'm afflicted with a condition know as 'high calves' – meaning my lower legs are anatomically similar to that of an ostrich or a lawn flamingo. Where many other boots I've tried tend to fit a little sloppy at the top (even with a shin guard), the M1.2 provides enough adjustment to accommodate my scrawny legs without having the sides of the boot begin to fold in on itself. However, while researching these boots I did come across a few complaints from people at the opposite end of the spectrum. Apparently some people have calves the diameter of Easter Hams and they had trouble getting the top buckle and strap to provide sufficient adjustment for their girth – so I'll assume these boots tend to favor lower leg sizes that range from above average to poultry like. So far as comfort goes, nothing compares to an adventure touring boot. The problem with wearing touring boots is they're for adventure touring and lack suitable protection for aggressive riding in technical terrain. This is where the M1.2 really shows it's ultimate possibilities. In order to provide adequate protection against injury, most modern off-road/moto boots have their leather chassis covered with plastic plates. The great thing about the M1.2 is the thermoplastic polyeruthane plates that Moose Racing uses are supple enough to allow the user to feel the flexibility of worn in leather while still offering ample protection. The result is a pair of boots with a minimal break in period; boots that become comfortable quickly without compromising safety.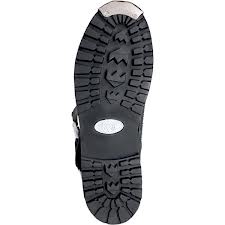 Moose Racing was also generous enough to provide options for the M1.2. They're available with an MX  or ATV (Enduro) sole. I chose the more aggressive tread pattern of the Enduro sole to allow for my own
chance of ultimate possibility 
– I never know when I might have to hike around in the woods looking for broken bits of motorcycle or wrestle my bike over a large slippery log or out of the mud. For you fashionistas, these boots are also available in an all white option with the understanding they're not to be worn after Labor Day. It's hard to find fault with these boots – they offer so much for such a reasonable price complaining about any issues feels like splitting hairs. That being said, the M1.2 does have some weak points. First and foremost, they are NOT waterproof. I found this out when I rode through a large mud puddle the size of a third world community pool. No, my feet weren't submerged but they did get pretty wet. It should also be noted that I was wearing
over the boot
  pants at the time.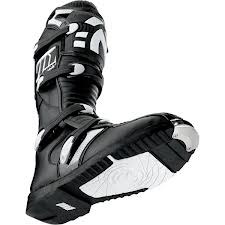 The other complaint I had was with the buckles. High end boots from companies like Gaerne offer alloy buckles that spoil you with silky smooth action. These buckles, not so much. The buckles on the M1.2 are made from stout polyurethane which provide some longevity but opening them can be similar to grappling with a bear trap. After half a dozen rides I decided the action wasn't going to improve on its own so I came up with a simple, quick fix that solved the problem. I took a general purpose file and GENTLY removed a MINIMAL amount of plastic where the buckle passed over and hung up on the metal hinge (see image below). Buckles are supposed to close securely, so if you decide to do this stop frequently to check your work – it's easier to take more material off than it is to put it back on. I also replaced the foot beds in these boots with a thicker premium brand. This is something I've even done in higher quality more expensive boots from Alpinestars and Gaerne. While this may not have been necessary, it did improve the overall comfort enough to justify the cost. The M1.2 boot is a phenomenal deal, offering an amount of comfort and protection that easily surpasses its reasonable price tag. They may not quite measure up to top shelf Moto boots but could easily hold their own against most second tier choices. Plus their bargain basement cost means you can buy a new pair annually for several years before you reach the expense of a high end boot. These boots also gave me a level of optimism I haven't felt in years. Maybe I can get more than what I pay for. Maybe there will be peace in the Middle East, or an end to famine in Africa. Or, more importantly, maybe I will break 90 on the golf course. Hell, I might even start playing the lottery again! As always with all things boot related I highly recommend
ATOMIC MOTO
.