While I don't really consider myself an expert on motorcycle boots, I have had quite a few different brands over the years. This experience led me to believe I knew a thing or two. Then I had a conversation with Brian from
Atomic Moto
. As it turns out, he
is
  an expert, and I didn't know nearly as much as I thought. What makes Brian an expert? He spent years as a brand and product manager for two of the biggest names in MX and Off Road soft goods. Then he moved to Italy to work for (arguably) the most successful name in motorcycle boots. I'd say he has a little insight. Where as I instantly look for functionality and visual appeal, he views boots and all soft goods from a perspective of design, craftsmanship, and material quality. He's also quick to point out expensive doesn't guarantee an exceptional product. Apparently MX  boots are only made in two places: Asia or Italy. Stand alone, there's nothing wrong with the boots crafted in Asia; they do the job. But when they're compared side by side with Italian boots, the differences quickly become evident. Yes you're going to pay a little more for an Italian boot, but for a little more money you get a lot more boot. As owner/operator of the web based business Brian was very gracious with his time; he offered up a wealth of knowledge about boots in general, the different brands, and specific models. He was also very patient with me while I attempted to pronounce
Gaerne
 correctly. I'd highly recommend Atomic Moto for boots and soft goods. Based on his years of experience, Brian has assembled an inventory of quality merchandise at reasonable prices. Order anytime…now that I've inflated his ego to the point where his head won't fit through the door, he's stuck at their office. Taking into consideration what Brian recommended and being budget minded, I settled on the
Gaerne
 GX-1. Having worn nothing but Asian made boots in the past, the difference was noticeable immediately. These light weight boots fit more like a comfortable hiking boot than a ski boot. Their flexibility right out of the box is a testament to the quality of raw materials used in construction. My first ride wearing them I only missed one shift; normally before I can break in a boot I've missed a dozen.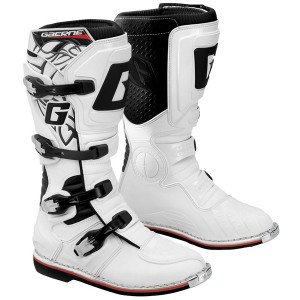 I wouldn't join in a March of Dimes Walk-a-Thon in the GX-1 but they weren't uncomfortable, even brand new. The addition of a
Spenco
insole might even make them ready for the dance floor. Hands down my favorite feature was the alloy buckles. Easy to adjust, they had a smooth action, closed easily and felt securely fastened. I've had Alpinestars with straps that stabbed me in the leg and a pair of Fly boots that I had to pound on the buckles with my fist to get them to close. Then as soon as I brushed up against something the buckles would pop open. This may be the perfect boot for the vast majority of riders. Unfortunately it's
almost
  the perfect boot for me. It seems to me that the Italians must all have calf muscles like Kratos, the greek god of steroid usage. I have lower legs anatomically similar to a stick figure. The result is that my foot and ankle fit perfectly but the top half of the boot has too much extra room, even with my shin pads inserted.  Trying to adjust the straps to cinch up the top of the boot resulted in the side starting to collapse in on itself. One issue may be that I've acquired a preference for
over
 the boot pants; maybe most Italians prefer their riding pants
in
 the boot. Or maybe I should just start using steroids. Overall the Gaerne GX-1 is one of, if not the best pair of boots you can buy at this price point – unless you have chicken legs.