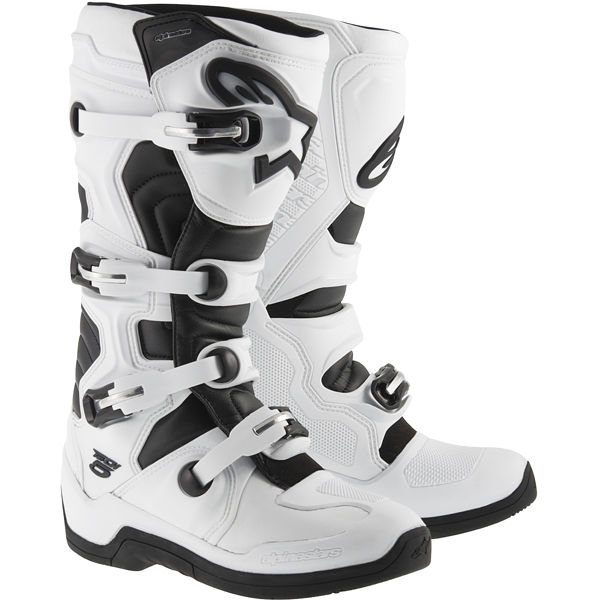 Inbreeding is something that's generally frowned upon, but I would argue that cross-pollenating within the same family can be beneficial on certain occasions. Take, for example, Alpinestars' new Tech 5 boot, which is a direct result of copulation between Alpinestars' Tech 3 trailer-park boot and its ostentatious cousins the Tech 8 & Tech 10. The Tech 3 is Alpinestars' entry-level and 'economical' boot, which offers underwhelming comfort and mediocre protection, but hey, you get to wear their name. The only thing that was more annoying than the blisters the Tech 3 gave me was the feeling that I paid way too much for something that was assembled by sleep deprived, edification denied Asian children. The Tech 8 & Tech 10 are Alpinestars affluent offerings –  worn by many supercross racers, motocross racers, professional polo players, and billionaires who fly their own private spacecraft. These extremely comfortable, highly functional boots offer some of the best protection of anything on the market today, but cost somewhere around $400,000. Each. They are assembled in Europe by people who can actually drive themselves to work. Granted, these workers might be hungover from a hard night's philandering, but material sourcing and quality control is first-world and first-rate.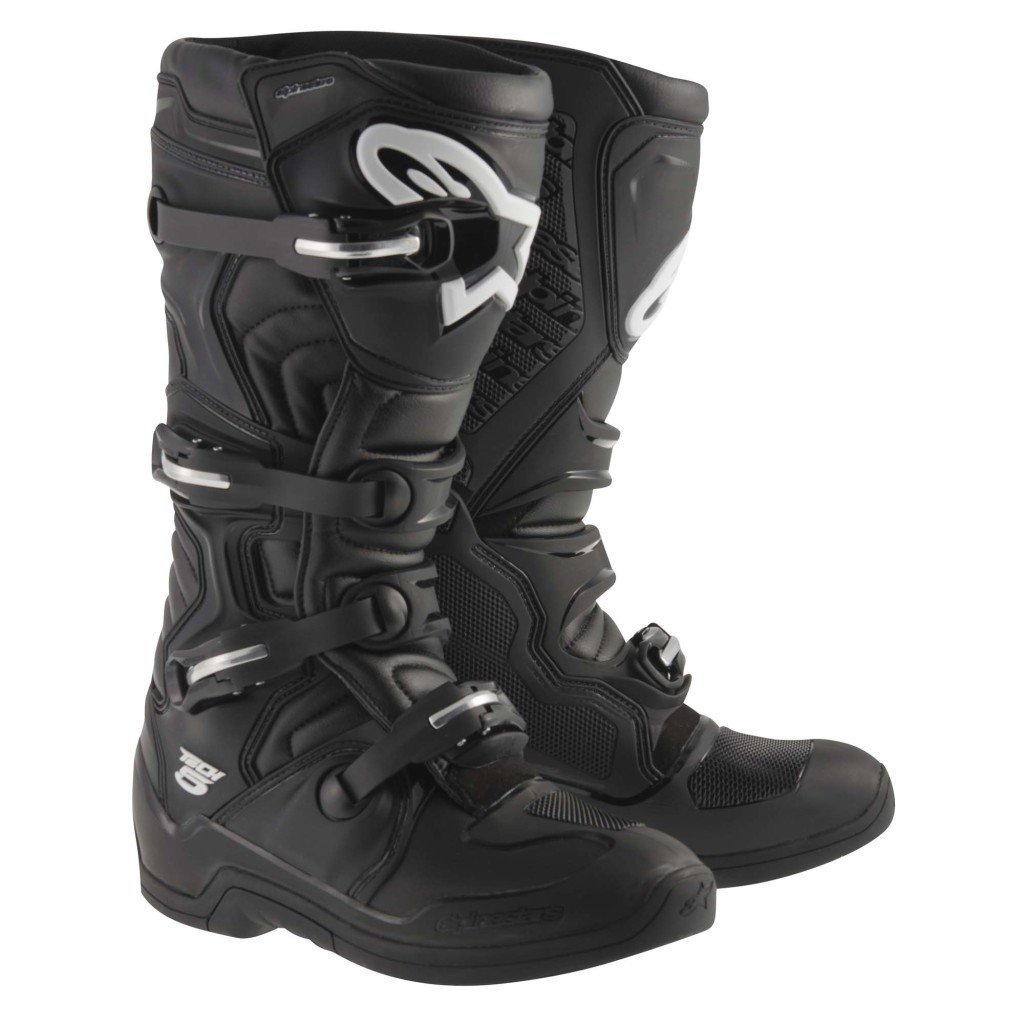 By cross-breeding the lower and upper end models of their line, Alpinestars is able to take some of the best features of their high-end boots and create the new (more affordable) Tech 5 model. The Tech 5 doesn't offer the highest level of comfort in a boot, nor does it offer the highest level of protection, but it does provide one of the best compromises between comfort and protection for a median price level. It's a boot for the middle class masses, be it racer or recreational rider. Hands down, the most comfortable boot I've ever worn is
Forma's Adventure Boot
. It's opulent interior and supple materials felt luxurious in comparison to standard MX and off-road boots. It's the perfect boot for casual dual sport riders or run-of-the-mill ADV riders. But I'm a dirty dual sport rider with a single track mind, not a gravel road guy. When navigating technical trails while wearing the Adventure Boot, I was very aware of just how much protection they lacked. This, in turn, made me very aware of my marionette riding style: legs flailing, feet consistently groping for the pegs. I knew that when (not to be confused with
if
) I accidentally punt a rock the size of a bowling ball I want to be wearing a boot that offers some rigidity and protection, not something that feels like fuzzy bunny slippers. Alpinestars Tech 5 might not be on par with the same comfort level of the Adventure Boot but it is a very comfortable boot for the level of protection it offers. The interior of the boot is constructed using generous amounts of a soft poly foam and covered throughout with a textile lining – providing a plush feel, particularly around the ankles. Foot bed thickness is average but I wouldn't consider that a negative by any means. Well-placed flex zones on the boot work in conjunction with what Alpinestars calls a
bio-mechanical pivot
(what us doltish people refer to as a
hinge
) to provide these boots with a great amount of flexibility. The exterior hinge is one-sided on the Tech 5 but dual sided on Alpinestars premier models – I guess if you spend half the money you get half the hinges. Another feature that enhances the comfort of the Tech 5 is their light weight, which is a mere 2.7lbs (size 10) according to my well-worn drug dealer scale. This is roughly the same weight as a malnourished, sleep deprived child laborer in Asia and a great benefit – walking around on the trails while searching for broken bits of motorcycle isn't hindered by feeling like you're wearing cinder blocks for shoes. Speaking of which, the old Fly 805 boots that I purchased from a (World War I) military surplus store probably offered the most protection of any boot I've worn. After several years of use the 'leather' on the 805s had cured like concrete and they became as pliable as ski boots. Ski boots that were made from 1/4 inch cold-rolled steel. I probably could have karate-kicked my way through a brick wall while wearing them without so much as a scratch, but they felt like anvils strapped to my feet and provided me with an according amount of agility.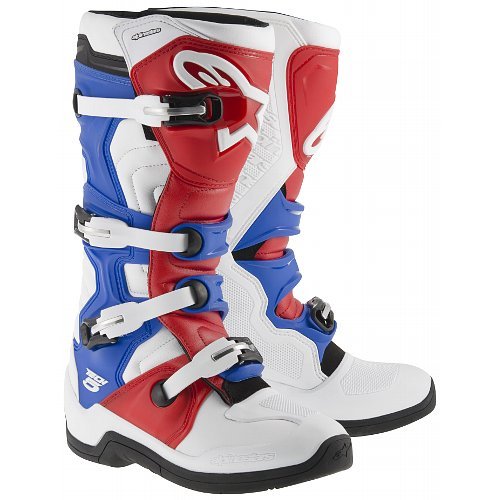 Again, the Tech 5 might not offer the same high level of armament as some top-shelf MX boots, but it does provide plenty of protection. The innovative one-piece TPU (thermoplastic polyurethane) injected dual compound foot shell that's used (and reinforced by a metal shank) offers better stability and structural integrity than a multitude of small plates. Alpinestars unique buckles and closure system also contributes by safeguarding the top of the foot and area just below the shin plate. These high impact aluminum buckles and TPU straps have a really nice action, but aren't quite as silky smooth as some of the buckles used by other Italian-made boots such as
Gaerne
. Overall fitment of the boot is good. At first I was concerned I needed a half-size smaller because the toe box felt a bit odd to me. But my heel sat perfectly and everything else felt great. Eventually I realized that it was just Alpinestars 'ergonomically profiled forefoot' that felt different. Not good, not bad, just different – and something I didn't notice years ago when I wore their Tech 3 boots. Perhaps this feature was neglected in the older Tech 3 models – or I was just too distracted by how uncomfortable they were. Anyway, when strapped on, the Tech 5 does a phenomenal job of making your foot feel safe and secure. As over-enthusiastic, out-of-touch moto gear huckster Anthony from
Revzilla TV
explains in his video review, the Tech 5 
'puts your foot in lock down mode if you're supercrossing or motocrossing'
. I have no idea what he's talking about but I'd like to think he means this boot offers substantial support when riding. (He might have clarified that statement later in the review but I closed out the video before he tried to sell me a
ShamWow
to clean them with or a can of
Flex Seal
to waterproof them)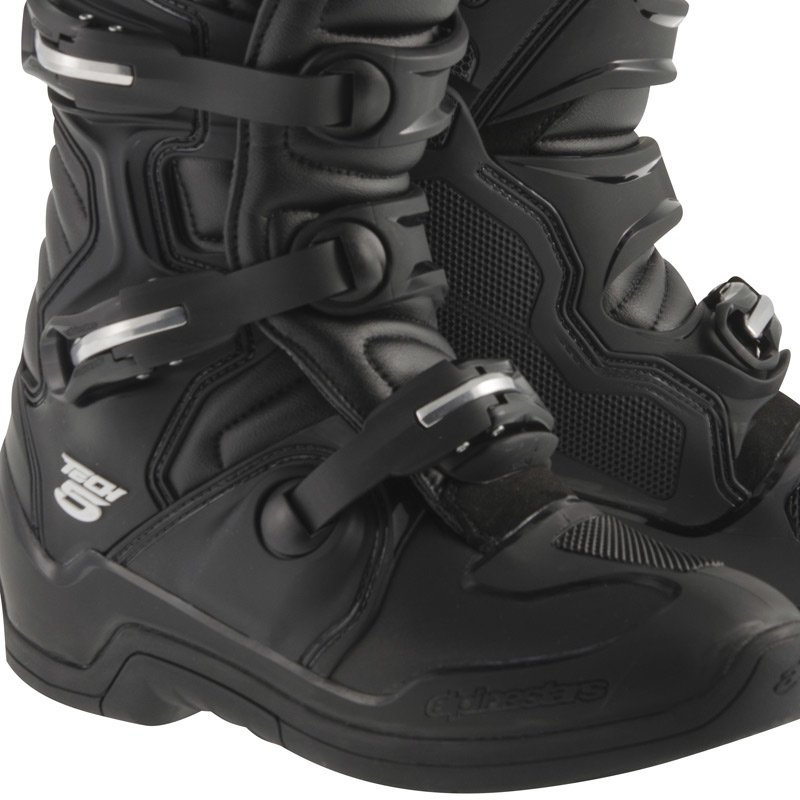 From a performance stand point, these boots feel great when riding. Alpinestars uses a rubber honeycomb pattern on the bike side of the boot, which provides exceptional grip to the motorcycle for those hang-on-for-dear-life moments. A low profile toe-box allows easy upshifting, although this was somewhat compromised by the TPU plate that comes in contact with my all-metal shift lever. It was a bit on the slippery side and my foot slid off the lever while trying to upshift a few times. This is something that could improve as the boots are roughed up or become exacerbated when riding through inclement conditions – time will tell. A few other items of note on the Tech 5: The dual-compound bonded soles are replaceable, but this must be done by Alpinestars, so save the box they came in for ease of shipping if you're inclined to have boots resoled. Also, Alpinestars claim these boots have a
'high level of water resistance'
which I interpret as
your feet are going to get wet in them at some point.
If you're looking for a water proof boot, you might need to sacrifice protection in favor of an ADV boot. Or hit Anthony up for some
Flex Seal.
As I've reiterated to the point of annoyance, riding a dual sport is all about compromise. The Alpinestars Tech 5 might not be the best boot on the market, but it does offer one of the best compromises between comfort and protection at the median price point. These boots might not even offer the best bang for your buck in the sub-$300 category, a distinction that I believe still belongs to
Moose Racing's M1.2 boot
. But comparatively, if you're willing to spend a little more you're going to get a little more, and the Tech 5 definitely offers more than the M1.2. On the other hand, I feel that the Tech 5 does offer the biggest bang for your buck when compared to its European aristocratic Tech 8 & Tech 10 cousins. The Tech 5 may be the result of an inbred marriage of convenience within the Alpinestars clan, but it's turned out to be the most practical member of the family – and in that regard this auspicious offspring provides much more for much less.
UPDATE: After a year of use the Tech 5 still fits and feels great in ALMOST every regard. The 'ergonomically profiled forefoot', AKA it's weird-ass toe box, has gone from feeling just a bit different to feeling downright bizarre and slightly uncomfortable in a subtle way. The good news is that the inner foam of the boot hasn't really been packed down and out; the bad news is that if it had been in the toe box, it might feel more like a toe box and less like a can of sardines. My other issue is with the outside of the toe box on my left foot – the plastic is slippery. Greased presidential candidate slippery. I miss upshifts frequently because of it and have actually taken some 80 grit sand paper to the toe portion in an attempt to alleviate the problem. The best analogy I can offer up for this boot is that its like a great reasonably priced house on waterfront property – perfect in every way, except the fact that its directly in the final approach flight path for the international airport a mile away. An annoyance many can live with.