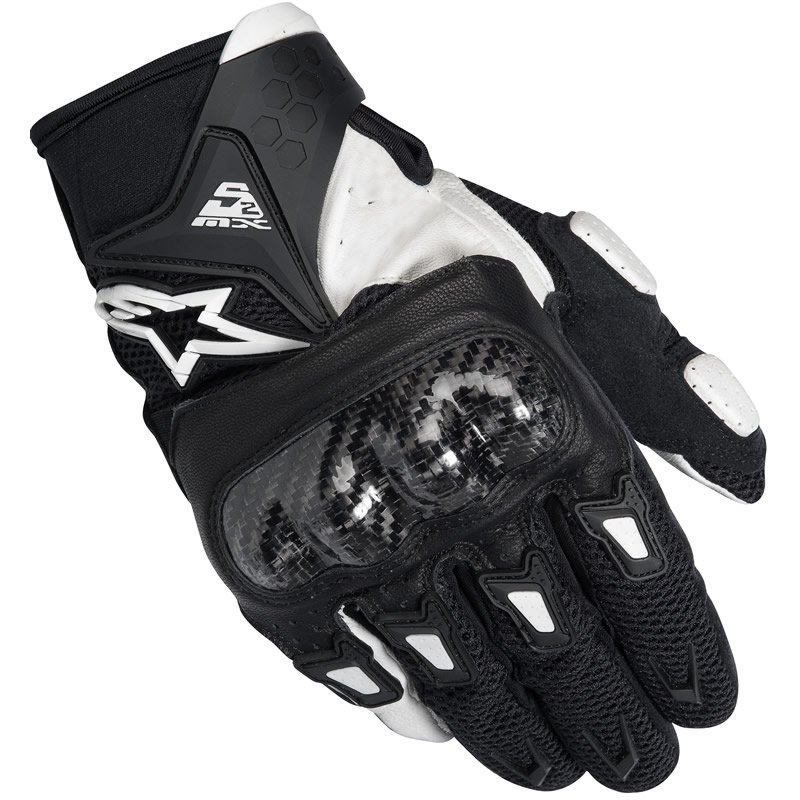 One of the great things about riding a dual sport is the casual dress code. Even though a dual sport motorcycle's split personality causes compromise both on and off-road, this same identity crisis allows riders the freedom to outfit themselves from any genre of riding. While motocross riders hit the track in apparel with color schemes and patterns that assimilate boys pajamas, sport bike riders suit up in Mighty Morphin Power Ranger costumes, and Harley riders don butch pillow-biter leather goods, dual sport riders can rummage through all types of gear to equip themselves with whatever they deem practical. The Alpinestars SMX-2 Air Carbon Gloves are a prime example of this – a high performance sport bike accessory designed and developed for an asphalt application, yet perfectly suited for use off-road. The obvious selling point of the SMX-2 is the arthritic looking carbon fiber knuckle guard. Anyone who's had their knuckles whacked by a tree branch at high speed (or by a malicious catholic school nun wielding a yard stick) will tell you it's a rather unpleasant experience. Since I'm a devout student of other people's mistakes, one of the first things I bought for my bike was a set of hand guards. These converted me into a minimalist when it comes to riding gloves – I tend to favor extremely light weight gloves that offer maximum dexterity and allow me the option to pick my nose at any given moment. But the SMX-2 does provide a nearly impenetrable second line of defense behind my hand guards. Chances are there'll also be the inevitable circumstance when I will find myself airborne
without
the bike. Should this occur it's reassuring to know that even though this may result in a compound fracture of my radius bone, my knuckles will emerge unscathed. Looking beyond the obvious, the SMX-2 offers outstanding protection in other areas: reinforced synthetic suede panels on the palms, TPR (thermoplastic rubber) finger protectors, and extremely generous (if not slightly ridiculous) padding on the thumbs. In addition to providing exceptional feel, I've also been partial to light weight gloves because they tend to offer better ventilation for warm weather rides. These are two areas where the SMX-2 really surprised me. I assumed these gloves would be warm simply because they appear a bit bulky. Turns out they are neither. 3D mesh on the back of the hand and the top of the finger tips supplies great ventilation; so much so that I would label these as late spring to early fall gloves, unless you're using 
elephant ears
. I was even more surprised by the amount of dexterity these gloves have. Designed with pre-curved fingers that have stretch side walls and constructed using a leather main shell reinforced with synthetic suede (or
fuede
if you will) these gloves offer an incredible amount of feel for the level of protection the provide. Allegedly the index fingertip and thumb is even touch screen compatible, although I was unable to get my smart phone's screen to respond when attempting to look at midget porn while sitting at a red light.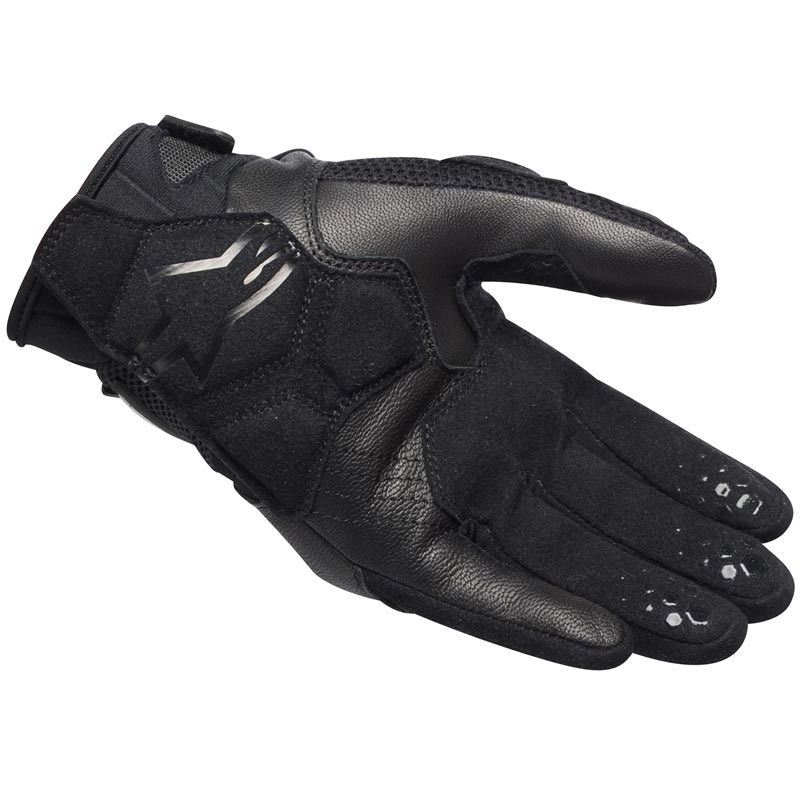 Other notable features include: silicone fingertips for positive grip on levers and controls, a convenient pull tab located at the base of the palm, and a neoprene wrist cuff with a wide TPR micro-Velcro closure. Price is about what you'd expect; the SMX-2 are a decent deal for mid priced street gloves but a bit on the spendy side compared to an average pair of off-road gloves. There are knock-offs available for less money but you will get what you pay for; they won't offer the same level of refinement or performance, nor the longevity of the Alpinestars. When measuring these considerations against the cost it's hard to complain too much about price. However, I have no problem complaining about the sizing. I had heard from a few sources that these gloves run small. Trying on a large (my usual size) seemed to confirm this as they were a little too snug. So I tried on an extra large. That seemed a little too big. Naturally at this point my neurosis kicked in and I assumed that I had suddenly been afflicted with kidney disease or idiopathic edema. But soft goods guru Brain at
Atomic Moto
had a better explanation: 'There's too big a sizing gap between large and extra large.' He explained. 'Quite a few people have found that these gloves 
almost
fit perfectly.' I confess that I am guilty of over analyzing some products, but in this case I will take the Johnnie Cochran/OJ Simpson defense and say
if the glove doesn't fit, you must acquit
. A glove should fit like, uh, a glove. Eventually I settled on a (slightly small) size large and ended up soaking the gloves in cold water, then cramming them on over a pair of disposable nitrile gloves and wearing them until they dried. This made for a rather unpleasant afternoon of fumbling with the TV remote while I refrained from picking my nose, but eventually they stretched into a perfect fit. Sizing issues aside, the Alpinestars SMX-2 Air Carbon Gloves are a good product and a great example of how gear designed for other disciplines of motorcycling can be repurposed as the perfect accessory for dual sport riding. Appropriate attire is a relative term!