Major league players are often referred to as
the boys of summer
by avid baseball fans, or at least that guy from The Eagles who wrote a song with the same title. Personally, I find watching millionaires toss a ball around on TV to be a quick cure for insomnia. When I think of the boys of summer I tend to think of motocross racers – who launch over huge jumps and rail outside berms at mach speed as opposed to spitting sunflower seeds, picking at their crotch, and adjusting Velcro. The
AMA Pro Motocross Nationals
is a 12 round racing series that stops at rural locations around the country. These small rural towns might sound like they were picked by an over-the-shoulder dart toss at a map, but most of them are selected for their legendary motocross tracks, not their cosmopolitan nightlife. And last I checked homeowner's associations in metropolitan areas can be a bit particular about noise ordinances.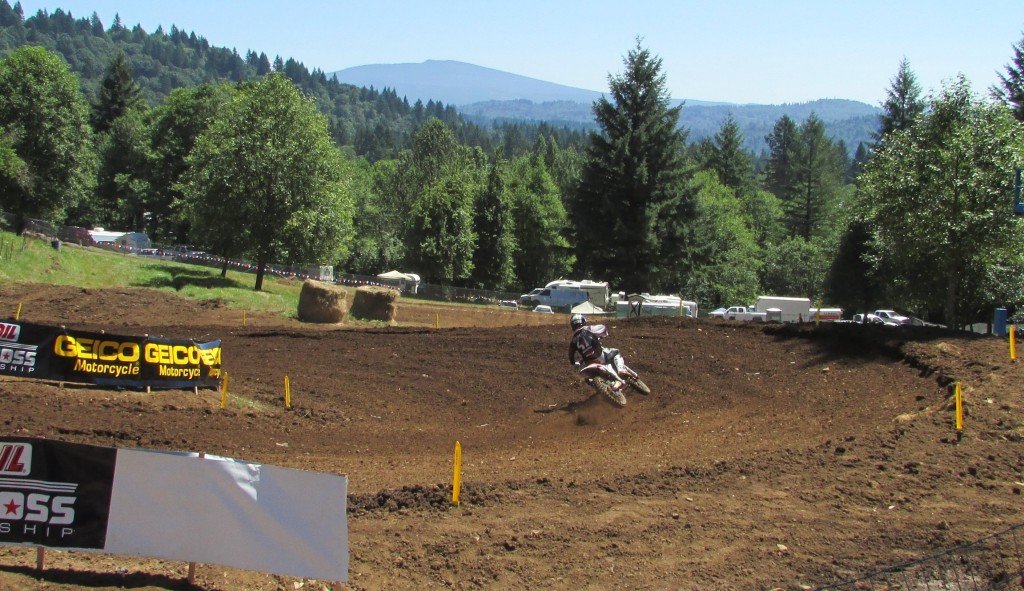 Because many tracks on the circuit are located in picturesque rural settings, The Nationals make a unique annual destination for dual sport camping. Yes, you're missing out on the solitude and serenity of trekking into natural settings far away from people, but those who attend are rewarded with a festival atmosphere celebrating all things dirt bike. There's also many crossover manufacturers showing off their latest wares, lots of interactive fun in the pits, and opportunities to win free swag or collect tons of free stickers. And unlike the people you may encounter while camping in a national forest or state park, everyone in attendance loves motorcycles.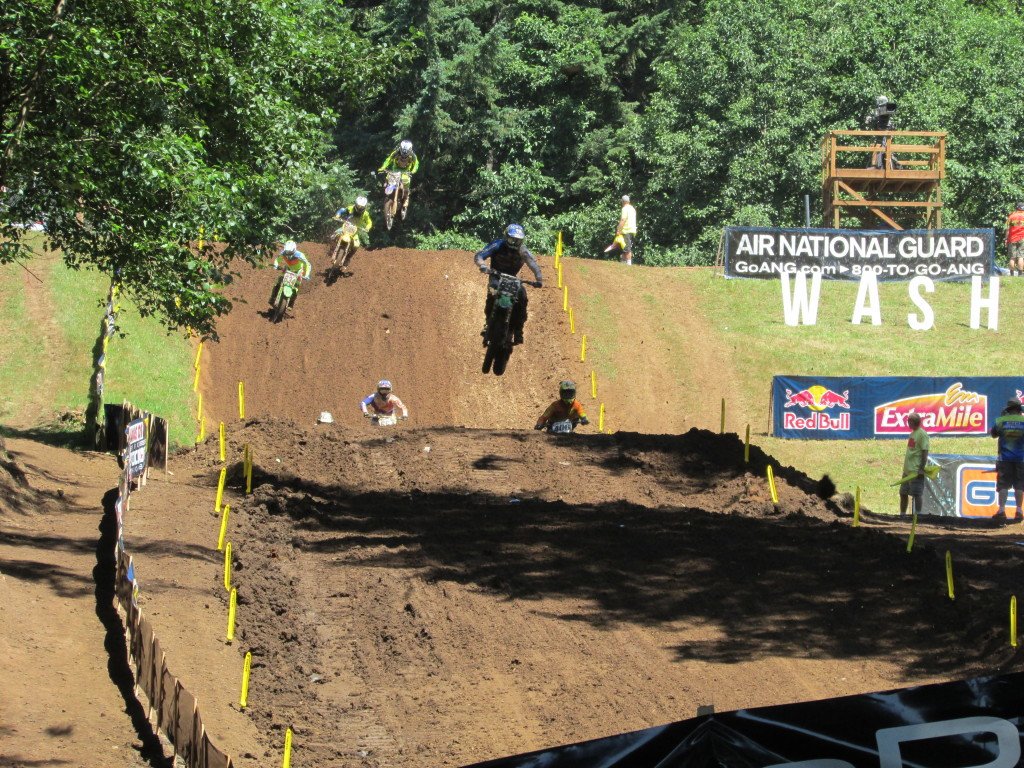 Of course, there's also racing. The best way to watch a motocross race isn't trackside – it's from the comfort of your own couch as television cameras follow the racers around the entire track. But to
really
appreciate the talent, skill, and fearlessness these professional athletes have (not to mention the endurance of doing it all during the sweltering days of summer) you have to experience it in person. The wind and adrenaline generated by the pack as 40 racers surge past. The roar of the engines and smell of the exhaust. The glint of sunlight off of shiny factory machines and brand new gear.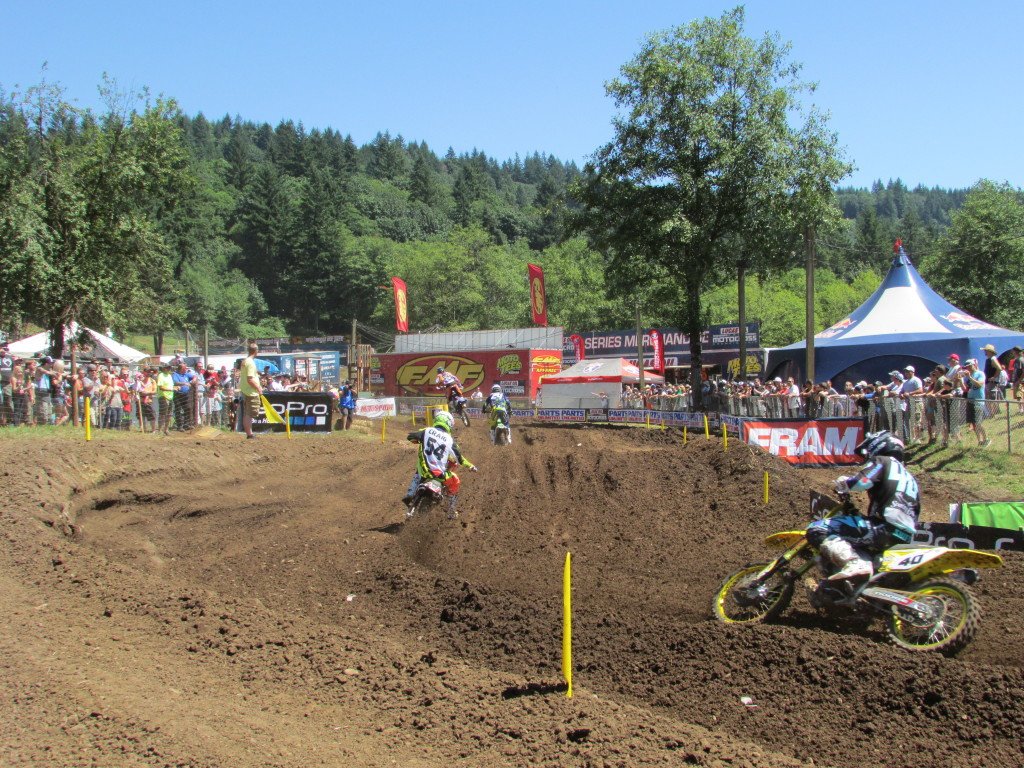 I could easily rack up high score on this post's word count by reminiscing about many of the races I've witnessed at my home track
Washougal
. Watching Ricky Carmichael and Kevin Windham swap the lead back and forth for an entire moto. Seeing Marvin Musquin stand on the pegs, rail an outside berm the size of a parking curb, and pass multiple riders at one time. Feeling the ground vibrate when Travis Pastrana crashed right in front of me, then watch as he was helped off the track looking like he didn't even recognize what planet he's on. Ryan Dungey in first place with a 15 second lead – after 2 laps. Or the time I almost got leveled by an errant Honda that came over the fence right where I was standing. (That's right – adding to the excitement is the fact that there's always the potential for audience participation. Bikes occasionally cart-wheel into the crowd, causing spectators to dive for cover, tossing coolers and lawn chairs everywhere.) I could go on and on but I won't because the stories all have the same underlying meaning: watching these races in person is really exciting and gets me excited about riding. It doesn't matter that the guy who finishes dead last in the contingency race has way more skill on a motorcycle than I ever will have. It doesn't matter that I favor bikes with turn signals and brake lights. Or that I'm a woods rider who wouldn't roll onto a National caliber MX track without wearing a diaper. It's a gut-level visceral experience that's very inspiring. The Nationals are Mecca for the those who are truly passionate about riding motorcycles in the dirt and the atmosphere of enthusiasm for riding is highly contagious. Do yourself a favor and make the pilgrimage one of these years!