W
hen I heard that
Austin Vince
was coming to town I was really excited. Not so much to hear him speak, I had no clue who he was. I was just excited to get out of domestic duties for a bromantic evening of motorcycle related entertainment and beer drinking. Motorcycles have been a wonderful, if not slightly obsessive distraction in my life. Even on the worst of days I'm still enthusiastic to talk about them. I also like beer, it does a great job of getting rid of that nasty toothpaste taste in my mouth. I thought it might be a good idea to get a little back story on Mr Vince before I went to hear him, but then I got a better idea – go in blind. So all I knew when I left my house that evening was I was going to hear a British guy talk about motorcycles. That, and for the next few hours I wouldn't have to change a loaded diaper. It wasn't hard to pick Austin out of the crowd of motorcyclists who were milling about Giant Loop's HQ waiting for the presentation to start. He was the only person wearing a vintage racing jumpsuit. Not everyone can pull off this look. I might even go so far as to say
hardly anyone
  can pull off this look, but Austin does. On its own, this eccentric attire seemed a tad flamboyant, but once he started speaking it quickly became apparent it matched his personality; his BIG personality. Whip smart, whitty, and worldly, he talks about as fast as a meth addict trying to get out of a speeding ticket. Austin began his two hour(ish) presentation with a warning that can be summarized as sit down, shut up, and if you're easily offended now's the time to flee. He touched briefly upon his childhood in England and his early fascination with motorcycles before getting to the main reason why people pay money to hear him speak: Austin Vince has ridden a motorcycle around the world. Twice.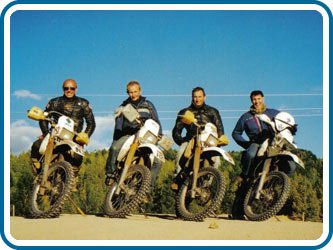 His first trans global trek was done with a group of friends in the mid 90s. They packed meager supplies on older Dual Sport bikes; no fancy adventure gear, no cell phones, and no GPS. They didn't even have tents. No support crew, translators, or fixers. They used old video equipment, Super 8 cameras and hand written journals to record the experience. Tens of thousands of miles and months of riding culminated in
Mondo Enduro
, the (British) documentary, the book, and one phenomenal experience. While the trip was considered a success by most, the participants were plagued with a feeling of failure. Out of 40,000 some odd miles they failed to ride a 400 mile stretch of road in Siberia named the Zilov Gap. This was because the road itself was essentially a mud bog. They had no traction tires or clue if fuel was available along this stretch. After a valiant attempt, they eventually had to abandon their effort and load the bikes on a train. So they decided to do it again in 2001, varying some of the riders and the route, but being sure to include the Zilov Gap. They also brought along off road tires, which eventually allowed them to conquer this 400 mile section. This trip was also chronicled on film and dubbed
Terra Circa
. I could go into detail about Austin's experiences on these monumental adventure treks, but these are his experiences not mine and are best told by Austin himself. I will say that in relating these experiences to his audience, Mr Vince skillfully delivers tales of motorcycle adventure that fluctuate between inspiring, informative, thought-provoking, and hilarious. Speaking of hilarious, the entire presentation is laced with raunchy adult humor, so if your funny bone is conservative or aristocratic in nature – stay home. Throughout his presentation, Austin reiterated a few key points. First was that the world wasn't as hostile as it seems; people from all cultures are capable of overwhelming acts of generosity towards strangers. Second, you don't need the latest and greatest technology. As a matter of fact, you don't
want
  to ride a bike that's so advanced it can't be repaired in a third world country. And lastly, consider the definition of adventure. Riding to a new destination isn't necessarily adventure if you're staying in hotels and eating at restaurants along the way, it's merely a new experience. Afterwards, I heard several audience members discussing how they'd love to do a transcontinental trip across Russia. It's hard not to be infected with Austin's enthusiasm for adventure motorcycling and travel. He is the quintessential DIY adventure biker and a natural salesman when it comes to it's ultimate possibilities. 
If you ever get the chance, I highly recommend going to hear him speak
…or at least checking out the Mondo Enduro book or one of the DVDs from his global rides. These are what inspired Ewan McGregor and Charlie Whats-his-name to make the television documentaries 
Long Way Round
 and
Long Way Down
. I watched both of these when they first came out years ago and really enjoyed them, but when compared to Austin's adventures they seem diluted and trite. As for myself, my great adventure is in raising two boys. For the forseeable future I'll be tethered to a domestic exsistance which can be mundane, thrilling, and terrifying; exhausting and completely gratifying. I hit the trails on weekends to
escape
 this adventure. But I'm also a rider at heart who loves to talk about motorcycles and riding. I encourage those that can to follow in Austin's tracks, then come tell me about it – I'll buy the beer. MANY THANKS TO THE GUYS AT
GIANT LOOP
  FOR BRINGING AUSTIN TO TOWN
AND
  BUYING THE BEER!