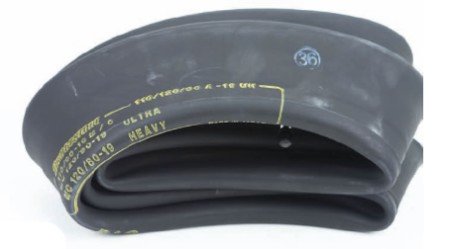 Some people have really strong convictions. I am not one of those people. As a matter of fact, I don't feel very strongly about much of anything – with a few exceptions. One is that I think it should be legal to club people in the knees when they block an entire grocery store aisle with their cart. Another is that when it comes to outfitting my Dual Sport, I adamantly believe in using heavy duty inner tubes. Mechanical failures can stop your engine but a flat tire that's hopped the rim can ruin a wheel and leave your bike completely immobile. Yes, there are other products available that make flats easier to deal with or eliminate them all together, but these products can have issues of their own and can cost four to five times more than a heavy duty tube.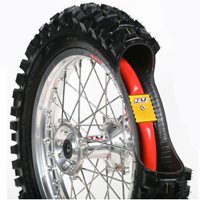 For example, take the
Tubliss system by Nuetech
. This great product eliminates the need for anything other than air in your tire, meaning pinch flats become a distant nightmare and backcountry punctures can be easily repaired with a plug. No more struggling to patch a tube on the trail or attempting the emergency fix of packing a tire with foliage, brush, or deer poo just to get home. There's also been many claims of improved traction and weight savings, which are valid selling points, but I'm a recreational rider and not necessarily always looking to squeeze every ounce of performance out of my bike. The problem I see with the TuBliss system is that plugs are supposed to be a temporary fix and the tire should then be replaced or at least patched. If you're going to patch it you're going to pull it off the rim which you'd have to do to anyway to replace a tube. Yes, pulling a tire in the comfort of your shop, garage, or living room beats wrestling with it on a trail but it can still be an arduous task. And at $100 a piece, they're a little pricey. Although I will admit that in the long run these have the potential to actually be cheaper than tubes depending on how long they last. This brings up something else I feel strongly about – when it comes to certain things I'm
cheap
. There's also foam (mousse) inserts. These are a run-flat product that eliminate the possibilities of any type of flat tire by taking air out of the equation. There seems to be some debate about how these hold up at high speeds on asphalt which, coincidentally, manufacturers don't recommend in the first place. Some claim no problems by using the 'rally version', or by lining the tire with a dissected inner tube, or by brand loyalty (Michelin or Mefo seem to be the two most popular). Inserts also have a shelf life and need to be maintained on a regular basis with a specific lubricant, which to me seems more complicated than just checking air pressure. This brings another point I feel strongly about: I'm mentally and physically lazy. Here again, you can easily spend the cost of several quality heavy duty tubes for the price of one foam insert. So now that we've ascertained that I'm a fan of traditional inner tubes because I'm cheap, lazy, and easily confused, I'll elaborate on inner tubes in general using superior knowledge and years of experience – knowledge and experience which came to me via email from people smarter than myself. Inner tubes are made from synthetic rubber, natural rubber, or a combination of the two. The overwhelming majority of tubes are made from Butyl (synthetic) rubber. Manufacturers tend to favor this material because it's reasonably priced, readily available, and easy to work with. Most importantly, after
Vulcanization
(meaning the tube has been baptized by Mr Spock, Senior Science Officer aboard the USS Enterprise) Butyl is air impermeable even when stretched thin. Natural rubber (primarily latex) is more pliable and offers superior protection to
static
  punctures but has lower air retention properties. However, the biggest catch with this material is when motion is introduced to a potential puncture. The example I was given used a push pin – stick a push pin into a butyl tube and it punctures. Stick the same pin with the same amount of force into a latex tube and nothing happens because of its extremely pliable nature. But move that pin a little and not only does it puncture – it fractures, resulting in a unrepairable flat. Because most riders use inner tubes made from Butyl rubber and since repeated inquiries to big name companies who might sell latex or synthetic blend moto tubes got me zero responses – presumably because I don't write for Forbes or Poor Man's Playboy (
Maxim Magazine
) –  I'm going to focus on the virtues of heavy duty Butyl tubes. But before I can focus on heavy duty tubes I must go into detail about how these technologically advanced wonders of the scientific age differ from standard, more inferior motorcycle inner tubes. I'll try to make this explanation concise and free of complex technical jargon. Ready? Here goes – they're
thicker
. A standard motorcycle inner tube is approximately 1.5mm to 1.75mm thick. Heavy duty inner tubes measure out to around 2mm to 3mm thick and add assurance that your tube won't pinch flat against the first rock you plow over. For those of us that are easily distracted and often find ourselves unexpectedly plowing over
many
  rocks at mach speed, super (or ultra) heavy duty tubes are available and somewhere in the neighborhood or 3.5 to 5mm thick. Unfortunately no one is producing super ultra mega heavy duty tubes. Yet. When they do I will buy some. For the weight watchers of the world, yes, using a thicker tube will add weight to your bike. A heavy duty tube weighs about one pound more per tube. To me this is a small price to pay (not to mention completely unnoticeable to the average rider) for the benefits of added protection compared to a conventional tube. Speaking of price, tubes definitely fall into the you-get-what-you-pay-for category. Motorcycle inner tubes are manufactured by several companies in Asia (plus a few in Europe) and are usually rebranded for other companies. Cheng Shin Tire (Maxxis) and Kenda are the two largest of the quality manufacturers, with Hwa Fong (Duro) being a close third. Spending a couple more dollars for a well known brand heavy duty tube usually decreases the odds that your tube was made by a malnourished seven year old during the graveyard shift. This can pay dividends with an increased service life. The service life of an inner tube varies but a few tell tale signs it's ready for retirement include discoloring, chafing, and strings of rubber. Unlike spoiled milk or rotten eggs, smelling the tube is not a dependable indication that a tube is about to go bad because inner tubes always smell like fried condoms. Dunlop (or the lawyers that represent them) recommends changing their tubes every six months. This seems a bit excessive to me but results may vary, particularly when lawyers are involved. Keep in mind contaminants can greatly reduce the service life of an inner tube. If dirt finds its way between the tire and tube the effects are similar to walking around with wet sand in your underwear – brutal chafing. Replacing rubber rim strips with duct tape can potentially seal off the spoke nipples and keep out water that can carry miniscule bits of debris in. Other more substantial points of entry are the rim lock and valve stem holes.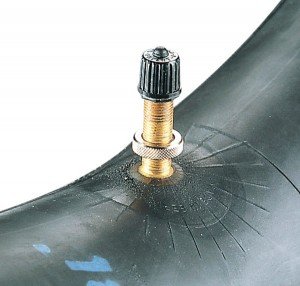 The valve stem is the weakest point of any inner tube. If the tire spins on the rim it can cause the tube to shift along with it. This means a tug of war between a tube that moves and a valve stem that doesn't, with the valve stem almost always losing. Using heavy duty tubes can help decrease the odds of getting a puncture or pinch flat and offer a longer service life but it's still susceptible to having the valve stem torn. Anybody who doesn't know to leave the valve stem retaining nut loose needs to read
this tip
. Heavy duty tubes also give you an option that foam inserts don't – you can adjust the air pressure. I've run pressure under 10lbs without consequences, even after hitting rocks hard enough to dent my rim and knock a few teeth loose. Although in all honesty I did spend the next 30 minutes stopping repeatedly to see if my tire was going flat. One thing to keep in mind with inner tube air pressure is that it can increase by as much as 4lbs when the tire heats up during use. Admittedly, using heavy duty tubes may provide a stronger line of defense against pinch flats but can't eliminate them all together. Advancements in tubeless and foam insert products are a great thing and I hope someday someone will come up with an alternative to conventional tubes that is economical, low maintenance, and holds up to high speeds. Until they do I'll keep using the reasonably priced, tried and true technology of heavy duty inner tubes – but only because I'm a man of strong convictions.