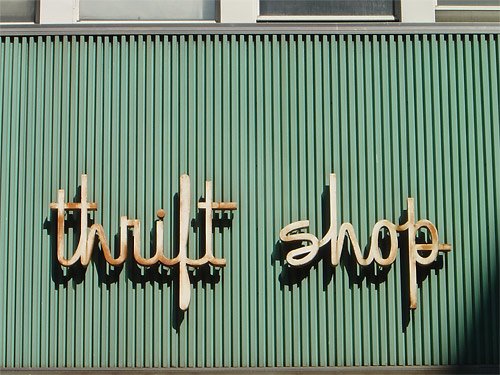 R
iding a Dual Sport can be an expensive hobby. After the initial investment of a bike comes the inevitable maintenance, upkeep, and upgrades. That's assuming you keep it rubber side down. There's no shortage of expensive bits and pieces out on the trails; evidence of carnage that can provide a fun game of forensic arithmetic for those that happen upon it.  Half a clutch lever + one torn radiator shroud + crushed radiator = $3oo. There's also the accompanying expense of outfitting yourself with riding gear. Boots, helmet, padding, protection, and riding apparel can set you back a pretty penny. Some of these items fall under the category of personal safety, so it's best to purchase them new. But there's no reason you can't save some cash when it comes to accessorizing yourself for off road riding by picking up a few items at your local thrift store. Yes, you're more apt to find a plethora of old men's cardigan sweaters (complete with used Kleenex in the pockets) than a decent array of enduro jackets. But for those who like to think of themselves as frugal or thrifty (or openly admit to being stingy tightwads) the thrift store can be a treasure trove for economical motorcycle accessories and incidentals. To prove this point I embarked on a thirty minute scavenger hunt in my local Goodwill store, where I found everything from maintenance supplies to base layers to soft bags. I didn't set a time limit, but after a half hour the unique third world body odor scent that permeated the store began to give me a headache. That and this meth addict started following me around like a stray dog. I considered throwing some pocket change on the ground as a diversionary tactic but decided against it because the store was crowded and I wasn't interested in being arrested for inciting a riot. I began in the
Activewear
 section of the store where I found some nice base layers from Cabela's and Patagonia. I think the Patagonia top layer was actually a women's, but it was gender neutral black. And since it's a
base
 layer, as long as it fits right and performs well I don't really care if it's Periwinkle Blue. I also found a neck gaiter and a Eddie Bower low profile down filled vest (which would fit perfectly under my chest protector or jacket) for cool season rides. In
Sporting Goods
 I actually came across some Scott and Smith goggles that had some life left in them for three dollars. I also found great items for motorcycle camping – compact cookware, stainless steel thermoses (
fuel storage
!), and a large variety of straps for lashing gear to a motorcycle. In the no-man's-land between Sporting Goods and
Housewares
I found flashlights, work lights, and tools. Housewares offered a bevy of bike maintenance supplies: tubs, buckets, and brushes for bike cleaning; silverware organizers for keeping screwdrivers, nut drivers, files, and punches segregated in the toolbox; a steel colander for an impromptu parts washer; some metal salad tongs that might be stout enough to change a tire. Then I hit the mother lode of small Tupperware containers – perfect dry storage for snacks, spark plugs, electronics, or fire starters when riding through adverse weather conditions. I also rescued a lonely flask that I promised to give a good home. The one item I found a huge assortment of was soft bags – everything from backpacks and messenger bags to colostomy bags. Ok, I made that last one up. But I did find a lot of small bags that are perfectly suited for storing tools or first aid supplies, many of which were loaded with internal compartments for keeping things organized. Some of the bags even appeared to be specifically designed for motorcycles. I saw two identical messenger bags that I swore were saddle bags at first glance. They weren't, and I won't be giving up my Giant Loop Mojavi Bag for them, but they could easily be customized to fit a bike and came to a grand total of four dollars for the pair.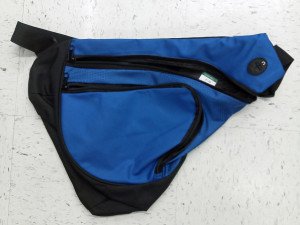 The thrift store also provides a great selection of essentials for coping with an injury. Soft casts, support braces, crutches, walkers, and enough Danielle Steel novels to shut down every nerve receptor in your brain for months at a time. As tempting as it may be, I suggest skipping the adjustable bed with a stained mattress. When you've fully recovered, these unwanted items can be easily returned – just drive by the thrift store and throw them out the window in the general direction of the sign marked
Donations
. There are a few tips that most successful thrift store scavengers follow to get the goods: go early, go often, and hit several stores. Shop for off-season items. Find out when the half price days are and what days they restock the store with new donations. Many big city thrift stores circulate old inventory out to outlet centers where cheap stuff becomes even cheaper. There's no arguing that nothing beats purpose built motorcycle gear. Companies like Klim invest substantially in the research and development of their gear and it shows. But for less crucial riding accessories I suggest checking out your local thrift stores. Look past the abandoned Christmas sweaters, framed needlepoint, and tattered Beanie Babies and you might find something that's perfectly adequate for a phenomenal price.