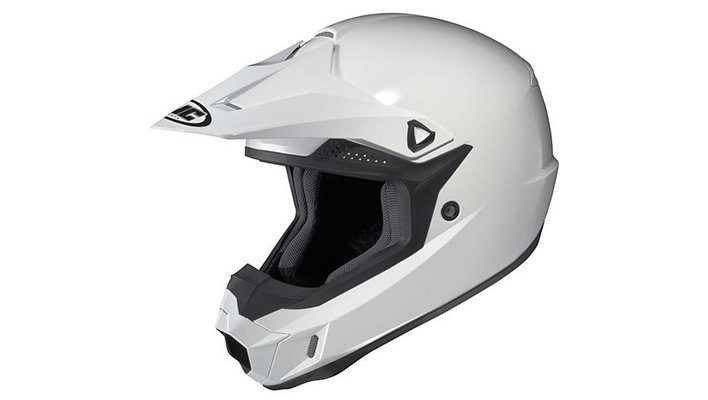 HJC is a helmet manufacturer with a brand image problem, albeit a small inconsequential one. Gear snobs tend to turn their noses up at HJC's economical products, but this hasn't prevented the Asian manufacturer from being the number one selling helmet brand in North America for the past 20 years. There's several reasons why discerning riders handle a HJC helmet like it's carved from Limburger Cheese and lined with asbestos; the main one being safety concerns. Some riders are convinced that cheaper helmets don't provide adequate protection. Other common gripes include proper fit, comfort, functionality and overall design.
A helmet is the single most important piece of safety equipment a rider wears. It's so important there's a Department Of Transportation certification required to sell helmets legally in the US. In the current market place if manufacturers want to sell a lot of helmets they must also design them to meet Snell Certification. Public perception is that the more certifications a product has the better it is. The difference between the two certifications and which standard provides optimum protection was a hot topic a few years ago and deserves an in depth explanation – which I'm not going to bore anyone with here because I've already done that HERE.
Standards are, by definition, a level of attainment. HJC helmets are made with some of the same materials (Polycarbonate Composite Shell with Multiple Density EPS Liner) and meet the same safety standards as many helmets that cost hundreds of dollars more, so it can be argued that paying more for a helmet doesn't guarantee more protection. The exception to this might be from upstart helmet company 6D, who's advanced engineering is a radical departure from traditional helmet design. And traditionally when advanced and radical are used together it translates into expensive – unless your doctor uses them together in a sentence, which probably translates into late stage cancer. Which, coincidently, is also very expensive. The 6D helmet is no exception and comes with a $745 price tag. Plus this helmet is DOT approved only – meaning one good swan dive off a tailgate or work bench onto a hard surface and it should probably be replaced.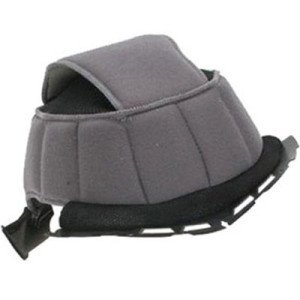 The sticky point when talking about safety and level of protection is factoring in proper fit. If your helmet doesn't fit well it won't perform well – it shouldn't slide around your face or pop off like a champagne cork upon impact. It also shouldn't give you a migraine while riding or require the jaws of life to remove it from your head.
Sizing was an instant issue for me when trying on the HJC CL-X6. An extra large felt a bit too loose and a size large felt like a fat lady had me in a head lock. When I removed the large it felt like she was tearing my ears off. Eventually I settled on the size large only because they don't make a large-and-a-half. Luckily for me the design team at HJC took this into consideration and used mediocre foam in the CL-X6. After the first ride the padding had lost some if it's density and the helmet fit nicely.
The foam is covered with moisture wicking Speed Cool anti bacterial fabric and the entire interior lining and pads are easily removed for washing – very necessary to prevent your helmet from smelling like a fat lady's armpit. The fabric and padding are adequate but this is one of the areas where high dollar helmets really shine. Do yourself a favor and refrain from slipping on an expensive helmet right before trying on the CL-X6; it's like going from ring spun cotton to burlap. If you don't know what you're missing you probably won't notice. Of course, you could use the money you save buying the HJC to line the inside of the helmet with well-worn velvety 50 dollar bills.
Ventilation for the helmet is good with seven intake vents feeding a grid pattern inside the top of the helmet, flowing out four exhaust ports in the back. Three of the intake vents are long slots located just above the brow line, helping to keep air circulating over the top of the head. I liked the ventilation but found wind/road noise on the CL-X6 to be slightly excessive. Here again, with the money I save I could easily plug my ears with 100 dollar bills.
The CL-X6 also comes with a long adjustable break away visor. The effectiveness of it is somewhat compromised by the fact that it narrows significantly at the end compared to some other brands. An extra 1/4 to 1/2 inch width at the tip of the visor would provide more shade for early morning and late afternoon rides when the sun is lower in the sky, as well as helping to shield your face from roost when tailgating in the dirt.
HJC offers this helmet in a variety of colors and graphics – from tropical bird color schemes to hot rod tribal pin striping to Darth Vader black. I choose the Matte Black color because it's a neutral and I have bland taste. It also helps accentuate the big bags under my blood shot eyes.
Speaking of bags, HJC was considerate enough to include a draw string helmet bag with the helmet. Another extra goodie included is a cold weather insert for the beak vent. Since this is a dirt oriented helmet without a flip down visor and the rest of the helmet is well vented, I'm not quite sure I understand the logic of this. But your lips will appreciate only getting first degree frostbite as opposed to the second degree frostbite your nose receives.
The HJC CL-X6 is easily the best light weight (3lbs) helmet on the market at the hundred dollar price point. This lid might not provide as upscale or posh an environment for your head as more expensive helmets, but it provides plenty of amenities for a really nice price.  And since it's so reasonably priced you can afford to get a brand new one every year!