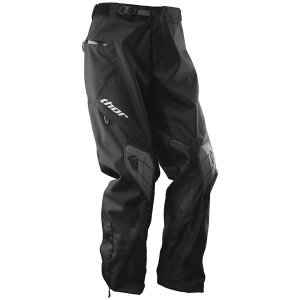 For years I preferred in the boot pants for off road riding, believing they allowed for better movement on the bike and offered more protection than simply wearing Carhartts, jeans, or a leopard print g-string. The thing I really hated about them (besides no pockets) was that it was nearly impossible to find any with a simplistic neutral color scheme. Most came with a color pattern that made it look like I had crashed into a flock of Parrots while riding in the Mardi Gras Day Parade.
Eventually I got a pair of Shift Recon pants. They were my first over the boot pants and I'm still not sure why I bought them. While they did come with a storage pocket, the cut and fit of the pants left a lot to be desired. The waist was too tight or too loose; size 34 felt like I was trying to dress myself in a sausage casing and size 36 was big enough to smuggle illegal aliens in. Down from the waist they flared out like a pair of Haight-Ashbury bell bottoms. Standing still I could barely see the tip of my boot. On the bike the legs rode up which made me look like I was wearing Capri pants and the cuffs flapped around in the wind like dog ears. I even snagged them on my foot pegs a few times. The material felt thin and cheap; they were too hot in the summer and too cold the rest of the time.  SoI went back to my in the boot pants.
Years later I was browsing in a moto store and came across the Range Pant by Thor. Basic black, waterproof, vented, leather burn panels, with an internal gaiter and an external velcro adjustment for cuff width – they looked good hanging on the rack. The tag boasted more features: large storage pocket, breathable, ballistic nylon overlays, pre-curved knees, and a decent price. I decided to give over the boot pants another try.
I've been wearing the Range Pant for months now and so far have been impressed. They're a nice mid-priced pant that fits well, feels durable, and continues to be comfortable even after hours on the bike. My boots aren't drowning in excess material when I'm standing off the bike, yet they don't ride up to my shins when crouched in the pocket. While I'm on the subject of pockets, they do have a pocket that is rather large, but it's located right along my hip and storing hard items or a set of keys is uncomfortable. When I do a hostile take over of Thor I'll have it relocated further down the thigh like cargo pants.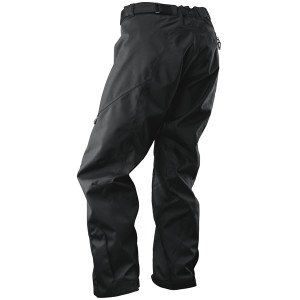 Out on the trail I've subjected them to a variety of conditions: rain, wind, cold, even colder, really friggin cold, and a warm weather day too. They've definitely kept me warm and dry, although a good base layer should be given some of the credit. The cuff line gaiter works really well too – even keeping the High Desert silt out of my boots.
I like these pants. The negatives I've found are petty, including my gripe about the pocket. While there are vents on either side of the crotch, I wish the thigh vents slanted the other direction. This would allow for even more circulation throughout the family jewelry store. Another peeve is the rubber knee protection, which is shaped and positioned such that it offers protection to only the top of the knee and tends to pull on the material when bending. This feels a little weird but doesn't seem to affect anything. One other note: TRY THEM ON IN THE STORE! I'm a size 34 (since forever) and I found that size to be a bit too snug. The argument could be made that this is because I tried them just after Thanksgiving, but I'm sticking to my belief that they run a size small. While I don't rock the gangsta sag in my pants I did want to be able to accommodate a base layer.
Moving up to a size 36, I found the gaiter in one leg was sewn on (and shut) by someone who's obviously far-sighted. I couldn't even get my leg through. Trying another pant on of the same size, it had a gaiter in one leg that was sewn on inside out. Maybe those two pairs were made the day after a company party and quality control called in with the brown bottle flu.