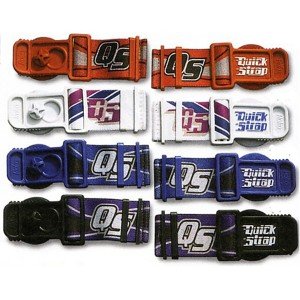 As an American I demand convenience. I can't imagine life without drive through liquor stores or purchasing a car stereo that doesn't come with a remote control. It's through this cultural gravitation towards all things convenient that I found Quick Strap by Roko Sports.
If you're a rider that prefers goggles over face shields, you'll love this product. No more wrestling with both hands to remove your goggles every time you stop or need to defog. Simply reach up with one hand and pull the tab. That leaves the other hand free to do…something else, like thumb wrestle. Or nothing at all. The choice is up to you.
Selling for under $20 and easily installed on your favorite pair of goggles in  minutes, Roko Sports also offers a remount kit for you fashion victims that have multiple helmets for different occasions. The only negative aspect I've found is during the hot summer months the adhesive for the velcro patch that mounts to the helmet can become soft and lose its grip, resulting in loose goggles. Although in all fairness my helmet is Darth Vader black and tends to absorb the heat.
This is a small compromise for the convenience of being able to easily remove/attach your goggles while riding, the freedom of only using one hand, and having the choice to do what you want with the other hand. Convenience, freedom, choices – aren't those some of the principles that make us proud to be Americans? I say it's your patriotic duty to use this product.